Review: CIRQUE DU SOLEIL Presents Exciting 60-Minute Streaming Specials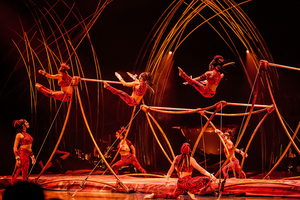 For those of us who love Cirque du Soleil performances, you can now tune in to CirqueConnect for 60-minute video streaming specials. We watched the one which premiered on April 3rd that featured scenes from three of their captivating shows, AMALUNA, BAZZAR, and VOLTA. Sit back in the comfort of your home, relax and be wowed. Viewers have the unique opportunity to enjoy the company's entertainment that is treasured around the globe. You will be awed and inspired by scenes from some of the public's favorite shows.
A little history. Cirque du Soleil means "circus of the sun" in French. The company is currently based in Montreal, Canada and it is the largest modern circus producer in the world. It was originally founded by two former street performers, Guy Laliberte and Gilles Ste-Croix. Today, Cirque du Soleil produces over a dozen shows including those that travel to major cities.
The April 3rd streaming special opens with AMALUNA that depicts a mysterious island ruled by goddesses. Thrill to daring aerialists and a very creative gymnastic bar routine performed to striking, original music. The program continues with scenes from the whimsical show, BAZZAR that has an energetic display of acrobatics and dance. This show also highlights Cirque du Soleil's fine use of props with a hoop routine and a stunning fire baton solo. The presentation concludes with pieces from the show, VOLTA inspired in part by street sports. It opens with a graceful aerialist who performs an unbelievable act suspended by the bun on top of her head. A segment by daring cyclists tops off the show.
CirqueConnect is a great opportunity for Cirque du Soleil fans and many more to indulge in the talent and artistry of the distinctive company's elaborate, fascinating performances. You will likely watch these specials more than once. You can find CirqueConnect at https://www.cirquedusoleil.com/cirqueconnect. When you tune into the site, you'll also find additional features along with a 60-minute video special that premiered on March 27. There is an upcoming show that you can start viewing on April 10. Follow #CirqueConnect on social media.
For more information on Cirque du Soleil, visit their web site at https://www.cirquedusoleil.com/.
Photo Credit: AMALUNA Courtesy of Cirque du Soleil