Interview: Pia Douwes Talks Debut Solo Album and International Career
Pia Douwes has spent the last three decades building an illustrious international career. She first burst onto the scene when she created the role of Kaiserin Elisabeth in ELISABETH DAS MUSICAL, a show that would go on to become iconic throughout the whole of Europe.
She has since taken on some of musical theatre's most powerful roles including Velma Kelly (Chicago, Broadway and West End), Grizabella (Cats, The Netherlands and Moscow), Eva Peron (Evita, The Netherlands), Norma Desmond (Sunset Boulevard, The Netherlands and Germany), Diana Goodman (Next to Normal, Germany and Austria), and Mrs. Danvers (REBECCA DAS MUSICAL, Germany). In addition, she has created powerhouse characters such as Milady de Winter (3 MUSKETEERS) and most recently Claire Zachanassian (DER BESUCH DER ALTEN DAME).
Now, she has released her first solo album, aptly titled "After All This Time". Pia took a moment out of her non-stop schedule to chat with BroadwayWorld about this exciting recording as well as her career thus far.
Pia, what took you so long? What made now the perfect time to release a solo album?
I just never thought anyone would want to listen to a whole CD with me singing the songs everyone already knows anyway. But a friend of mine, Maxim Bezembinder, persuaded me gently to do it and now I am glad I did!
How involved were you in writing the translations? What made you decide to re-translate songs like 'Ich Gehör Nur Mir' and 'Rebecca'?
The roles that were kind of written for me, Elisabeth, Mrs. Danvers, Milady de Winter and Claire Zachanassian, had never been heard in English speaking countries before. But they deserve to be heard in English because they are such amazing and iconic roles! So on my CD they have their English language Premiere. Charles Hart made 'Ich gehör nur mir' from ELISABETH, 'Milady ist zurück' from 3 MUSKETEERS and 'Die Welt gehort mir' from DER BESUCH DER ALTEN DAME into new English versions and I immediately thought they were fabulous! The title song from REBECCA had already been translated by Michael Kunze and Christopher Hammond for the Broadway production that unfortunately never opened. And so it's an honor to have that version on my CD too!
Any plans to perform again in the US?
I would love to perform in the USA, but my schedule is always so fully booked. And besides, I would need to audition in the US and it's almost impossible without a Green Card. I was lucky enough that I was asked to perform Velma Kelly in Chicago on Broadway! But if I could have the chance, I would return to the USA.
So many of your roles you've performed once and then returned to years later. What is that experience like?
It's a wonderful experience! When you take a break from a role and return, there is so much more you can add to the role due to new life experience and added depth. So the role keeps on growing as you return to it. Which is also great for the part and the piece.
How do audiences differ by country? What have you noticed about the way different cultures react to your work?
The German audience is extremely grateful and really admires what we do on stage. That is a very rewarding feeling. The Dutch audience is more outspoken and critical, which can go in both directions. The English and American audiences expect nothing less than high quality but react very well during a show, especially when there's humor involved, which is always fun.
Shows like REBECCA and TANZ DER VAMPIRE (DANCE OF THE VAMPIRES) have struggled to connect with audiences on Broadway. Do you think European musicals can have a life in the US?
We have such a different cultural background and Americans don't always zone into that. We do not have the history or the years of development in musicals like the English and Americans do, so maybe that's what's missing? But we have been catching up fast these past 20 years so be aware! So who knows, because we have a lot of very successful shows running here in Europe.
With such a prolific career behind you, what are your goals for the future? What haven't you done yet that you want to do?
I have done musicals, plays, television, concert tours, coaching and originated several roles. But there will always be a next challenge. It's all about growth and an eagerness to learn and discover.
Your first solo album is out, you did it! When's the next one?
Haha, I have no idea. I have some ideas, but let's get this baby rolling first shall we?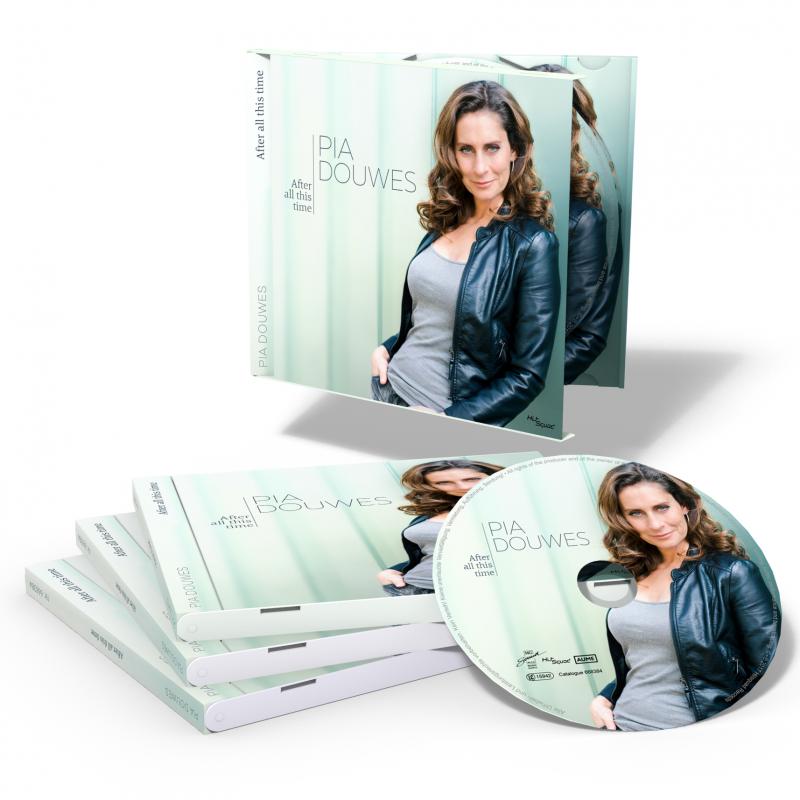 "After All This Time" by Pia Douwes is released by HitSquad Records and is available internationally.
Pia can be seen next starring in Sunset Boulevard at Theater Bonn Opernhausin Germany. Future appearance dates, including "The Dream Team" concert series featuring favorite colleague Uwe Kröger, can be found on her website: http://www.piadouwes.com/.
Photography by Simone Leonhartsberger