BWW Interview: Gina Gershon is Gina Wild for Her Cafe Carlyle Debut!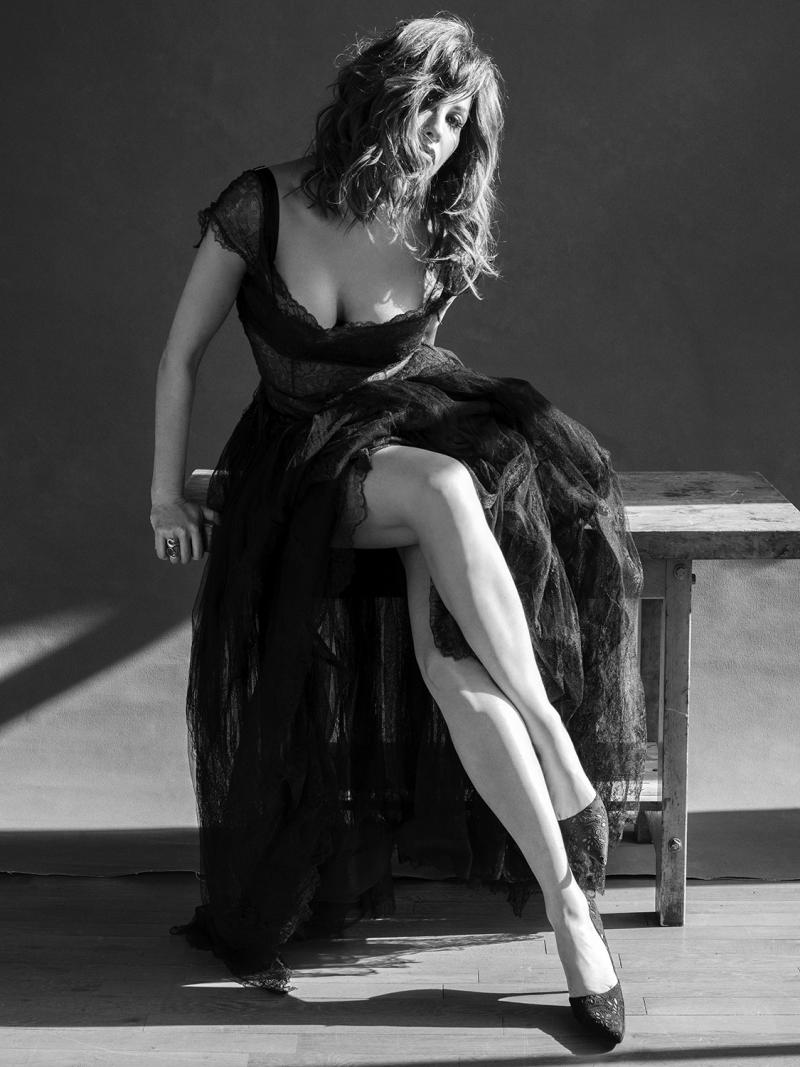 In a career that spans over 30 years, actress, writer, singer, composer and cult icon Gina Gershon will make her highly anticipated Café Carlyle debut with her new show "Wild Women Don't Get the Blues" and our own Richard Ridge caught up with her shortly before her opening.
---
How excited are you about making your debut at Café Carlyle? What's it been like putting this show together?
It's starting to get so close. It's been really interesting, because you can do whatever you want. The hardest thing is what do I want to talk about? What do I want to sing? And there's so many different approaches to figure out how to do it. There's so much great music.
To me, it all kind of started with I really wanted to do a proper jazz band. It's a little bit downtown-y jazz, like New Orleans jazz. I just remember seeing Bobby Short there for the first time. My uncle, Jack Elliott, was a big influence on me, musically. He was a big jazz musician and arranger and composer, so I'd always go to see his shows. And even though I've never sung this way, I'm always either with a guitar in front of me doing kind of rock-and-roll stuff or country stuff, or I'm on Broadway or doing a play, where you're acting like a character and singing. So, I've never done this sort of music before, even though I've always dreamt about it. I just remember being a little girl and going to my uncle's rehearsals and some big lady would sit down next to me and hum. And she wouldn't have shoes on. I'd think that was so funny, but her voice was so big. She'd go up and sing this incredible jazz, these songs, and I'd be like "Wow, she can sing." And he's like "Well, yeah, that's Sarah Vaughan. She can really sing." So, in my mind, that's how you're supposed to sing when you sing that stuff.
I love that! I understand you have some amazing musicians with you too. Tell me about them.
Oh my gosh, my musicians are so great. I'm super excited. I love hearing them play. Steven Bernstein, who I've actually known for thirty years, but we've never played together, is playing the trumpet. He's fantastic. And Eli Brueggemann. He's the musical director at SNL. We were doing a session together. I was playing my Jew's harp and he was playing piano, and I was like "Wow, I like the way you play." Something about his playing really grabs my heart. We started talking and he said, "Well, maybe I could write some arrangements or just give you some charts." I thought, I need to have this guy in my band. And as it turns out, my uncle was his mentor.
Wow!
Crazy! It was like my uncle was tapping me on the shoulder, because he's been gone for several years now, and saying "There's your guy!" Cause I kept saying "I just want to find the right band." And then there's Jerome Jennings, who's an amazing drummer. He's incredible, so I'm so honored and lucky that he's playing with me. And then Brad Jones, who's a fantastic bass player.
They're all totally together, so that's exciting, and we're just trying to figure out how to make everything sound. I've only been together with them once. They're all over the world and they're everywhere, so I only have them, really, four days before the show. I'll be excited when I can stop singing out of my head and put it with the band. That'll be really exciting to see how it works.
What type of material will you be singing?
I'm singing everything from Ida Cox to Ruth Brown, all the way up to Tom Waits and Elvis Costello, with some Patsy Cline in between and a couple of my own songs in between. So, it's pretty eclectic... when you have a band like that, you can sing anything and you make it sound how you want to sound. It's the first show I have ever done, musically, without a guitar, so that's weird. But it's fun. They sound great. I'm excited to figure out how to sing with them.
Where did your love for music and singing begin? Was it with your uncle?
I think so. Ever since I can remember I was being dragged through the Grammys. He also was a serious musician. He was Judy Garland's arranger/conductor and he lived with Quincy Jones in the sixties and a few jazz musician guys. He composed and conducted so many incredible pieces and he had an orchestra, so I was always being dragged to rehearsals. So, I would hear it and I really liked it, although my sister was totally into rock-and-roll and she was doing concerts then. Then she married my brother-in-law, who played with Emmylou Harris, so there's another country influence. I guess all my family are involved in music somehow, so it's just always been around and I've been pushed into seeing music. And I liked it, but I kinda wanted to be a very serious actress, so during that time you had to almost choose one thing or the other. I started singing. I was just a song-and-dance girl when I started. In fact, my first professional show was one that Tina Landau wrote when we were in high school. I'm really proud of her with Spongebob. She's just a brilliant director.
You went to school with her?
Yeah, she wrote my first professional show that I ever did and she helped me- really influenced me a lot with musical theatre and acting. She was one of my best friends, and so the first show I ever did, she wrote a musical that I starred in.
I can't believe you went to school together. That is so great!
She was my best friend in the world. She was the first person who really influenced me in how I thought about things. She was my best buddy, for sure.
I want to go back to the beginning. Growing up, when did you first get hit with the acting bug?
I remember watching a production of Beauty and the Beast, when I was four. I was really little and I remember just kind of going, "Oh, my god." To me those were magical people. I didn't consider that I could do that. And then when I went to senior high school, around thirteen or fourteen, I saw friends of mine doing plays, and I was like "Wait, wait, what?" You know what I mean? I was like "Wait, this is for the magical people. Why are they doing this?" And then I realized, "Wait a second, I could do this." And then I actually got cast as the lead in Bye, Bye, Birdie and I started doing it.
So, you sort of came full circle with Bye, Bye, Birdie. You were first cast in it at the age of 14 in school, then you returned to Broadway many years later as Rose Alvarez in Roundabout Theatre Company's production. What did that all mean to you?
It was trippy. I appreciated Rosie more this time. I think in my fourteen-year-old production I was kind of annoyed, because I wanted to play Conrad Birdie. I was really into Elvis Presley then and I was like, "I can play this part." I think even then I didn't quite understand. Why did it have to be a girl or a guy? I could kill this part.
You were also one of my favorite Sally Bowles in Cabaret, hands down.
Oh bless you. Thank you. I loved doing that show so much.
What are some of your fondest memories of taking on that iconic role and just doing that Kander and Ebb show?
She's just one of the great characters. The music is insane. It's insanely beautiful. I love singing those songs. Sam Mendes, he's just such an incredible... I love the way he directed the show. He's brilliant. I love the depth and the beauty of that part. She's just so tragic, but so fun at the same time. You get to really run the gamut with that part. It was interesting, because I started that show, and when I finished my run, I had had such an amazing time. And then 9/11 happened, and then they asked me to come back, because they were trying to get people back in the city and to Broadway, and I said of course I'll come back. And it had such a different texture, doing it after 9/11 happened.
You were also hilarious and had flawless comic timing when you returned to Broadway in the farce, Boeing, Boeing. What was it like sharing the stage with that company and Mark Rylance?
No one knew who Mark Rylance was. I didn't know who he was at that point in America. I just kept watching. I would watch him constantly backstage, going "This guy is really good." We had so much fun. It was the greatest cast. We had the best time. And once the show really got up and running, we had a whole other show going on backstage that was almost twice as much fun as the show going onstage. And I just have such fond memories. Mark and I would play backgammon at intermission every time. He would get angry when I would beat him. Kathryn Hahn and I became so close. Matthew Warchus is the most brilliant director I've ever worked with, I think, on stage.
Well, like I said, you were hilarious and you were flawless in it.
Oh, thank you. Those were great shows. I'd love to go back to Broadway with something. I'm not really sure yet what. I saw 'Long Day's Journey' the other night and I was like, oh yeah, this is why I'm still an actor, because I have to do that part at some point. I have a couple more years ahead of me, but, god, Mary Tyrone, that part kills me.
Isn't that great about the theatre that, at any age you are, you can always say, "Oh wow, these are the parts I want to do," or "In ten years, I'll do these parts."
Yeah. Originally, I wanted to do the Greeks. I wanted to do the classics. That's what I was really trained with, and I've actually never done anything like that. I've never really done serious pieces. I kinda like doing comedy now on TV and film. But on stage, I'd like to tackle really tough parts.
You have worked with some of the greatest film directors including Robert Altman in 'The Player'. Who are some of your favorites?
Robert Altman for sure, just because I was never supposed to be in that. There wasn't a part, and once we met, super randomly, I was saying how I loved him, and he said "Why don't you be in this?" And I said, "Yeah, but the part that I wanted is cast." He goes, "Well, you know how to improvise, right?" And I had never done it in my life, but I said, "Yes, of course." And he said, "Great, we'll just make it up," and I said "Great..." And he was so brilliant, and it was just so incredible to be with all those people and watching him work, and just being thrown in, and listening to my own instincts, and just building a character with them. So fun. I loved him. I love the Wachowskis, just because I thought they were so brilliant and "Bound" was a movie that no one wanted me to do. They're like, this will ruin your career, which I thought was really insane, even though I'm playing a gay woman. And they were like, "These are first-time directors," and I'm like, "Yeah, but I could tell, these directors are kind of genius." I was proud of myself that I went with my gut, and I'm like, "I'm doing this part. I don't care what you say was going to happen. I really wanted to work with them, because they had something so special about them. It was their first movie.
And that was such a groundbreaking film at the time.
Yeah, I was really proud that I did that. Especially because I had to leave my agents. They're like, "We will not let you do this," and I'm like, "Well, I'm doing it, so I guess you won't be my agents then." I think as an artist, you have to really stick to what you believe in. No one can tell you what part to do. When I have listened, like, "Oh, you should do this part for your career," I've been miserable. I think I have a kind of quirky pace. Listen, maybe they were like, "You're ruining your career right now," which I couldn't believe. I think I did get weirdly typecast for a second, but I don't care. Then you break out of it and then you do other things. I just believe you have to really do what you believe in as an artist.
You have never shied away from a challenging role. You are fearless with your choices. What excites you the most, as an actress, when you're looking for a part?
You know, it's so hard to explain. It's like a piece of music or it's a piece of art, when you see it. Something grabs you and you relate to it on some weird, unconscious level. I find if I'm really... if I have a very aggressive, kind of negative reaction to it, like "Oh my god, I can't do that. I hate that part," and I really have a strong reaction, it's usually one I've gotta look at again. I'm like, "Oh my god, I kinda have to do this." 'Because it's either so close to me on a weird level that I feel like I'm lucky, and certain parts, they almost become like rituals. And you could really make your life better. It lets you face certain demons, or face your own shadows, and you can work with it. I think it can be very powerful and could also... other people are going through that as well and if you can hit it on an unconscious level, it'll affect other people. And then at the same time, it's like the greatest therapy in the world. You work through something, and then you address it, and you come out the other end. Being an artist, whatever kind of artist you are, it really enriches you as a person. We're really lucky that way. Something terrible happens and you could put it in a scene, or you could sing a song about it, or you could write a song about it. It helps you process things and I just think there's so much going on, if you could affect people, or help people see things on some level, that's what I love. That's like the cherry on top.
I have to ask you about Showgirls, because it is one of my favorite cult, camp, classic films, and I mean that with the utmost compliment.
Listen, you're not alone. Every single time I'm in an interview, they're like, "I'm so sorry, but I have to ask." I'm like, "It's okay."
What did the film mean to you then, and what does it mean to you now?
I do talk about this at one point in my show, which I wasn't going to, but of course-
Oh, you have to.
My gay boyfriends were like, "Are you insane? You are not doing a show without talking about Showgirls. I'm like, "I don't have to," and they're like, "Oh, yes you do." So, I guess I am. I could write a whole book on that film, to be honest. When I did that, like I said earlier, I was studying the classics. I was studying Greek mythology. When I looked at this part, the obvious thing was, "Oh, I get to be Margo Channing instead of Eve." And, structurally, to me, it was the same as Aphrodite, and I'm like, "If I'm approaching it from this place..." Plus, with Paul Verhoeven. I was obsessed with his Dutch films. I thought he was so intriguing, he was so intense and layered, and I'm thinking Spetters, I'm thinking Turkish Delight. I loved his films. So, I thought Showgirls was going to be kind of like that. Clearly, we had different movies in mind. The way I find myself relating it, I thought I was coming to do part of a Wagner concert, some big intense opera, and then I get there and it was really, "Oh, wait, this is like a Britney Spears pop show." And so, I learned a lot. I learned that you have to show up and see what production you're actually in, and I had to make a lot of adjustments with my character, because I couldn't do what I originally thought I was going to do. And I thought, "Well, fine. I'll do it this way. This'll be really fun." I think it's important to adjust to your surroundings and be aware and clever about how you fit in.
Honestly, it was a really tough project for me. I did not have an easy time doing it and I think so much was riding on it, 'cause I thought, 'Wow, this is a big break, and - now I'm dancing naked, so I better be really good, or else my career is over before it started." And the dancing, you have to understand, I was a modern dancer, so dancing naked wasn't really that big of a deal for me. I just wanted to know what the choreography was. To me, if something's right for a part, I will do anything for it, as long as it makes sense for the story, and it makes sense for the character. You say "fearless", and I hear that a lot and I don't know, I think it's a compliment, I guess. I'm not really sure. I just feel like if certain... like in Killer Joe, yeah that was brave, when I did that scene, because it was really intense for me and I didn't love doing it. But it was important for those characters, and in that story, that it be that crazy. So, if it makes sense in the character and the story, I'll go for it. If it doesn't, I have a hard time. I kinda talk about one of those stories. I'm not gonna tell you, you'll just have to come and see.
You mentioned Killer Joe. It's one of my favorite plays. I love Tracy Letts. I love this movie too. You got to work with William Friedkin on this movie. What was it like working with him?
It's funny, because you wish you really worked it like a play, and you're lucky if you get two takes. So, you kind of rehearse it for the most part and then you just shoot it. So, you really have to know it. Everyone was so good. He's the real deal. He's a really incredible director. Years before, they had come to me with the play to maybe audition for it, to do it as the play. And I just remember reading it and going, "Who is this writer? Oh my god, these characters are incredible." And when I got to the stick and bones scene... I don't shy away from too many things, as you've mentioned, but I was like, "There is no way I'm doing that scene eight shows a week." Psychically, I thought, "I can't handle that." So, when we got to that scene, I said, "I don't wanna talk about it. I don't wanna discuss it. Just show up where we're supposed to be and we've got one take."
Wow.
He was like, "Great," and we just did it.
I've always asked directors when I speak to them, and they're like, "Listen, put together a great cast and you'll have a great show, or you'll have a great film.
Well, they say it's ninety percent of it. Casting is a huge part of it. Believe me, you can have an amazing cast and, if the director doesn't know what they're doing, it's gonna be a piece of shit. I, unfortunately, know that way too well. I've been with a great cast and the director isn't good, and it's like, "Well..."
Yeah, but you learn from those experiences too. You work all the time. You have hundreds of movies and tv shows.
Working actress. You definitely learn, the harder it is... listen, if it weren't for Showgirls, if it weren't for Paul Verhoeven, I don't think I could have worked with William Friedkin as easily. because he's got a certain style and it could be really intense, and I kinda discovered that sort of intensity with Paul. So, you learn how to kind of just stay in your own... just keep your path really straight and not get knocked over. Listen, in the worst productions I've worked on, you definitely learn how to direct yourself. You just have to be... you learn from everything, definitely from the bad ones. I prefer to learn from the great ones, and learn from a great director, and go, "Oh, this is how you do a close-up." Or I'm like, "Ah, he's so genius," or, "She's so genius."
You were mentioning your gay boyfriends. You are now, and forever, a gay icon. How proud does that make you feel?
So proud! How lucky am I? It's the greatest! I think with Showgirls, I got my gay boy following, and then with Bound, I got all the gay girls. So, yeah, I'm lucky. They're so much more fun. My gay guy friends were definitely like, "You're talking about Showgirls." I don't really like talking about things. I could sit there and do a zillion different stories, but there's a part of me that feels like, "Oh, I don't wanna tell all those stories." And then one friend of mine, in particular, was like, "Uh... you are. Don't even think about it. You have to," and I was like, "Ugh, okay."
Just pick a juicy story from 'Showgirls' and tell it at The Carlyle.
Oh, honey, there's so many juicy stories. I'm telling one. This isn't the Showgirls show, this is called Wild Women Don't Get the Blues. But I could do a whole Carlyle show on it. I could write a musical about Showgirls and what actually happened. But I'm fairly discreet and I won't do that. But I do tell one story that I find interesting on other levels.
So my final question, what are you looking forward to the most about your run at the iconic Cafe Carlyle?
Oh my god, I'm looking forward to actually doing it and being... so I could relax into it. I look forward to it being up and running, and I don't have to think about it. I can just have fun with it. And for my friends to see it. I'm excited for people to hear a lot of music they haven't heard before, that I kinda take for granted. Some of my favorite songs. And, I found a couple of really cool songs and I'm excited to play my songs for the first time ever, that I never played out. And I'm excited to play with this band, because I love them. I think it's gonna be super fun.
---
Performances will take place Tuesday - Saturday at 8:45pm. Weekday pricing begins at $90 per person / Bar Seating: $75 / Premium Seating: $140. Weekend pricing begins at $110 per person / Bar Seating: $85 / Premium Seating: $160. Reservations can be made by phone at 212.744.1600 or online via Ticketweb. Café Carlyle is located in The Carlyle, A Rosewood Hotel (35 East 76th Street, at Madison Avenue).
Related Articles