BWW Interview: Bartlett Sher Is Bringing Something Wonderful to the Big Screen; THE KING AND I Hits Theatres Next Week!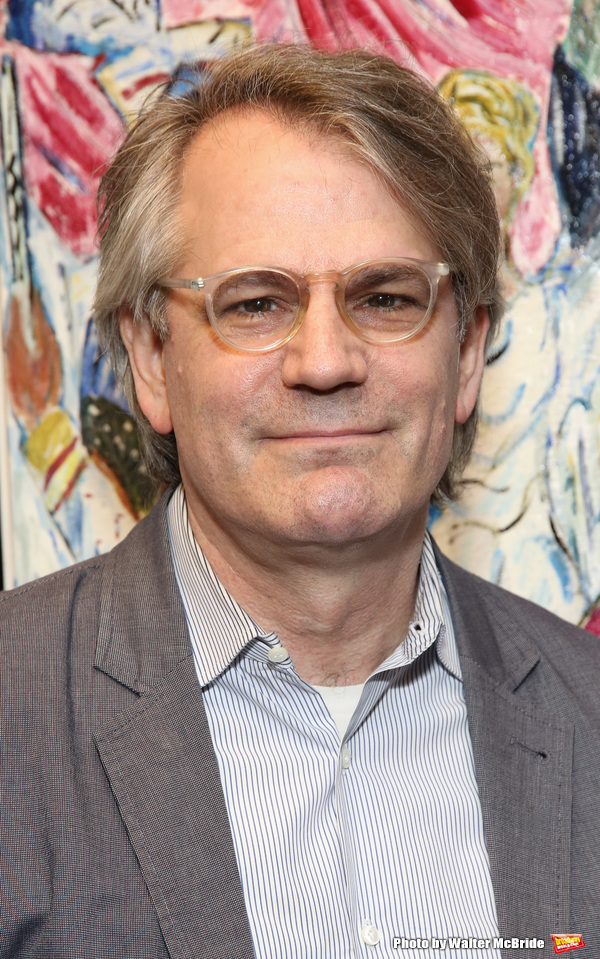 The multiple Tony award-winning Lincoln Center Theater production of Rodgers and Hammerstein's THE KING AND I is coming to cinemas around the world next week. THE KING AND I: FROM THE PALLADIUM, filmed on stage at the iconic London Palladium, will open in cinemas for one night only on November 29.
This unmissable majestic production first opened on Broadway in 2015 for a critically acclaimed 16 month run at The Lincoln Center Theater, this was followed by an unprecedented record-breaking sold out USA tour. The show then transferred to the London Palladium in June this year, with the three original Broadway lead actors reprising their starring roles - Tony Award-winner (Best Performance by an Actress in a Leading Role in a Musical for The King and I) Kelli O'Hara, Tony and Oscar nominee Ken Watanabe and Tony Award-winner (Best Performance by an Actress in a Featured Role in a Musical for The King and I) Ruthie Ann Miles.
At the helm of this ship is Tony Award-winner Bartlett Sher, who chatted with BroadwayWorld about bringing the classic to life on Broadway, the West End, and now the big screen!
---
I cannot wait to have another chance to this show again. Looking back on your experience with bringing it to London, how did it differ from Broadway?
First of all, it was proscenium. I personally felt incredibly privileged and happy to be at the Palladium. Have you ever been in the Palladium?
I haven't, but it's really big, right?
It's just amazing. You know, when it comes to those big theaters, it's the best big proscenium I've ever been in, in terms of how the seats are stacked up. It's so perfectly built because it feels so intimate for a theatre that's 2200 seats. It's incredible.
It's also in a great part of town. To have the privilege of doing this sort of musical there, where it was hugely successful, was just an extraordinary experience. And I think it was a great place for it to be filmed, because being in a proscenium really made a big difference. We already adapted it for proscenium for the tour, but we kept refining it. And the fact that I could get Ruthie [Ann Miles] and Ken [Watanabe] and Kelli [O'Hara] all together again was even more amazing.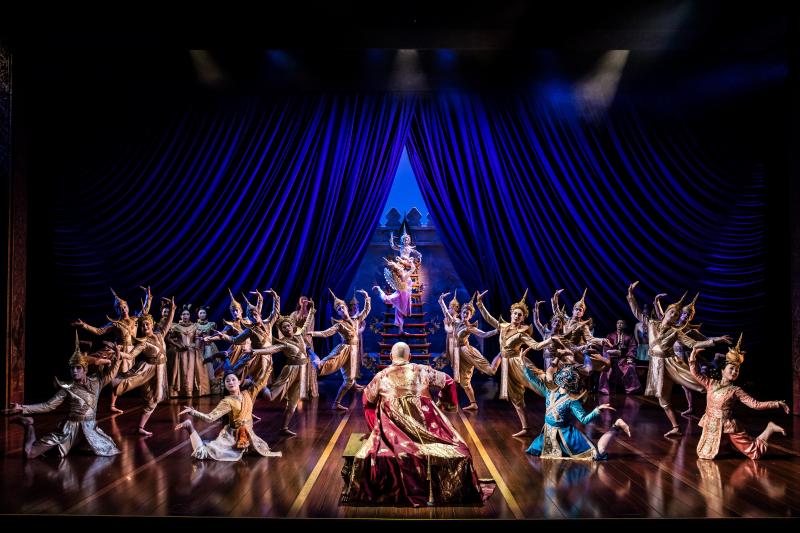 Did anything surprise you about the way that the British audiences reacted to the show?
Yeah, I get asked a lot about the difference between American and British audiences. It's a good question because I still puzzle over the difference. I think the British audiences are really, really good listeners. American audiences tend to be more exuberant and more vocal. They do standing ovations all the time, because they want to thank you for the work. If they don't like it, they will tell you when they're walking up the aisle. The West End audiences listen incredibly well and are extremely respectful of the stage. Not that American audiences aren't respectful... And they seem to know the production as well as we know it here, so there wasn't like a, 'Oh, I've never seen this before!' I think The King and I has been done a few times there and they were just marvelous. And we did get the same standing ovations we always got in America, which was a kind of big relief.
I'm sure! I know that you had some new cast members, but there were quite a few that came back to do this again. Did you see differences in their performances?
Well, you know, Kelli just gets better and better all the time so it's kind of hard to say. She's kind of got this great combination of being enormously relaxed but extremely skillful and technically extraordinary. And she works so hard for it to be in the moment each time she does it that you get these very alive performances. And Ken is quite similar. He likes to experiment and try new things. So between the two of them, it really crackles quite intensely and quite a lot. And they were just great and they knew the piece so well so you weren't going through the: 'Is this good?' You were just going through the: 'What can we try now?' phase.
Ruthie was a different experience because she'd been through this terrible tragedy. I was pushing her to return to the stage, because I felt as a theatre person, we get back to work. It was great for her and her husband to get out of New York. The company was extremely excited to have them - you know, to have her there and you could see it sort of be this thing that brought her back to life. I mean, she still struggles all the time with the loss of her kids, but she knew that the work was her place- that being on stage she could be the person she remembered being somewhat before the accident. So, that was very big for everyone in the company- to have her there and to have an ability to support her.
What kind of planning goes on for you before the cameras are even going into the theater?
Well, first of all, I was very lucky in that Trafalgar Entertainment was generous enough to hire this man named Gary Halvorson, who is a television director for lots of live broadcasts, in addition to probably eighty episodes of Friends and all kinds of television. He has worked with me before at the Metropolitan Opera, where we've done almost six operas together, so we had a working relationship on this kind of capture. And so I asked Trafalgar Entertainment to bring him, because I thought he was the best I knew. That was kind of exciting because he was working for the first time in London, and he was bringing his style of live capture, which he's one of the pioneers of it, going all the way back to the beginning of the Met doing it. And they are one of the first major opera/theatre companies to do it anywhere in the world.
You do what's called a scratch tape and then we analyze it together, and then we do it again and there's notes. There were almost four performances over which we were looking at it and continued to improve it all the time. Then you sort of pick your favorite of the four and then build your final product. At the same time, we did a whole separate day of pick-ups with different kinds of cameras, which were more tracking shots and all kinds of stuff.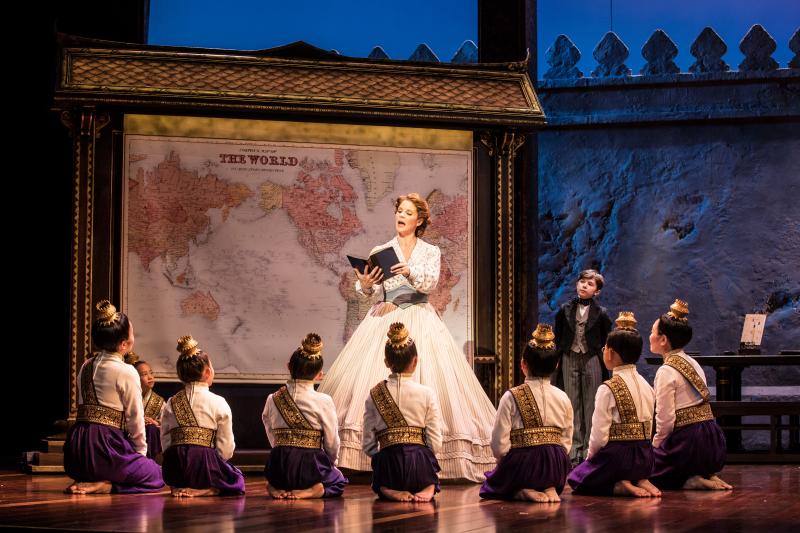 It was super fun and, really, you get a perspective on the show that you would never see in any other way. It's all live capture but then there's some stuff that can be intercut, like where you can only put cameras when there's nobody there. So that's super fun. And he's just incredible at being on the music. The way he can cut, picking up the rhythm of the show as you experience it in the theatre, is amazing. And we have enough familiarity where we don't adjust the performances to suit the cameras. We try to film the performance that audiences see. So you don't get any weird intermediary thing that goes with just the performance for the cameras. It's our stage show shot live with select bits for the best parts.
How many cameras did you end using for this?
I think it's eleven.
Wow.
Yeah, it's a lot.
Between the Broadway run and tour and West End, how many times would you estimate that you've seen this show now?
That's a good question. I don't know, two hundred?
Will you be seeing it again when it is on the big screen?
Well, I have with me right now a copy of the final edit, so I'm gonna be watching it soon to give some more notes! Yeah, of course! I mean, I'll be in the middle To Kill a Mockingbird right when it airs, so I'm not sure if I'll see it exactly on the moment. But, you know, I think the part that's exciting about it is you really wanna feel like a show like this can reach places. It's playing all over the world for communities who aren't coming to New York and who don't have the ability to put together a trip and get a hotel room in New York and go see twelve shows. They can spend a lot less money and see it in their community and that can be really exciting. I think it is essential to keeping the form vibrant.
What has been the most rewarding part of this whole process of The King and I for you?
I'm always a person of my collaborators, so it's the artists I get to work with. Whether it's my designers and the kind of work that it took for Michael [Yeargan] and myself and Don [Holder] and Cathy [Zuber] to make a new version of this... Or the actors, people like Ken, Kelli and Ruthie. Those are the things that matter to me and I like doing it more than once. I like coming back to it and getting to deepen the work so it gets better and better. I think ultimately, bringing Ruthie back was one of the high points of my life.
---
For tickets, visit: www.kingandimusicalcinema.com
Sher's Lincoln Center Theater (Resident Director) credits include: South Pacific (Tony Award; also London and Australia); the current My Fair Lady, Oslo (Obie Award, Tony Award for Best Play; also National Theatre, London), The King and I (also London), Golden Boy, Joe Turner's Come and Gone, Awake and Sing!, The Light in the Piazza (Tony Award nominations); Blood and Gifts; Women on the Verge of a Nervous Breakdown (also London). Broadway: Fiddler on the Roof (Drama Desk Award), The Bridges of Madison County. Off-Broadway: Waste (Obie Award for Best Play), Cymbeline (Callaway Award; also Royal Shakespeare Company), Don Juan,Pericles (TFANA, BAM). Previously Artistic Director of Seattle's Intiman Theatre (2000-2009), Company Director for the Guthrie Theater, and Associate Artistic Director at Hartford Stage Company. Opera: Roméo et Juliette (Metropolitan Opera, Salzburg, Milan, Chicago); Faust (Baden Baden); Two Boys (English National Opera, Metropolitan Opera); Il Barbiere di Siviglia (Baden Baden, Metropolitan Opera), Otello, Il Les Contes d'Hoffmann, Le Comte Ory, L'Elisir d'Amore (Metropolitan Opera); Mourning Becomes Electra(Seattle Opera, New York City Opera). He currently serves on the board of the Society of Stage Directors and Choreographers.
Photo Credit: Matthew Murphy