Click Here for More Articles on Hamilton
BWW Industry Interview: Mobilizing the Revolution - Behind the Creation of the HAMILTON App

On August 11th, Hamilton released the official app for iOS and Android devices. Hamilton's mission was to give its fans a mobile experience that would provide unprecedented access to the show... In its first 72 hours, the App exploded just like everything else related to the show, racking up more than 500,000 downloads.
Production of the Hamilton mobile app was led by Broadway marketing and social media agency, Marathon Live Entertainment. CEO Mike Karns chatted with BroadwayWorld about how the app came to be and you can check out the full discussion below! Founded by Karns in 2013, Marathon Live Entertainment's clients include Hamilton, The Great Comet, Miss Saigon, Bandstand, and Sweeney Todd, as well as influencers such as Tony, Emmy, and Grammy Award winner Cynthia Erivo and Broadway/TV personality Iain Armitage. Upcoming projects include Escape to Margaritaville: The Musical, the national tour of Les Misérables, Roman Holiday, and BroadwayCon.
---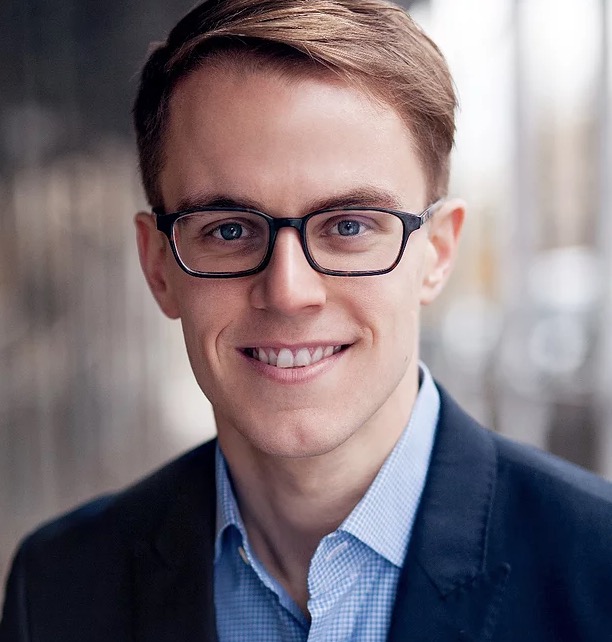 Can you give me an overview on how Marathon fits into the soup of agencies and what makes you guys unique?
I'm a theatre kid at heart. I went to school for stage management and lighting design, and I sort of fell into the whole digital marketing world by chance. I worked for about 18 months for two guys that were producing Allegiance with George Takei. While I worked there, they were in the process of growing George's social media following. I started when George just had shy of a million followers on his social media channels and it grew exponentially during the time that I worked there. That was how I learned the social game. I left and did some other odd jobs like selling website ad placements, and then I ended up meeting with Jeffrey Seller in 2014. In the conversation I mentioned that I had a background in social media. Turns out he was looking for some help in that area. His assistant called me the next day and asked if I had the capacity to handle the social media for The Last Ship when it arrived on Broadway a few weeks later. I obviously had no business doing that, so I said "Yeah sure, sounds great!" Jeffrey has since become one of my biggest mentors in the business, and as The Last Ship was winding down, we began gearing up for Hamilton's premiere at The Public Theatre. So, that was the real beginning of Marathon. We've dedicated ourselves to being leading the charge in digital engagement when connecting with fans. We focus on content generation and community development. Anywhere you can talk to fans and they can talk back is where we focus our energy, which is what led us to spearheading the Hamilton app.
How do you work with the other agencies in the digital space?
One of our core principles at Marathon is to seamlessly integrate with all of the agencies. We are currently work with each of the Broadway ad agencies. We strive to ascertain the macro production and advertising goals and translate those goals into the digital storytelling we do on social media.
How closely do you work with the creative teams and the producers in developing voices for the digital profiles that fit the teams of the shows?
I believe that properly portraying the tone, voice, and personality of the brand on social media is the single most important thing we do, especially with Hamilton. Because we don't do a significant amount of traditional advertising, social media has become the primary engagement tool for the show. As the show began, I worked closely with Jeffrey to establish the show's digital persona. I believe social media is on the front-lines of connecting with fans and potential ticket buyers. So, I always feel that it is my responsibility to establish and maintain a clear direction for each platform we work on.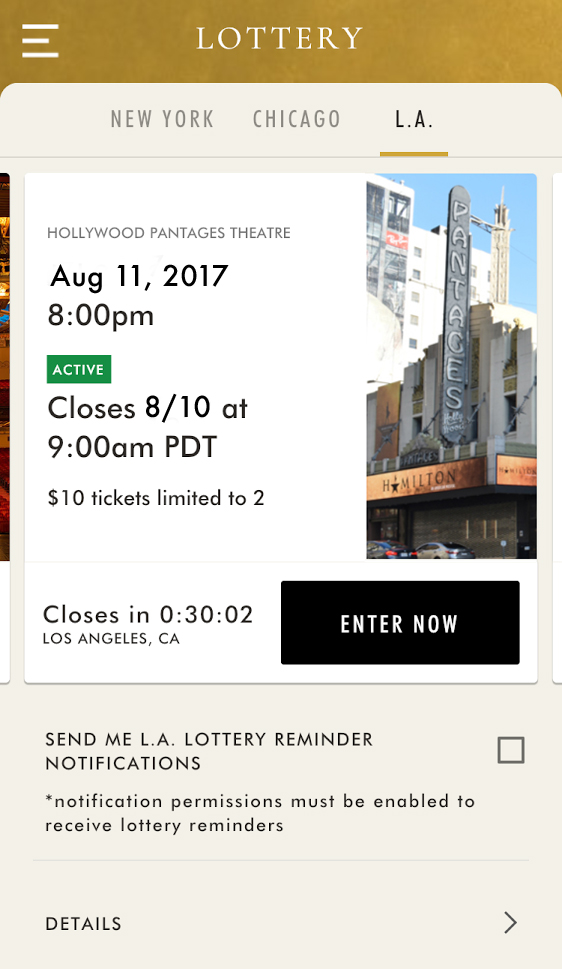 Where did the idea come from for the app for Hamilton?
We are always striving for ways to more closely connect with our fans, and also to make their experience with Hamilton a positive one whether they've seen the show or not. Jeffrey came out one day and said, "I think it would be good for us to develop an app for the lottery." He, Maggie Brohn and I sat and brainstormed what other ideas fans would have the most fun with. We always tried to bring it back to what would create the most unique experience for our fans.
How long ago did that process begin?
We started bouncing ideas around at the beginning of the year. In May, we hired the NYC based app-development company Posse to join us in its creation. The development process was about three months total when we actually dug into it.
How did you find Posse?
Once Jeffrey and I brainstormed and came up with the road map, my team met with five or six different companies about potentially collaborating. Posse had worked previously with George Takei to create his sticker app, and it became clear that they were going to be the most effective team to work with us in order to accomplish what we wanted to do. A lot of the other companies expressed apprehension, specifically about the lottery. Because that was the most important thing for us, we needed to find someone who could handle that. Another determining factor was that Posse was part of the Google developer program. So they had inside access into the Google world, which led to us being the preeminent brand to utilize the new Flutter technology to build cross-platform code for both iOS and Android phones.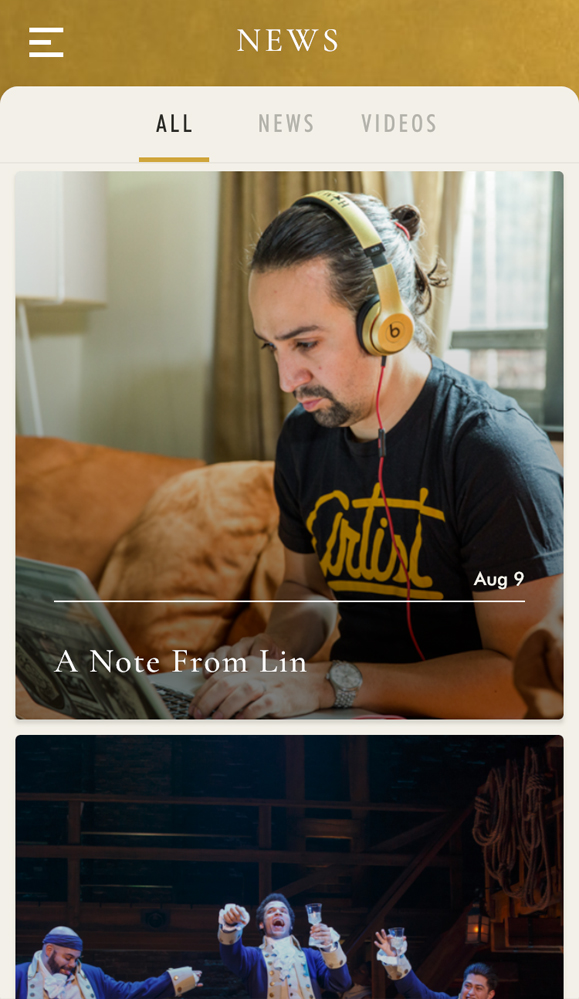 Did the cast or the show's creative team weigh in at all? Did they react to it?
Tommy [Kail] and Lin[-Manuel Miranda] were involved with the process. We were showing them as we were building mockups of what this thing was going to look like. They were really involved in reviewing that and giving feedback and helping us think about the best ways to engage fans. We had a pretty aggressive timeline beginning in May for a hard deadline of August 11th. Their responses to early wire frames helped guide our priority list when we started fleshing out our road map.
Were you expecting the giant number of downloads?
Hamilton consistently blows me away, even after all this time, when looking at the level of passion and response that we get from our community. Before the app had launched, my lofty internal goal was that we'd hit 100,000 downloads in the first few days. When we surpassed that in less than 4 hours, I knew it was going to be a massive response.
What can you tell us about the road map for some of these additional features that keep being teased? Like augmented reality and stuff...
Lin said when we launched the app on August 11th, "With the roll out of the HamApp, we are setting the stage, but it's just the opening number. There is a lot more to this app that's on the way, and I'm very excited to share it all with our fans in the coming months. Get ready for what's next!" We have so many tricks up our sleeve to continue engaging with fans. We're currently in talks with major companies to integrate augmented reality into the app. We're also finalizing a plan to give those who have downloaded the app a chance to purchase an exclusive group of tickets in the near future. Most importantly, though, is that we are actively developing new ways for our #EduHam experience to have the ability to reach kids all over the globe. We hope that this app becomes a tool for kids to engage with other students and have a shared excitement for history and for the show.
What about interactive karaoke tracks?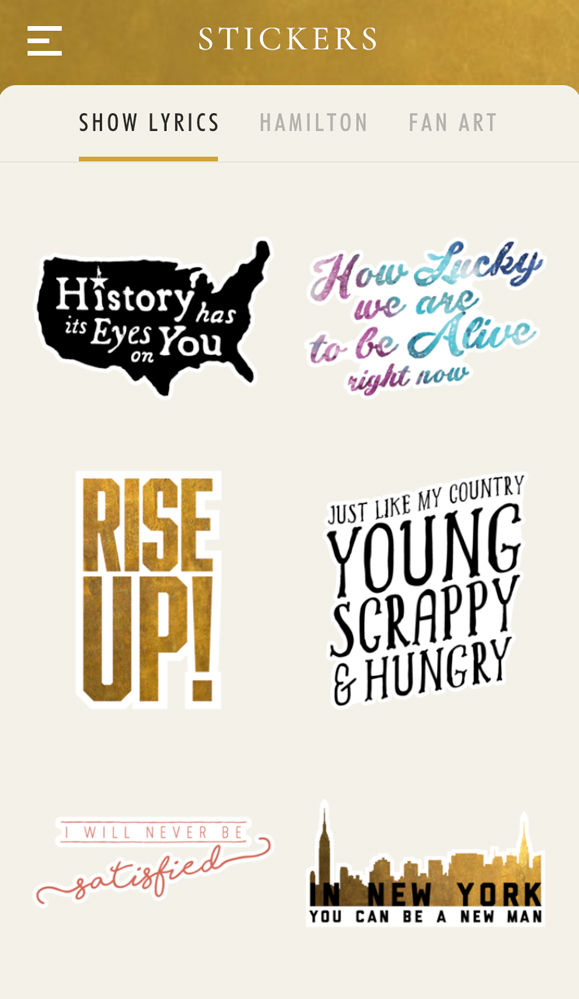 We came out with our instrumental tracks a few months ago, and with the upcoming development of inline video for the app, we're also working to incorporate some type of interactive karaoke. Our hope is that we're giving people the tools to be able to share their excitement about the show and connect with each other in a way that is deeper than even social media can provide.
Are apps something that you're pushing other clients towards? Is it something that you'd recommend all shows look at at one level or another or until they're a hit?
It is absolutely something that my company had added to our scope of work. I don't think that the app development is necessarily something that is right for every show. It depends on the reach of the show and the size of the community. More than anything, as time goes on and technology evolves, I hope that my company can be the one challenging clients, collaborators, and the Broadway community to find ways to decrease the distance between their brand and their fans.
---
The Hamilton application is available for download today at the Play Store and in the Apple App Store.
For more information on Marathon Live Entertainment, click here.
HAMILTON performs on Broadway at the Richard Rodgers Theatre (226 West 46th Street), in Chicago at the PrivateBank Theatre (18 W. Monroe Street), and at the Hollywood Pantages Theatre (6233 Hollywood Boulevard) in Los Angeles, where it opened last week. A London production will be mounted this November. A second national tour begins February 2018 in Seattle.