BWW Exclusive: David Henry Hwang on What's Next for SOFT POWER and Why He's So 'Proud' of His Actors & Audiences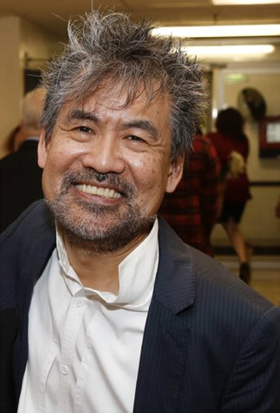 David Henry Hwang and Jeanine Tesori's ''Soft Power,'' a new musical satire that takes a hard look at America and China, hopes to go out with a bang this Fourth of July weekend.
Now playing through July 8 at the Curran in San Francisco, this zany fantasia stars Conrad Ricamora (Oliver from ABC's "How to Get Away With Murder''). Ricamora plays Xue Xing, a Chinese movie executive, in 2016. Xing works with DHH, a fictionalized version of Hwang (played by Francis Jue), to create a sitcom set in Shanghai. After DHH gets stabbed and sent to the hospital, the Chinese-American writer hallucinates and dreams of a Chinese musical where Xing falls in love with Hillary Clinton (Alyse Alan Louis).
Charles McNulty of the Los Angeles Times calls "Soft Power" a "big, bold ... giddy cartoon parody of American culture, spoofing guns, violence and our crazy voting system.'' And Lily Janiak of the San Francisco Chronicle says this ''daring'' and loopy lampoon about democracy ''could use some tweaks,'' but ''deserves to be known as one of the defining theatrical works of the Trump era.''
As this Fourth of July weekend arrives, we chatted with Hwang about ''Soft Power's" future; what it means to be an American, and the importance of Asian-Americans taking center stage. He also dished about a Chinese show that rips off ''The Book of Mormon.''
---
David, Asians usually are depicted as exotic or foreigners in Broadway musicals, like ''The King and I'' and ''Miss Saigon.'' And in "Soft Power," the romance between Hillary and Xue Xing is a comic role reversal of Anna and the King of Siam in the Rodgers & Hammerstein classic. But as an Asian-American, I was so moved by your song ''Democracy'' because you rarely ever see Asian-Americans sing about their hopes and love for this country. What does democracy mean to you, in light of the Fourth of July and America's complex history with Asians (i.e., the Chinese Exclusion Act, the World War II internment of Japanese-Americans)?
Before we opened in L.A. [on May 16 at the Ahmanson for our world premiere], I told our cast how proud I was of them for their fierceness in a show that comments on America today, performed primarily by Asian-Americans, who are so often considered foreigners in this country. For me, democracy is expressed in DHH's line: "Feeling like an outsider, in a country built by outsiders.'' Though our loyalty and legitimacy have often been questioned, we built and are still building this nation. Given that this Administration's vision of America no longer includes people like us, on this Fourth of July, I also celebrate the Spirit of Revolution.
What happens next with ''Soft Power''? Since it's a co-commission between The Public Theater and the Center Theatre Group, we speculated that it might play the Public later and then go to Broadway. And Conrad said: ''From your lips to God's ears.''
I'm confident we'll get to New York. And assuming that happens, we'll look at it again. There's always more work you want to do.
You've also said that Hillary Clinton knows about your show and you hope she'll catch it in New York. But now that you've seen ''Soft Power'' in L.A. and San Francisco, what are you proudest of? How has this cast shaped it, and what was the biggest surprise?
I'm very proud (and relieved) that critics and audiences not only make sense of this show, but overwhelmingly embrace it. This cast has been a central and active collaborator in its creation, particularly because we rewrote so much in rehearsal and previews. Their talent and skill is unassailable, but so is the way they have taken care of one another, and realized the heart and spirit of this show through their hard work and devotion. The biggest surprise is that so many audience members leave ''Soft Power'' inspired and with renewed hope - which was more than I could have hoped for.
In ''Soft Power,'' Act II opens with CCTV, the official Chinese network, analyzing the state of the Chinese musical in the future. But on YouTube, there's a clip from a 2017 CCTV talent show that shows a Chinese utility company clearly ripping off ''Hello,'' the opening tune from ''The Book of Mormon.'' Though it has the same melody (and doorbells!), the Chinese deny any plagiarism. As a chair of the American Theatre Wing and a longtime member of the Dramatists Guild, what did you think when you saw this?
While I am pleased that this clip provides further evidence of our theater's ''soft power,'' and that musicals are closer to the heart of world pop culture than at any time since the 1950s, China's disregard of copyright has long been a big problem for artists and creators. I do believe we are making progress. Many sectors of China's artistic and cultural industries now recognize these fundamental rights and seek to do the right thing. But as this talent show (in 2017!) demonstrates, we still have a long way to go!
Finally, small world that it is, I gotta thank you for once mentioning me in an early draft of ''Yellow Face,'' your 2006 Pulitzer Prize finalist, because I was the N.Y. Daily News reporter who broke the story about the ''Miss Saigon'' casting controversy in 1990. But we actually crossed paths even before that. Do you recall teaching a playwriting class in the 1980s and reading my play ''Whiskey Chicken''? Amazingly, it became a hit for the Asian American Theatre Company in San Francisco in 1990.
Yes, it was about a [Chinese-American] family, and it was very funny. You should try to get it done again or sell it as a TV pilot.
To borrow a phrase from Conrad, your "Soft Power'' star: "From your lips to God's ears.''
"Soft Power" plays now through July 8 at the Curran, 455 Geary St., San Francisco. Tickets range from $29-$175. For more information, call (415) 358-1220 or visit SFCURRAN.com.