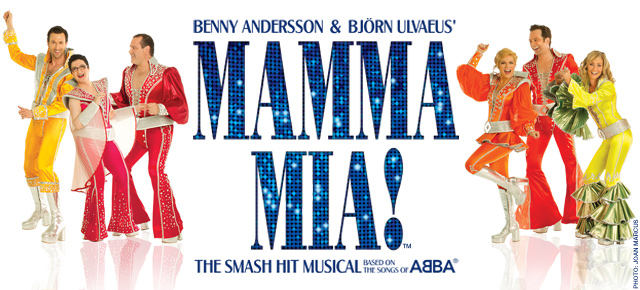 Click Here for More Articles on MAMMA MIA!
Alan Campbell, Paul DeBoy, John Hemphill, Jon Jorgenson and Elena Ricardo Join Broadway's MAMMA MIA!
Benny Andersson and Björn Ulvaeus' global smash hit musical Mamma Mia! will welcome new principals Alan Campbell, Paul DeBoy, John Hemphill, Jon Jorgenson and Elena Ricardo to The Broadhurst Theatre (235 West 44th Street) on Broadway on Monday, February 3, 2014.
Tony Award® nominated Broadway veteran Alan Campbell (Sunset Boulevard, Contact) will play "Sam Carmichael," with former Mamma Mia! cast member John Hemphill assuming the role of "Bill Austin" and Paul DeBoy making his Broadway debut as "Harry Bright," rounding the trio of men from Donna's past who are bride-to-be Sophie Sheridan's three possible dads.
MAMMA MIA! ensemble cast member Elena Ricardo will assume the leading role of "Sophie Sheridan" with Jon Jorgenson making his Broadway debut as Sophie's fiancé "Sky."
MAMMA MIA!'s Broadway "Dynamo" trio continue in their starring roles. Broadway favorite Judy McLane (Chess, Kiss of the Spiderwoman) stars as "Donna Sheridan," the independent single mother whose carefree past catches up with her on the eve of her daughter's wedding.
Felicia Finley (The Wedding Singer, The Life) and Lauren Cohn (The Drowsy Chaperone tour) star as "Tanya" and "Rosie," Donna's best friends and former back-up band known as "Donna and the Dynamos" who reunite on a Greek island for the wedding of their friend's daughter.
MAMMA MIA! also features Jacob Pinion as Sky's sidekick "Pepper," Thomasina E. Gross as "Lisa" and Traci Victoria as "Ali," Sophie's best friends andAlbert Guerzon as "Eddie."
Now celebrating 13 smash hit years on Broadway Mamma Mia! is the 10th longest running show in Broadway history and one of only 5 musicals to have run for more than 10 years on Broadway.
Acclaimed by the Associated Press as "quite simply, a phenomenon" Mamma Mia! continues its success around the world having been seen by over 54 million people, in 38 productions in 14 languages in over 400 cities. The original West End production is now in its 15th year in London.
MAMMA MIA! the show is one of the most successful musicals of all time anywhere in the world and the movie adaptation starring Meryl Streep is one of the most successful movie musicals of all time grossing $600 million worldwide.
Inspired by the story-telling magic of ABBA's timeless songs and directed by Phyllida Lloyd, Mamma Mia! is Judy Craymer's vision of writer Catherine Johnson's sunny, funny tale of family and friendship unfolding on a tiny Greek island. On the eve of her wedding, a daughter's quest to discover the identity of her father brings 3 men from her mother's past back to the island they had last visited 20 years ago. Songs including "Dancing Queen," "The Winner Takes It All," "Money, Money, Money" and "Take a Chance on Me" are all featured in this feel-good night of fun and laughter.

Related Articles
More Hot Stories For You