BWW Review: CYRANO DE BERGERAC at Perseverance Theatre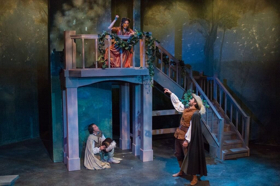 From the first swirl of the cape, Perseverance Theatre's world premier of the new adaption of Cyrano de Bergerac captures attention with its kinetic energy. Cyrano de Bergerac, originally written by Edmund Rostand in 1897, is newly translated and adapted by David Grimm and directed by Eleanor Holdridge.
Playwright, soldier, and poet Cyrano de Bergerac (John Keabler) is insecure over his overlarge nose. He falls in love with his cousin, Roxane (Kathryn Tkel) whom he is convinced will never love him back due to his ugliness. Roxane confides in Cyrano that she is in love with a new cadet, Christian (Enrique Bravo). Christian is handsome, but not an eloquent man. Cyrano devises a scheme to help Christian woo Roxane by using Cyrano's own words. Meanwhile De Guiche (J. Todd Adams), a colonel, also tries to woo Roxane. After it's made clear he will never win her over, he sends both Christian and Cyrano to war.
All the visuals of Cyrano flow as if trying to match the lyrical lines. Primarily set in 1640 France, the set (designed by Art Rotch) features a couple of balconies and a staircase cleverly rearranged to show different settings. The scene changes move like a dance with many of the actors continuing their scenes in silence. The blocking flows more like choreography than stage directions. The period costumes (Peggy McKowen), beautiful in the rare moment of stillness, are even more captivating while in action. Fight scenes were wonderfully choregraphed by Rick & Christian Kelly Sordelet.
The opening night performance of Cyrano de Bergerac was flawless. The witty verses flowed effortlessly from the performers mouths without a single slip-up. Tkel, Bravo, and Adams thoroughly embodied their characters. Keabler's heart-filled soliloquies on love made the audience swoon. His clever insults rolled off his tongue with panache. A particularly comical scene where Keabler stalls Adams with a story about how he reached outer space showed off his skill at character voices and physical comedy. If I were to search for any fault it would be a couple of moments of feedback the microphones gave off. Thankfully were fixed after intermission.
The not-to-be-miss Cyrano de Bergerac is playing now through May 6th at the Discovery Theatre in the Alaska Center for the Performing Arts. Tickets are available at www.centertix.net.
Photo credit: Cam Byrnes
Related Articles View More Anchorage

Stories

Shows
Mary McCormick was born and raised in Anchorage, AK. Her passion for musicals took center stage after seeing Beauty and the Beast and Thoroughly Modern (read more...)