Review: CHICAGO at Music Theatre Wichita, A Dazzling Production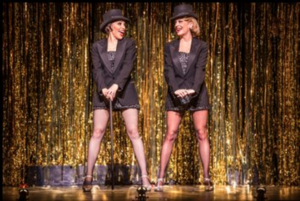 "Welcome. Ladies and Gentlemen, you are about to see a story of murder, greed, corruption, violence, exploitation, adultery and treachery-all those things we all hold near and dear to our hearts. Thank you."
Those are the opening lines to Kander and Ebb's musical Chicago. Set in the jazz age of the late 1920s, Chicago is based off the play by reporter Maurine Dallas Watkins who wrote about female murderers and what is best known as 'the celebrity criminal.' Shortly following her passing, Broadway adapted her play into a stage musical which opened in 1975 and competed with ticket holders for A Chorus Line. In 2002, Hollywood filmed a movie musical version winning best picture. Chicago has been revived numerous times for national tours and Broadway-including the 1996 revival (the longest in history)-it now runs at Century II for Music Theatre Wichita's current production from July 25th to the 28th. It is a must-see!
Visually, the presentation was much better in quality than the national tour having passed through Wichita a few years ago. The set, under the care of scenic coordinator Jordan Slusher, was both classy and elegant serving as home for the orchestra. Subtle strips of gold outlined the box set as well as the proscenium while Maestro Thomas W. Douglas music directed. The nice thing about having the musicians on stage was the fact sound balance between ensemble and orchestra were more distinct and clearer, aiding in an improved effort by sound designer David Muehl to make sure everything was audible and heard. Clean direction and choreography by Brian J. Marcum and assistant Devon McCleskey gave the feel of Broadway showmanship. It was the performers, however, who were dressed mostly in all black costumes by Abby Stroot, who showed grit, talent, and believable storytelling in order to execute Marcum's vision exceptionally during chorus songs "Cell Block Tango," "Roxie" and "Razzle Dazzle". Congratulations is in order and rightfully deserved because the opening lines rang true for all themes were conveyed.
Timothy W. Robu played Amos Hart. While acting was no problem for Robu, there were some issues in timing for "Funny Honey" attempting to line-up dialogue with song. His rendition of "Mr. Cellophane" was delivered fine though it would have been nice to have a little more volume and belt for the final fermata. Mary Sunshine was played by Serge Clivio who had lovely vocals for the role. One could tell he was having quite fun. For the sultry ballad "When You're Good to Mama", Altamiece Carolyn Cooper sang with gives, takes, and back phrasing for supporting the jazz style. The court room jester Billy Flynn was portrayed by David Elder, a Hugh Jackman type. Elder had nice moments, particularly after "Razzle Dazzle" developing no applause and shear silence transitioning into the thrilling trial. They say the best kind of applause is no applause. It was dynamite duo Ellyn Marie Marsh (Velma Kelly) and Anne Horak (Roxie Hart) who truly carried the show. Marsh, an athletic Broadway dancer, channeled now eighty-six-year-old Chita Rivera tearing down the balcony where I sat. Her rendition of "Class" with Cooper was well-delivered earning genuine applause making one wish for more manners from both ladies and gentlemen. Horak as Hart channeled Renee Zellweger's performance from the film. I especially enjoyed her monologue before "Roxie." The pair shimmied all night long, particularly for the finale "The Hot Honey Rag" done to original Bob Fosse choreography perfectly.
The only awkward moment in the whole entire show was when Hunyak was wrongfully put to death and a noose dropped dead center stage on opening night. I will say this much: the rope was in a whole other show by itself that night. It had its own moment and the audience was left stunned and flabbergasted. I have to wonder if it was supposed to hang center stage and then ensemble member Anthony Giandiletti (Fred Casely) would release it from the fly system above with a gentle pull. Other than what appeared to be a small technical difficulty, the rest of the show operated smoothly for a production filled with Americana references plus thought-provoking political statements exposing our times.
Most in Wichita would agree we are all looking forward to season closer In the Heights. Written by Hamilton's Lin Manuel Miranda, Wichita audiences are all anxiously awaiting what kind of staging Wayne Bryan and team will produce for what will be another closing to another successful summer season for MTW.
REHEARSAL FOOTAGE:
With Brian J. Marcum's colorful choreography, the Music Theatre Wichita Chicago cast does its best to "Razzle Dazzle" audiences, now through Sunday at Century II.