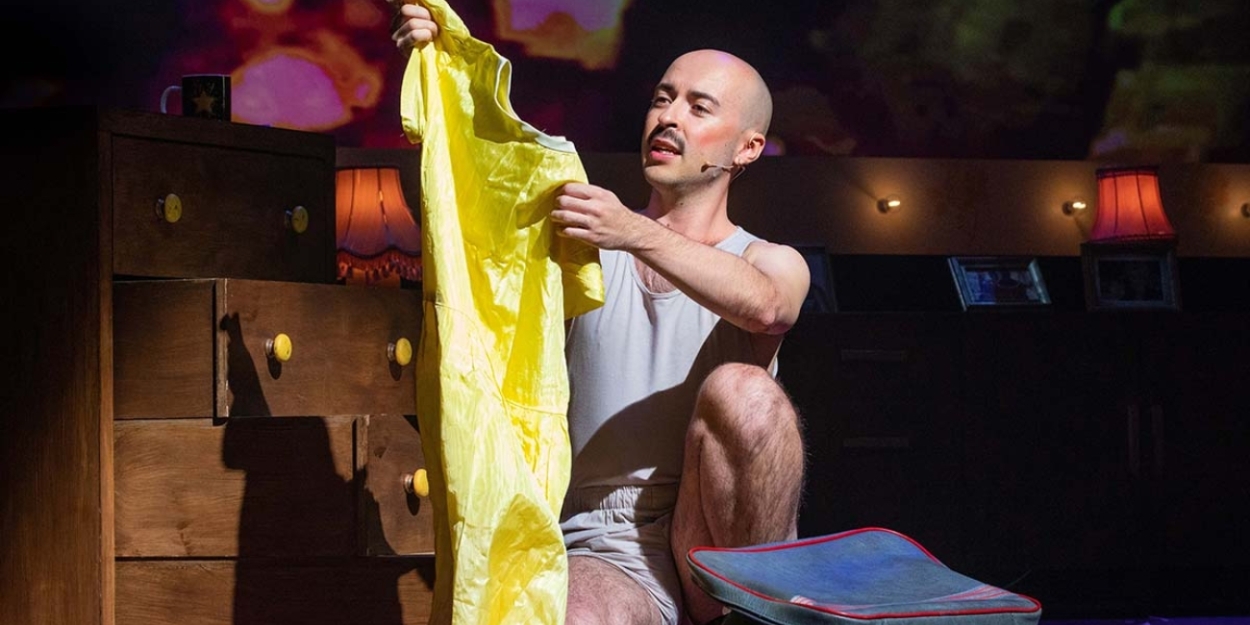 Review: MY SON'S A QUEER, (BUT WHAT CAN YOU DO?), Ambassadors Theatre
Rob Madge's joyous production returns to the West-End.

When Rob Madge posted their childhood videos onto TikTok, they quickly went viral. This inspired them to delve deeper into their childhood, exploring the many events that made them who they are today - and make a show about it.
There is beauty in the simplicity of this concept. My Son's A Queer (But What Can You Do?) is a tale about growing up. More specifically, the "ups and downs of raising a queer child." It is also clearly a production made for and by generations of theatre kids, the kind who prefer to stay in the dress-up section of the school (especially if it gets them out of a football match).
The production is built around the idea that Rob is recreating their infamous Disney Parade from years gone by. After all, the first time around, it just didn't go to plan - Dad kept forgetting his cues, the music skipped, and the costumes went awry. Now, armed with 'the seven steps to putting on a Disney Parade' (and a bigger budget), Rob is ready to impress.
To bring the Disney Parade (which has relocated from Florida to Coventry) to life, the stage at the Ambassadors Theatre is turned into Rob's childhood living room by set designer Ryan Dawson Laight. This way, they have everything they need at their disposal, from VHS tapes to a Belle dress lovingly made by their grandma.
Throughout, Rob is joined onstage by a younger (and just as charismatic) version of themselves through old VHS tapes. This helps paint a clearer picture of Rob's journey and how the unwavering support of their parents enabled them to discover who they are. The footage and narration from Rob are interspersed with songs from Pippa Cleary, from which "We Will Be Loved Anyway" is a clear stand-out.
At its core, this is a comedic production. The VHS tapes show a bright, laughing family - with a child whose energy is infectious - even if they make everyone follow a strict rehearsal schedule for their Christmas Panto. Adult Rob is just as entertaining, and their witty narration is embedded with tonnes of in-jokes and references for fellow theatre lovers to pick up on.
The script also touches upon the struggles associated with growing up queer. Not all parents are as accepting as theirs (or as willing to dress up as various Disney characters). Rob sometimes struggled to make friends at school and 'played' a more toned-down version of themselves to fit in - a safety mechanism many in the audience can likely relate to.
Despite the weighty subject matter, Rob focuses primarily on the joys and beauty of being unapologetically queer. And it is unspeakably refreshing to see queer joy on stage.
While a lot of queer media tends to focus on the struggles of being part of the LGBTQ+ community, My Son's A Queer is a celebration of happier moments. While the former is valid and vital, queer youth deserve to see that there are brighter times ahead and that it's okay to embrace exactly who you are.
The production, directed by Luke Sheppard, will leave audiences laughing and crying but buoyed with a sense of belonging. Designed for the "families that have, once upon a time, cheered on countless living room productions from sofas" for children who found solace in the theatre - and for those who haven't quite found where they belong yet. It's equal parts joyful and profound - and it helped me find something in myself I didn't know I had lost.
This is, undoubtedly, a five-star production packed with heart - and I doubt this is the last time we'll see Rob (or their writing) on the West End.
Check out our latest interview with Rob Madge here.
My Son's a Queer (But What Can You Do?) is at the Ambassadors Theatre until 18 March
Photo Credit: Mark Senior