Review: OTHELLO, Liverpool Everyman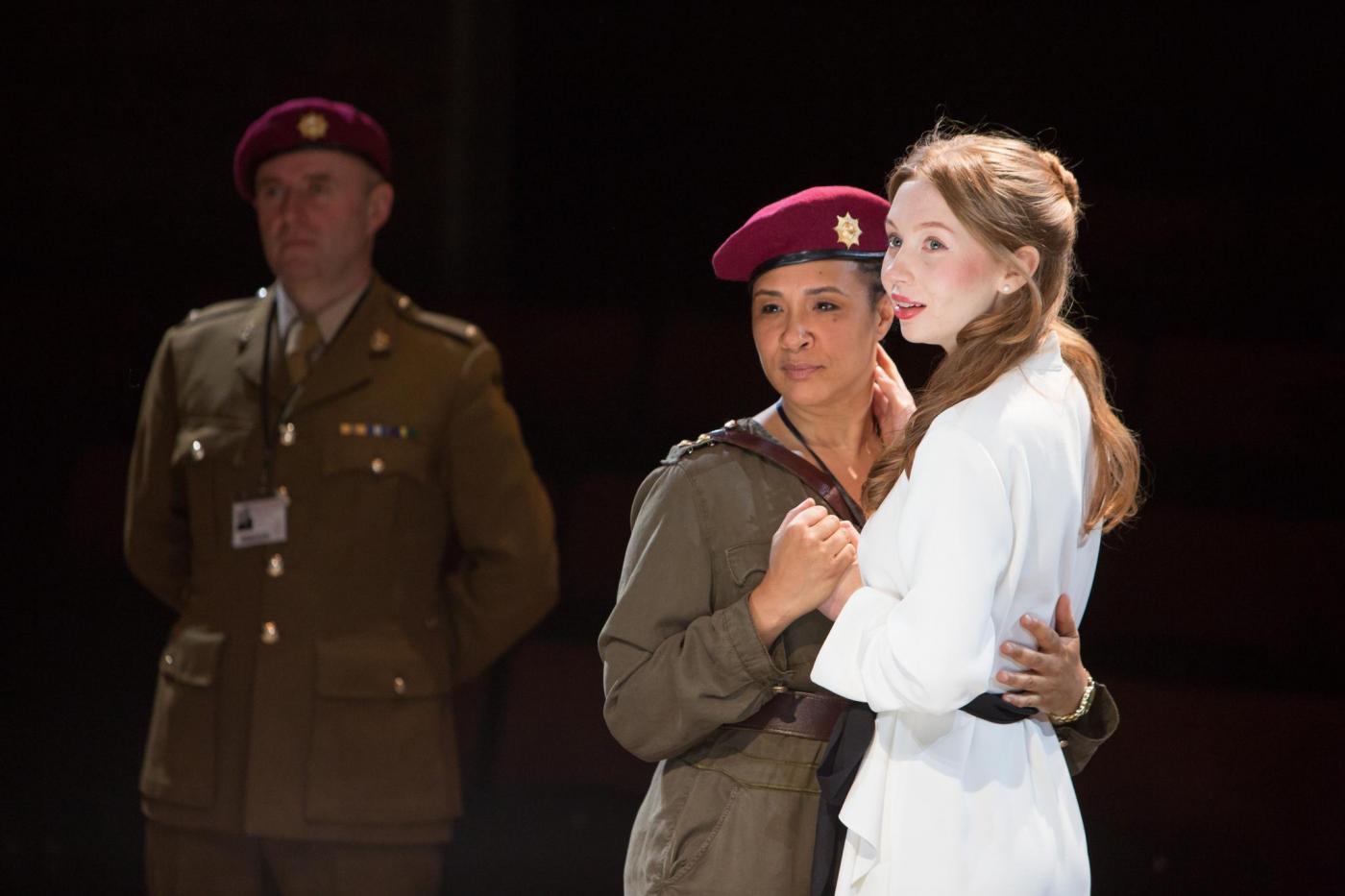 For their third production this season, the Everyman company tackles Shakespeare's enduring tragedy based upon lies, jealously and power.
This classic is reimagined by the casting of Golda Rosheuvel as Othello. It isn't the first time Othello has been played by a woman, but importantly Rosheuvel's Othello is both undeniably female and a lesbian. Thus, Othello is an outsider in terms of race, gender and sexuality.
This adds a new dimension and tension to the play, and Rosheuvel manages to command the stage with ease. Her performance is electric.
Othello is brought right up to date by director Gemma Bodinetz, choosing to base the play in a modern military base. The subtle use of mobile phones and tablets helps reinforce this and shows how social media can be used for trickery. Everything is run in orderly fashion by Othello until Iago begins to meddle and feed her lies.
Patrick Brennan's Iago is clearly jealous of Othello and conspiring against her. This could be due to a mixture of reasons: racism, power envy, misogyny. Brennan's Iago is the typical villain, slowly manipulating and dictating how events unfold.
One of the casualties is the innocent and pure Desdemona, played by Emily Hughes. Here, Desdemona is the embodiment of femininity, and her love seems to be driven by idolisation of Othello for her bravery, whilst Othello loves her sweetness. The same-sex romance feels tangible and tender.
A number of the characters offer comic relief in an otherwise very tense and dramatic production. Marc Elliot plays the somewhat camp Roderigo, who pays Iago in hopes of gaining Desdemona's affection.
Cerith Flinn's cheeky Cassio is the typical lad - top off, lustful and always up for a good time. Both of these characters are superbly performed. One of my highlights of the entire show was the scene featuring a very drunk Cassio.
Set in the round, the staging is minimalistic. However, designers Molly Lacey Davies, Natalie Johnson and Jocelyn Meall managed to transform the stage for the final scene: a translucent canopy hanging from the ceiling surrounds the white bed. This picturesque setting contrasts the action playing out on stage, while emphasising Desdemona's purity.
This Shakespearean classic is revitalised by the casting of Golda Rosheuvel. It completely alters Othello's interactions and how status is portrayed and perceived. In a world full of men and heteronormative standards, there stands a powerful homosexual woman.
It's a great example of the way that both classics and contemporary plays can be cast to showcase a central character with a more interesting and progressive narrative.
Othello at Liverpool Everyman until 10 July
Photo credit: Jonathan Keenan