BWW Review: MEASURE FOR MEASURE, Donmar Warehouse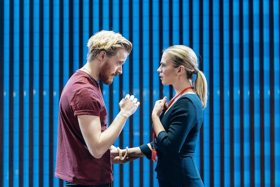 It's a #MeToo-era Measure for Measure over at the Donmar, with Josie Rourke conducting a fascinating experiment: abridging Shakespeare's problem play to just over an hour and running it twice, once in period, once in modern dress. And with the key roles of Isabella and Angelo swapped between Hayley Atwell and Jack Lowden.
It thrusts the gendered power dynamics to the fore, putting a different inflection on the same lines and asking us to re-examine the play's familiar scenarios. Unsurprisingly, perhaps, the main message seems to be that women lose out either way - we haven't dismantled patriarchal structures enough in 400 years.
The Brett Kavanaugh hearings are an inescapable echo here. It's bone-chilling to hear characters speaking lines from 1604 that so closely parallel a 2018 event: "Who will believe thee, Isabel?...My false o'erweighs your true," sneers the sexually predatory Angelo. And "To whom should I complain?" wonders Isabella. We still don't have a satisfactory answer to that question.
Even when Isabella and Mariana join forces to accuse Angelo together, he's ready with a counter-accusation: "These poor informal women are no more/But instruments of some more mightier member/That sets them on". Trumpian Tweets about George Soros and paid protestors come to mind.
Rourke's filleted version also emphasises the duke's deceit and manipulation, so that even when Isabella seems to be making her own choices - and, in Atwell's hands, she's a quick-witted, active participant with as much agency as she can muster - she's still being undermined.
The duke's climactic ploy here is pure tragedy: literally standing between Isabella and her brother, making it clear that his hand in marriage is the cost of Claudio's life. Atwell's Isabella doesn't take this in silence, but with a scream of pure rage - another female voice added to those crying out, and ignored.
The lighter modern version is less convincing overall, but does offer some witty updates. Instead of giving his deputy a chain of office, the Duke hands over a lanyard with ID card; rather than being a novice nun, Angelo is practising meditation at an AA retreat; and microphones in the courtroom add to the theatricality.
The proposition scene feels very different with the gender switch - almost more of a mutual temptation. Though Lowden demonstrates Angelo's discomfort and distress, there's still a point where he physically overpowers Isabella; Atwell's Isabella, while certainly coercive, is initially flummoxed by her attraction, rather than coldly sensing an opportunity to exploit her position.
However, it's hard to replicate the stakes of the play in the 21st-century update. Take away religious devotion and strict social stigma, and why wouldn't Angelo exchange one night of sex for his brother's life? The scorned male ex here is just sad, not ruined, and in fact eager to fight back - to the point of nasty revenge porn.
While the deceiving of Angelo in the original feels justified, here we get the uneasy sight of three men scheming to take down an authoritative woman by tricking her into non-consensual sex - and later their ringleader forcing her into marriage, and powerless silence once more.
Other elements need further thinking, like the gender switch turning the duke into a predatory gay man, and Pompey the bawd becoming an Eastern European madam - both unfortunate stereotypes. Despite Peter McKintosh's design providing overhead lights forming a cross, faith is short-changed - perhaps suggesting a bleak universe with no higher power to intervene, but also weakening the central struggle.
Yet Atwell and Lowden are compelling throughout. The former produces two intelligent, perceptive women trapped by circumstance; even when she's seemingly in control, her orders are met with derision from men, and she hints at the denial of self needed to be a female leader - and how that, in turn, leaves her vulnerable in a different way. Lowden's Angelo is terrifyingly certain, and then poignantly lost.
Nicholas Burns is excellent in both incarnations of the manipulative duke, and there's comic support from Jackie Clune, Rachel Denning and Matt Bardock. But the cuts inevitably simplify the subplots; Claudio's plight has less impact, despite committed work from Sule Rimi, and the same for Helena Wilson's Mariana.
A flawed experiment, then, but still a bold, timely and - in places - truly revelatory one.
Measure for Measure at Donmar Warehouse until 24 November
Photo credit: Manuel Harlan
Featured This Week on Stage Door
Shoutouts, Classes, and More from Your Favorite Broadway Stars