BWW Review: LITTLE SHOP OF HORRORS, Regent's Park Open Air Theatre

It's over 35 years since Little Shop of Horrors had its off-Broadway debut, but it remains a consistent choice for revival. Now Director Maria Aberg brings a new version to Regent's Park Open Air Theatre that indicates the show will be as successful as ever.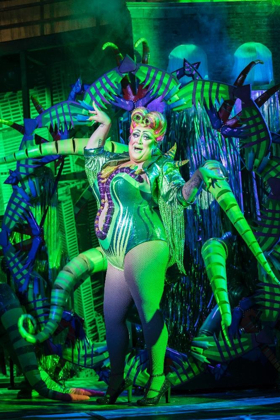 Despite the incredulous story of hapless assistant-florist Seymour's discovery of a new plant that turns out to only thrive on human flesh, along with a highly dubious subplot of domestic violence, the production's musical numbers such as "Suddenly, Seymour" and "Skid Row" remain as catchy and vibrant as ever.
Much of the production's success depends on the chemistry between lonely orphan Seymour, played by Marc Antolin and his oppressed love interest Audrey, played by Jemima Rooper.
Seymour needs to be so disillusioned with his life, he is motivated to create Audrey II and Audrey requires some depth beneath her miserable relationship with her abusive boyfriend Orin. The two create the layers of these characters and work incredibly well together. Antolin is suitably kooky and geeky and Rooper is sweetly cute, both with impressive vocals to match.
Sadistic dentist Orin is played by ex-Busted member Matt Willis. The vocal acrobatics of the character are challenging, but Willis puts in a suitably manic performance. Heavily tattooed with bleached blond hair and missing a tooth (ironic for a dentist), his wide-eyed stare and deep south drawl are as foreboding as he looks.
Audrey II begins life as a small and cutesy puppet, but in a diversion from the usual interpretation, US Drag performer Vicky Vox is an inspired choice to play the murderous plant as it becomes uncontrollable. Vox is loud, brash and over the top in all the right ways, with a filthy sense of humour. This interpretation does make Audrey II more camp than terrifying, but it's great fun to watch.
Holding the structure of the story together is the fantastic trio of street singers, played by a sassy Renée Lamb, Seyi Omooba and Christina Modestou who strut and pose in and around the stage. Their harmonies are sparkling, with Omooba bringing the most attitude.
The hard-working ensemble occasionally look a little crowded on stage, but are sharp and precise with Lizzi Gee's excellent choreography. The finale of "Don't Feed The Plant" is some of the best fun you will see on stage this summer.
Tom Scutt's set depicts the depressing Skid Row very well as a dark and oppressive landscape in minature, full of crooked high-rise buildings and dingy backstreets. Nice touches are towers moved around in shopping trolleys and green plants made from household items such as toilet brushes and hairbrushes.
His costume design incorporates more colour into the look, with shades of green being the predominant theme. Audrey and Seymour are defined by blue and florescent pink hair for Audrey and socks for Seymour. It's a bright and bold depiction, with Audrey II's audacious costume, hair and makeup looking like an explosion in a glittery sweet factory.
There is something magical about watching a production as the sun sets and the stars come out in a London park. This production only adds to the magic and is a bright, camp and hugely enjoyable night out.
Little Shop Of Horrors is at the Regents Park Open Air Theatre until 22 September
Read our interview with Marc Antolin
Photo Credit: Johan Persson
Related Articles