BWW Interview: Marc Antolin Talks LITTLE SHOP OF HORRORS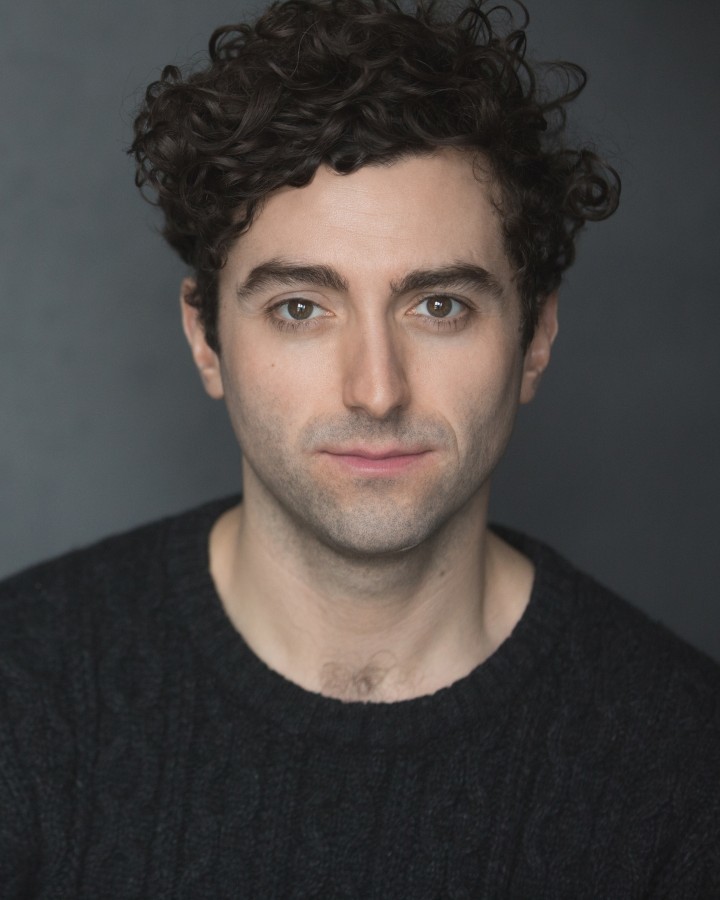 It's big...it's green...and no, it's not just the park! This summer, Regent's Park Open Air Theatre stages Little Shop of Horrors, with rehearsals currently underway.
Though his character Seymour may be "full of broken dreams", Marc Antolin certainly isn't. Taking on his dream role, Marc shares his favourite songs from the show and why he loves returning to Regent's Park.
What is your earliest memory of theatre?
I was obsessed with Grease the movie as a kid. And I remember my mum and dad surprised me and my sister with a trip to London.
We just thought we were coming here for the weekend, and we didn't know what we were doing (I think we were just told we were going to see the Queen!)
And I just remember really vividly coming up the Tube staircase and seeing the big Grease sign at the Dominion. And I was like, "Oh my God, Grease!" And my mum and dad said, "Oh yes, we're going to watch that tonight".
So we were in the circle watching Grease and I remember dancing throughout the whole thing. So that was my first London theatre experience, and I think I was hooked from then really.
Who was your favourite character in Grease?
Oh, Doody. Because I've got a habit of really enjoying the misfit, sort of broken dreams characters.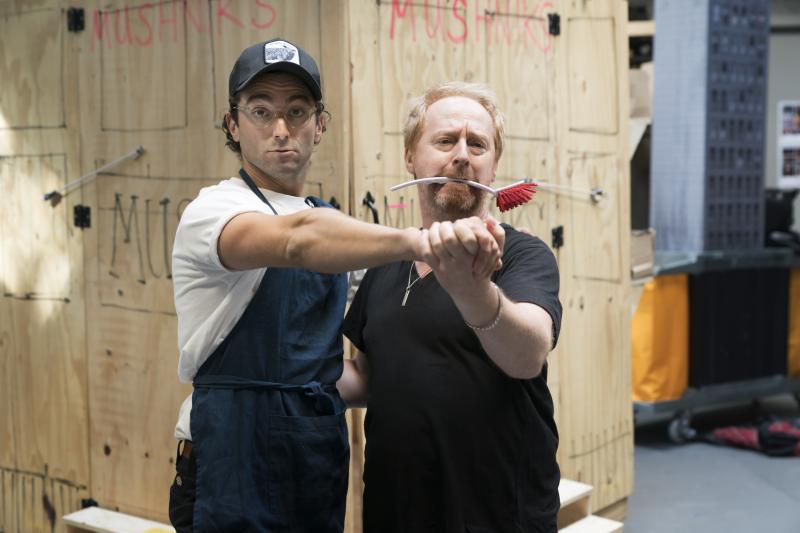 And that love of musicals has continued into your career. Last year, you were in Romantics Anonymous, you're about to feature in Little Shop of Horrors. Is that a medium you're particularly drawn to?
Well, as a kid, I didn't really know what to do. I was big into rugby and football, and then I had a knee injury and had to give it up for 18 months. So that's when I started going to drama, and that's one of the first things you do at youth theatre: musicals.
I sang a bit, but I wasn't a dancer at all. Then I thought, "Well, if I train in musical theatre, I'll be a bit more employable". So I came to London and trained in musical theatre.
And there's something about musicals which is quite brilliant: you can take people to another world and it brings joy to people.
This year, you're back at Regent's Park Open Air Theatre. What was your first experience here as an audience member?
In my third year of college, I came to see Gigi because I had some friends in it. And I'd seen shows in an open air theatre before, but nothing as beautiful as this. You're sat outside, the sun is shining, you're watching a wonderful theatre show. I remember thinking, "God, I'd like to work here one day".
And then the next year, I was here performing!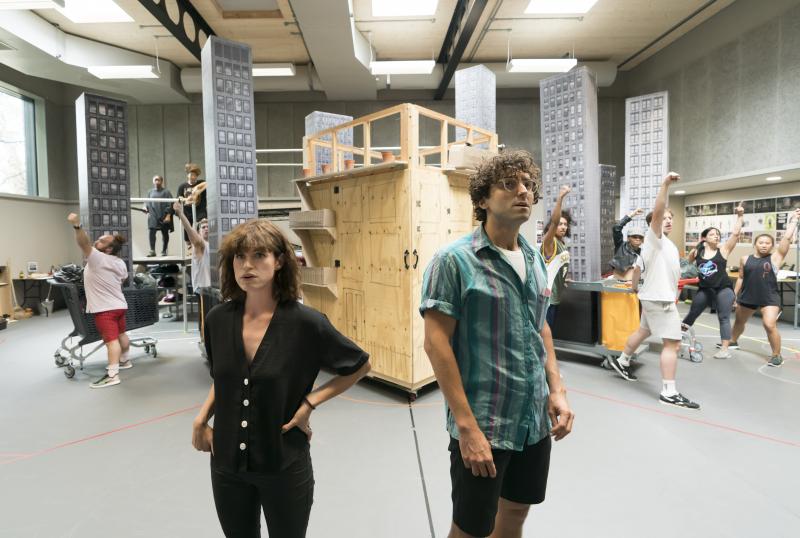 So what were your first experiences here as an actor, then?
I was in the ensemble of Hello, Dolly! and that was absolutely incredible.
Samantha Spiro, I just remember being in awe of her: she was so electrifying as Dolly. And just being able to watch everyone's disciplines and how they rehearse, I feel so lucky that in the early stages of my career, I had these wonderful learning opportunities.
Then I came back to do Into the Woods, which was one of my favourite shows as a kid. And we made it into this big ensemble piece which was lovely, because I was onstage Swing. So I covered all the male roles, which was tricky but also quite exciting. I got a chance to rehearse some of the parts I'd looked at as a kid and gone, "I want to do those parts when I'm older".
I remember during our first preview, we heard that Stephen Sondheim was watching it. And we were terrified but were also like, "Come on, let's show him what we've done". And he loved it and pushed for us to get it filmed, so now it's reaching a wider audience online.
Over the past few years, you've had a fair amount of experience playing to outdoor audiences here and at Shakespeare's Globe. What are the joys of playing these spaces?
I think it's the closest you'll get to everything being really live.
You're dealing with all the elements, from the weather to pigeons. If a pigeon flies across, everyone's aware that it's there. So for me, it's best to use it because it's pointless trying to ignore the fact that it's there sitting on your set!
It's really exciting - some shows really have an advantage to different weather conditions. I think it really changes (and often enhances) the experience.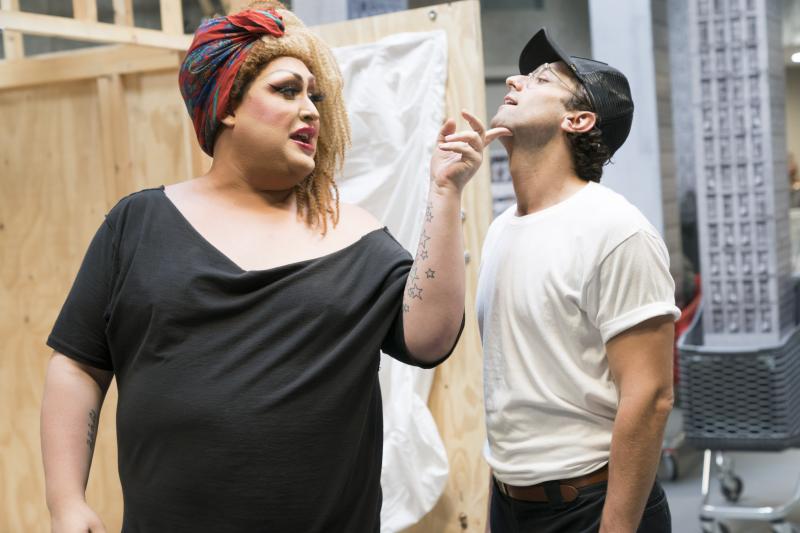 Twelfth Night would be particularly atmospheric with a storm or two...
Well, the very first preview at the Globe, it was absolutely chucking it down with rain. And it was terrifying. It's your first preview and you're nervous and thinking, "Well if we lose the audience because of the weather, then we know we've not done a good job".
And everyone just stayed throughout the whole show, which amazed me. So then we thought, "Well this show must be really good if they've stood throughout this weather". It was incredible seeing these plastic macs with hoods up and eyes poking out, just smiling at us.
So you were obviously a fan of musicals from an early age. When was it that you first encountered Little Shop of Horrors?
I remember watching a movie at a friend's house on a rainy in Port Talbot, South Wales. And all I knew is that it was the guy from Honey, I Shrunk the Kids. And quickly thinking, "What on earth is this musical?!"
Then I went through all of secondary school watching every other school do Little Shop of Horrors going, "I really want to play Seymour". And we never got to do it, sadly.
Ah!
I thought that my dream of playing him had passed. So when I heard they were doing Little Shop of Horrors at Regent's Park, I was like, "I have to do it".
I actually thought I wasn't going to be able to though, because I thought it clashed with The Flying Lovers of Vitebsk tour. We were in LA and I got an email off my agent saying, "Oh, is this of interest to you?" And I said, "Are you kidding me? That is my dream part!"
So I taped an audition from my dressing room, although I did contemplate going down to Skid Row and doing a music video for it...but I thought, "No I don't want to come across too desperate!"
I sent that over and was so excited when I found out I got the role, because it's one I'd had my eye on for a long time. And especially it being at Regent's Park with the team and this cast, I was over the moon.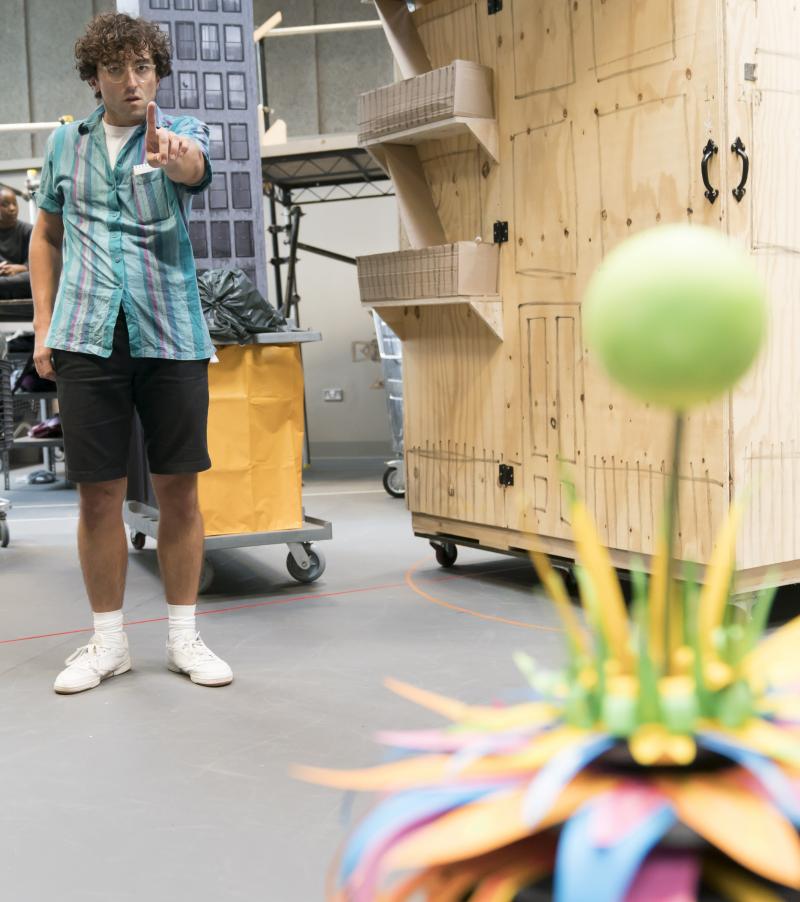 For those less familiar with the film, can you tell us a bit about your character?
So Seymour is kind of a misfit: he is an orphan taken in by Mr Mushnik, who runs the flower shop down on Skid Row. And Seymour is full of broken dreams and is very much in love with Audrey, who works in the shop with him.
Seymour's got this hobby where he's interested in strange plants. And he gets one and he starts nurturing it and bringing it to life. And then suddenly, it turns into a very greedy, man-eating, bloodthirsty plant.
And Seymour gets a bit of fame and fortune from it, and suddenly he's getting interest from girls and starts getting noticed by Audrey, and he really enjoys this newfound success. But he goes as far as he can to get what he wants, and it all get a bit out of control...
And how have rehearsals been going so far?
We're nearly halfway through now, and we're moving through it quite quickly. Everyone is brilliant, I'm constantly in awe of everyone everyday.
The script is so refined from the versions which happened before us putting our sort of stamp on it. It's very exciting, because we're honouring the original and honouring the fun of the show. But we're also adding little differences here and there.
So it's very exciting for all of our audiences. For those who do know the show very well, they'll have something different to take away. And for people who don't know the show, they'll have a completely new experience on the night.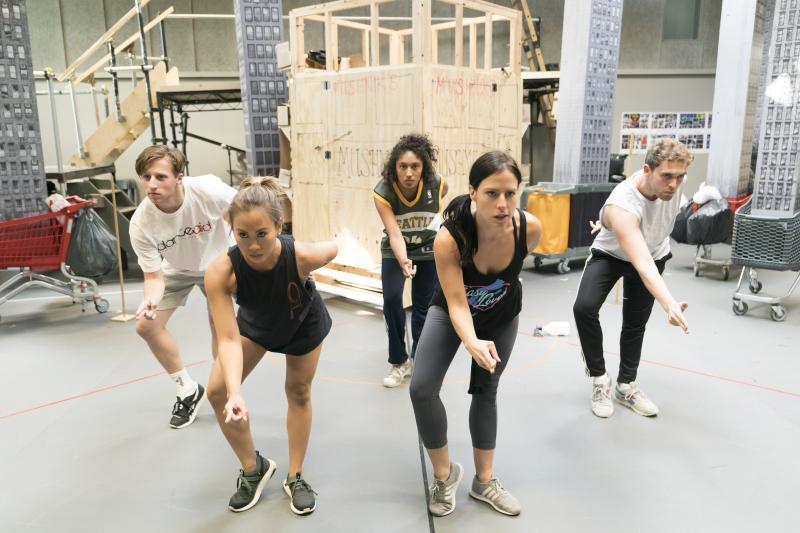 What are your favourite numbers from rehearsals so far, to perform and to listen to?
I mean, "Suddenly Seymour" is a classic. Everyone knows it and I am half-expecting people to start singing along with us! So I'm loving performing that with Jemima Rooper, and I'm looking forward to getting that up on it feet before audiences.
Listening to "Skid Row" is incredible, and the three girls who sing that. But the finale is also one of my favourite numbers at the moment. You've got all these incredible harmonies and voices and joy coming out of the cast.
Director Maria Aberg has described the show as a "a huge, defiant celebration of the subversive and the downright fabulous". Can you tell us a little bit about what audiences can expect from that world?
Well we're still discovering it in rehearsals. And there's something so incredibly brilliant and cult about this show, and we're taking it into a different dimension by having Vicky Vox as the plant.
It's just something that I never imagined, but when I found out I was like, "This is perfect". The plant has those traits that Seymour doesn't have as its personality, and it takes those and brings them out of him and it's so much fun. Especially at the end: it's a massive celebration of what the plant and Vox represents in this world of chaos.
So you'll definitely leave on a massive high with a bit of a party vibe. It'll be a perfect night out this summer!
Little Shop of Horrors at Regent's Park Open Air Theatre until 15 September
Photo credit: Johan Persson
Related Articles