Review: Kafka's Dark, Dystopian Classic THE TRIAL Dazzles at Synetic Theater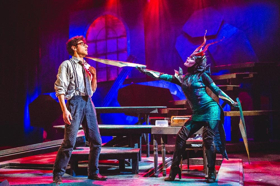 Like an edgy, stark, and unsettling nightmare, Synetic Theater breathes life into the futile world of isolation and despair first introduced by acclaimed 20th century writer Franz Kafka nearly 100 years ago. You will not soon forget your visit to an insect-infested world where darkness pervades and hope is not even a shadow on wall.
Synetic's latest work is taken from Kafka's novel THE TRIAL with elements borrowed from his other works, presented in the kinetic and bold theatrical style the 22-year old company has earned their renown. A perfect fusion of movement, stagecraft, text and performance, Synetic's THE TRIAL leaves a lasting impression long after the performance. I confess in my six years of covering theatre in the DC area, THE TRIAL is my first Synetic production. But it certainly will not be the last.
Founding artistic director Paata Tsikurishvili and his collaborators use all the power of striking design elements and dynamic movement to engulf the audience in a world that captivates and confuses. The director and his wife, choreographer Irina Tsikurishvili, are able to utilize experienced performers who are physically and verbally expressive propelling the story forward so that there is never a wasted moment.
The play begins with a single figure onstage, Josef K. - presumably a stand-in for Kafka himself. Struggling with writer's block, Josef's troubled mind leads him to have visions of a giant cockroach that leads him into a darkened hive of anthropomorphic insects where he becomes embroiled in a fight for his life.
The giant bugs - costumed phantasmagorically by designer Erik Teague - become the other characters in Josef's story, from his guards to his attorney and loved ones alike. Josef's plight is bleak and he never sees even a tiny glimmer of light as his journey leads to an ultimate fate that is visually arresting.
The gifted company of performers are all veterans of Synetic productions. Shu-nan Chu is Josef K., showing the drive to create and wonder at his dystopian nightmare in equal measure. Tori Bertocci, as friendly Anna, is striking in her grace, costumed as a luna moth. Exuding insect vibes as if they had crawled from out of a rancid, fallen tree, Chris Willumsen and Thomas Beheler lock in memorable performances as Willem and Franz, the guards to Josef's reluctant prisoner. Even as a human, in his dream-like vision, his Uncle Karl is insectified, played with pathos by Lee Liebeskind.
Playing multiple roles with aplomb, Ryan Tumulty has a strong presence and is aided by various costumes and props, enacting the imposing inspector, the decrepit lawyer Huld, the judge and Josef's priest confessor. Likewise donning several different bug costumes and personae, Kathy Gordon uses her skill as the most deadly female human-insect, especially as Leni, a real man-eater.
Aside from the brilliantly inventive costumes by Erik Teague, Daniel Pinha's scenic design immediately transports the performers to the depths of Kafka's nightmarish landscape where logic is no longer at play. The skewed set pieces are punctuated with precision and stunning artifice by Brian S. Allard's lighting design, allowing for striking imagery until the Josef's fatal, final moments.
Even though this was my first visit to Synetic, the physical theater's reputation has certainly preceded it, along with the multiple awards the company has earned since 1996. I can see why: I highly recommend THE TRIAL, which is guilty of a coup de théâtre.
---
Follow Jeff Walker on Twitter - @jeffwalker66
THE TRIAL
Based on the novel by Franz Kafka
Adapted by Nathan Weinberger
Directed by Paata Tsikurishvili
Running time: 94 minutes, no intermission.
This production is recommended for ages 17+ for mature content
Synetic Theater - Crystal City, VA - 1800 S. Bell St., Arlington, VA 22202
January 19 to February 18, 2018 - Wednesday - Saturday, 8:00 p.m.; Sunday matinee, 2:00 p.m. Box Office: 866.811.4111 or www.synetictheater.org

Photo Credit: Johnny Shryock