BWW Review: KINGS at Studio Theatre Rules
Some people go to the theater to find a place to escape from the world around them. If you are one of those people, Studio Theatre's production of Kings wont be your cup of tea. This production is often an uncomfortably real exploration of politics, lobbyists and daily life in the heart of our nation. It takes a moment for the plot to get moving, but once it has left the station, Kings proved to be a thoroughly enjoyable ride.
The play begins in a hotel in Vail, where two lobbyists, Kate (Kelly McCrann) and Lauren (Laura C. Harris), trade banter and strategies for courting their difficult marks. Hot off a special election win, war widow Sydney Millsap (Nehassaiu deGannes) is directly in their crosshairs. Representative Millsap's reputation as an anti-establishment legislator, however, makes her difficult to woo. Her feisty persona generates ire from her peers, including senator (and 2020 front runner) John McDowell. Senator McDowell (Elliott Bales) attempts at derailing the new congresswoman's career, however, prove more complicated when Kate and Lauren throw their hats into the ring.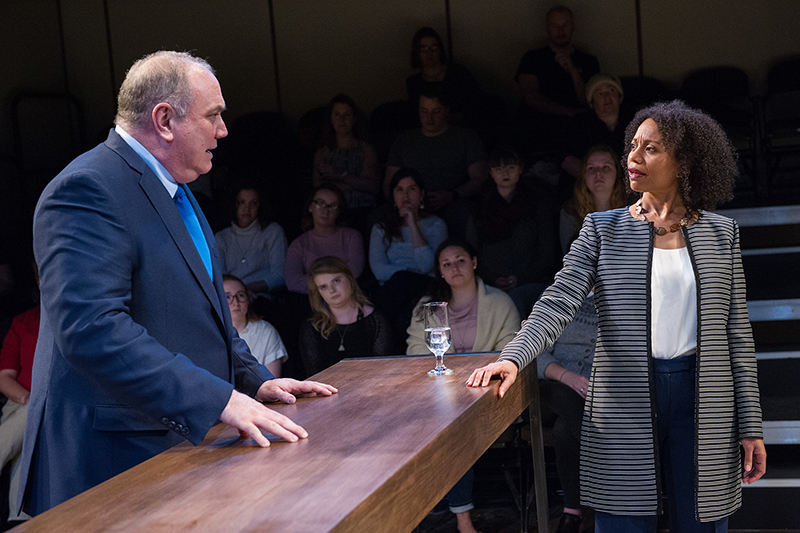 It's an intriguing battle of political wits brought to life by some sharp and timely dialogue-as soon as you've made it past the first five or so minutes. There's something about Lauren and Kate's first interactions that feel incredibly stiff. I'm still not sure if the stiffness was caused by the performances or the script but something about the first moments of the play felt disconnected from the rest of the production, which clipped along at a great pace with natural-sounding dialogue.
Speaking of the dialogue, Sarah Burgess's script has cleverly brought this script to life while avoiding mention of specific political parties. Thus, the satirical points of her show are not targeted toward Democrats or Republicans but instead aim directly at our entire political system. Sure, the rhetoric used by Representative Millsap and Senator McDowell sound like it comes from one of the parties at times. But they're both from Texas-and things work differently in the Lone Star State compared to D.C. Regardless, Kings, which premiered at The Public Theater in New York in early 2018, makes a very political statement without becoming partisan which, in today's political climate, is a feat all its own.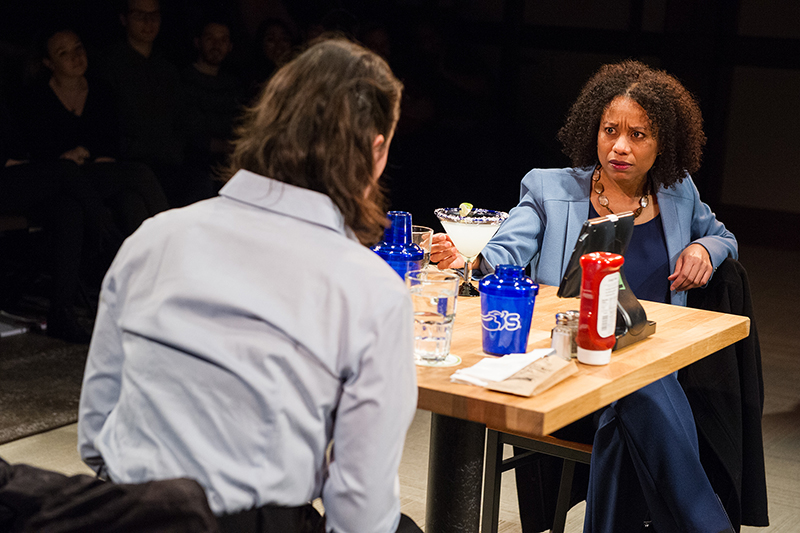 Burgess has left her work in very capable hands thanks to some strong direction by Marti Lyons, who helmed The Wolves at Studio Theater to great acclaim last year. Ms. Lyons has adroitly facilitated the numerous scene changes that take place over this ninety minute production, helping to ensure each shift from a hotel lobby to a hotel ballroom to a Chili's is done quickly and efficiently. Despite this, there are some awkwardly directed moments of dialogue throughout. When Kate first meets Representative Millsap, the two exchange much of their dialogue while standing on nearly opposite sides of Studio's Stage 4. Keeping the actors so far apart while discussing sensitive political issues feels odd and it's a move mimicked in several moments later in the play as well. Apparently, the politicians in Kings are the kind that don't mind shouting their plans across a hotel lobby.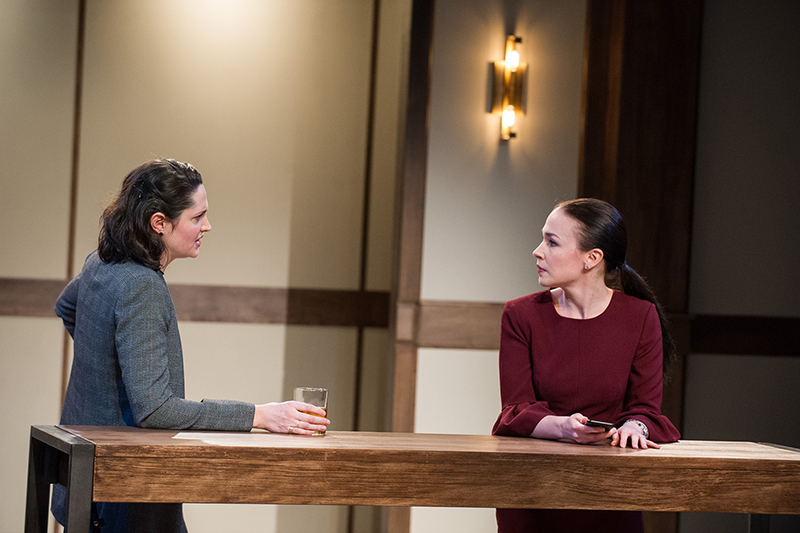 The apt direction of this production pairs well with the talented cast. Ms. Harris is particularly engrossing as Lauren, whose moral compass is the most questionable throughout the night. In another actress's hands, this role could have fallen flat, but Ms. Harris pulls out every opportunity to show Lauren's constantly calculating brain manipulating each of the player's who shares the stage with her. Kelly McCrann's opposing lobbyist, Kate, is a more complex character on the page and Ms. McCrann perfectly executes her character arc with determination. Less of a natural talent than Lauren, Kate takes more time to think of her next step-which Ms. McCrann is able to demonstrate without ever compromising the strength of her character. Both Ms. deGannes and Mr. Bales turn in solid performances as Representative Millsap and Senator McDowell respectively. In the end, however, both of their roles feel like faithful archetypes (the "wild card" legislator and the old corrupt white male) than real flesh and blood.
Kings wouldn't hit so close to home for a D.C. audience if it weren't for the outstanding production design. Luciana Stecconi's set design is utilitarian and minimalistic, built around a frame that resembles any posh hotel found in the District or beyond. With several smaller set pieces, the stage easily transforms into other locales suitable for any backroom deals between lobbyists and politicians. A warning though: the skillful evocation of Chili's will make you leave the theater craving a sizzling fajita and an ice cold margarita.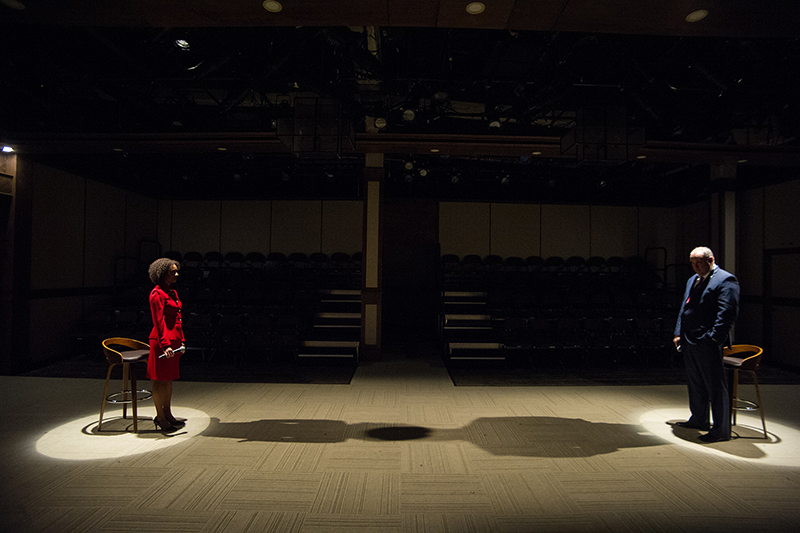 Sarah Cubbage provides similarly solid work with her costuming throughout. Lauren and Representative Millsap, in particular, have some of the best outfits of the play-each of them dripping power with every straight line and perfectly matched hand bag. Kate's fashion evolves with her character throughout the production, a sharp observation on her outward expression of self that changes drastically from start to end. Jiyoun Chang lends some fine lighting designs as well-ensuring that the set and costumes are properly showcased throughout. Even with a couple of technical glitches at the performance I attended, Stowe Nelson's sound design is quite nice-particularly when the politicians shift between microphones and un-amplified speech during a few segments.
This new administration has given plenty of fodder for political productions. Kings, however, doesn't seek to advocate for either political party, but forces the audience to examine their ideas about our very political system. It's a smart move which allows the show to rise above the modern opinion gridlock which so often occurs. The production is by no means escapist, but it is still nice to see a few determined political players, brought to life by strong performances, pushing for real and necessary change.
Kings plays at Studio Theatre through January 6 and runs approximately 100 minutes without an intermission. For information and tickets, click here.
---
Sam Abney is a Washington, D.C. based arts professional. A native of Arizona, he has happily made D.C. his new home. Sam is a graduate from George Mason University with a degree in Communication and currently works for Arena Stage as a member of their Development team. He is a life-long lover of theater and is excited about sharing his passion with as many people as possible.
To stay up-to-date on reviews from Sam, click here and subscribe to alerts.