BWW Review: EL VIEJO, EL JOVEN Y EL MAR at GALA Hispanic Theatre is a Beautiful Spanish-Language Work
With so many wordy productions from playwrights ready to wax philosophical about any issue, it's easy to forget that true dramatic excellence comes not from beautiful words but beautiful emotions honestly portrayed. If, like me, you are not fluent in Spanish you shouldn't be scared of El Viejo, El Joven Y El Mar (The Old Man, the Youth and the Sea) which opened at GALA Hispanic Theatre on Saturday night. After all, you'll still understand most of the action even if you aren't following everything on the provided supertitles thanks to some splendid performances. While the play fumbles with some unnecessary plot points that overextend the runtime, GALA has still provided an enjoyable evening at the theater.
At the production's start, Spanish write Miguel de Unamuno (Horacio Peño) is living in exile on the island of Fuerteventura for his criticism of dictator Primo de Rivera. Unamuno has enjoyed a relatively easy exile and befriends a local youth named Cisco (Victor De La Fuente) who has been assigned to attend to the writer. Unfortunately, a General (Delbis Cardona) decides to keep a closer watch on the writer, thereby threatening to bring an end to Unamuno's luxurious exile. Although a pardon comes his way, Unamuno is determined to follow through on plans to escape the island. By doing so, however, he threatens to put those who have helped him while in exile in jeopardy.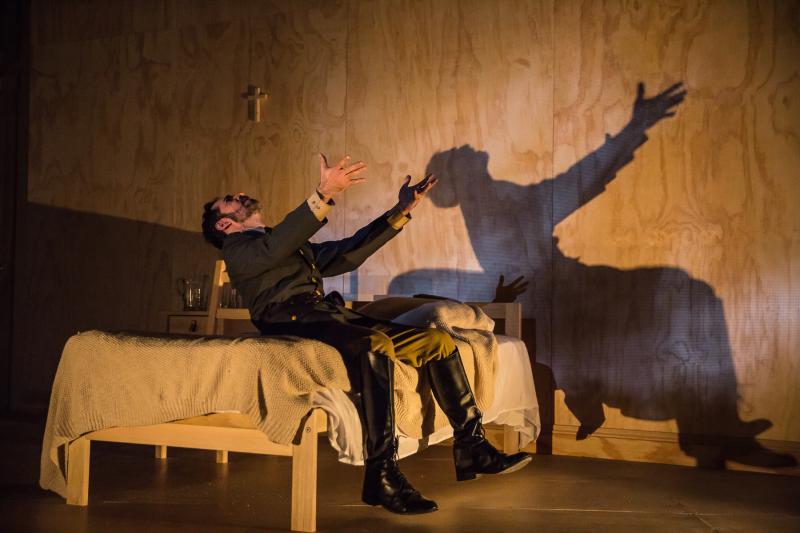 The production handles most of the action as a series of two-hander scenes between Unamuno and the various visitors he receives. When it comes to advancing the plot, this is a fairly useful device but, because Unamuno and Cisco are the only long-recurring characters, the secondary faces that enter the playing space are mostly forgettable. In fact, the script wouldn't require much to transform the work into one that only features the author and his young companion.
Luz Nicolás carries the brunt of these mostly forgettable characters, which is a real shame considering how luminescent she is while on stage. When she steps through the entrance, you can't help but take your eyes off of her and cling to every word that comes from her mouth. It's a shame, then, that both of her characters are so inconsequential in terms of the overall plot. Both could be lifted right out and the plot would still function incredibly well, no matter how impressive Ms. Nicolás's emotional honesty is. She had me tearing up during the performance. After the show was done, however, I couldn't really remember the impact she had on the plot progression.
The other performers deliver dutiful work, with Victor De La Fuente being a particular stand out. When the young Cisco espouses his desire to hunt for Moby Dick (a different Moby Dick than described by Melville), you can't help but become enthralled. His scenes with Mr. Peña are filled with fun thanks to the great chemistry between the two. Even the simplest of exchanges is enjoyable to watch when the scenes are in these capable actors' hands.
More than the enjoyable performances, the production design for El Viejo, El Joven Y El Mar is quite impressive. Silvia de Marta has constructed a deliciously simple set filled with birchwood from top to bottom that provides a fabulous playing space for the performers. When coupled with her costume design, the actors are able to pop even more against their monochromatic backdrops. Similarly, Jesús Díaz effectively lights the space to evoke the fantastical even during the most grounded moments of the evening. All and all, José Luis Arellano García has assembled a strong production team to support his simple, yet effective, direction.
Although the show only runs around two hours with a ten minute intermission, it feels overly long. This goes back to several scenes being forgettable but also a lopsided time distribution: the first act is over an hour, leaving only about thirty minutes for the second act. At that point, the act break seems unnecessary for the evening.
Despite some issues along the way, there is plenty to like in El Viejo, El Joven Y El Mar even if you don't comprehend every word being said. GALA makes it easy to enjoy this Spanish-speaking production for anyone regardless of language proficiency. If you haven't experienced a work in another language, this is a solid starting point for you.
El Viejo, El Joven Y El Mar runs approximately two hours and plays through March 3 at GALA Hispanic Theatre. For tickets and information, click here.
---
---
Sam Abney is a Washington, D.C. based arts professional. A native of Arizona, he has happily made D.C. his new home. Sam is a graduate from George Mason University with a degree in Communication and currently works for Arena Stage as a member of their Development team. He is a life-long lover of theater and is excited about sharing his passion with as many people as possible.
To stay up-to-date on reviews from Sam, click here and subscribe to alerts.