BWW Review: BLKS is a Triumph at Woolly Mammoth Theatre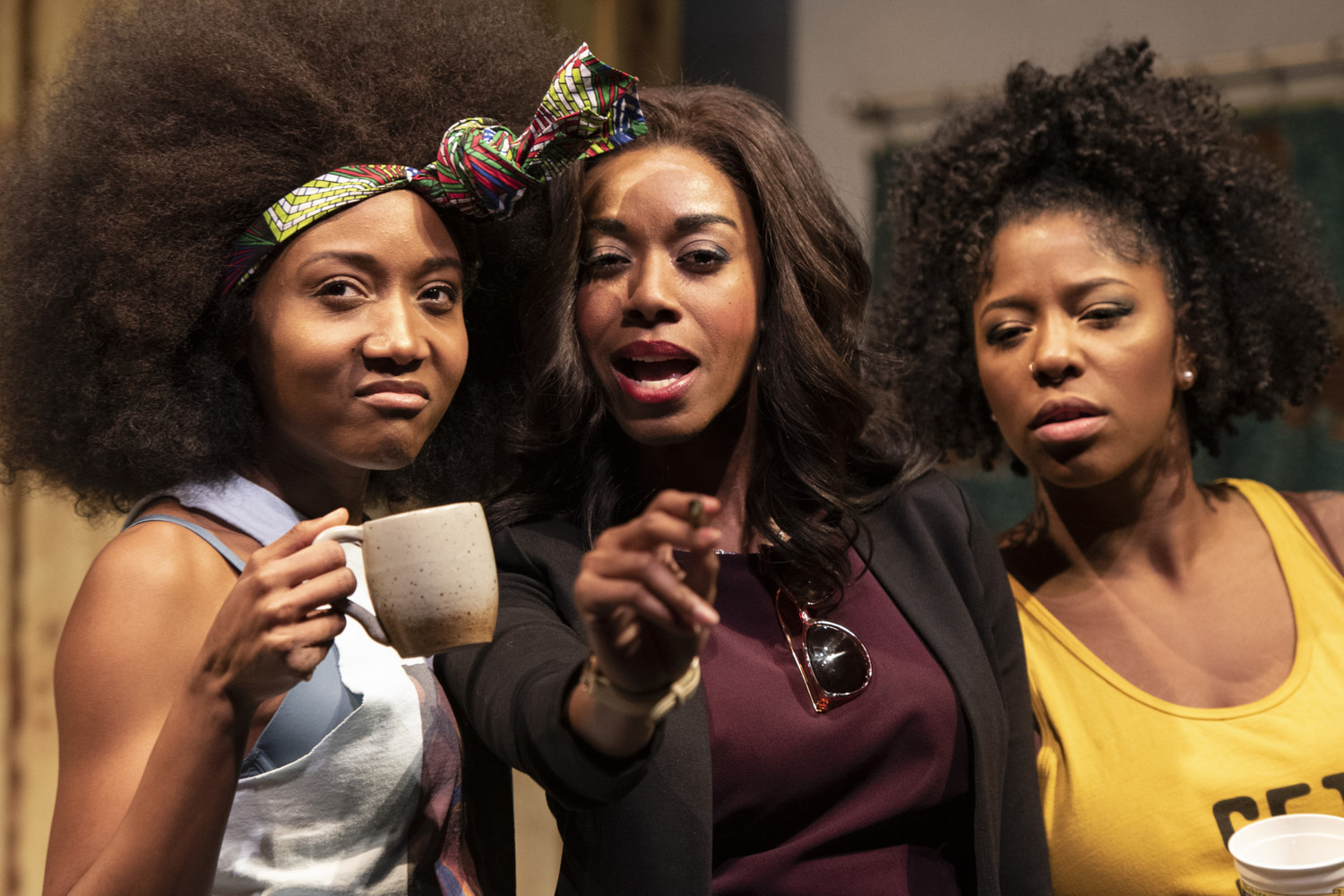 Aziza Barne's BLKS is a stop-you-in-your-tracks, laugh-out-loud comedy that is about to take DC by storm. Barnes' electric writing powerfully celebrates queerness, sisterhood and the implications of being "Black and alive." With director Nataki Garrett at the helm, the cast brings Aziza's words to life with infectious joy. My cheeks still hurt from smiling.
The action in BLKS takes place over the course of a single 24 hours. We follow three twenty-something year-old black women as they navigate one crazy night out in NYC and try to find love, create connection, and make sense of their lives. Comparisons to rom coms and hit television shows featuring twenty-something year-old white women struggling with questions of identity while building and maintaining meaningful relationships are inevitable, but BLKS is decidedly not designed to make that demographic feel comfortable or comforted. When asked what audience members should know going in, playwright Aziza (whose pronoun is z) had this to say:
"That it is a play by and for Black people, and that if you are not identifiable or identified as a Black person, that you can still watch this play, of course, but that you are bearing witness."
This work, unlike nearly all the theatre I've seen in my 26 years, is explicitly not for me. Nearly every show in Woolly's 2018-19 season creates the space to react and witness in many forms, but none this overtly. Secure in my role, and unsure of the implications large and small of what it means to bear witness, I sat in a sea of people reacting and people witnessing--united in the knowledge that we were being let in on a secret that is sure to sweep the DC theatre scene.
Nataki Garrett, Woolly Mammoth company member and director of Woolly's wildly successful AN OCTOROON, leads this ensemble with grace, precision, and a clear passion for Aziza's words. Garrett has fantastic material to work with. Octavia, June, and Imani share a basic apartment, frequently rocked by the noise from the ever-present subway trains that pass overhead. At the outset we have an intimate view of the bathroom (crucial for the play's inciting action), windows into the girls' bedrooms (thanks to the ingenious set design by Efren Delgadillo Jr.), and a front row seat to all the action on the couch, the center of the apartment and the center of the girls' collective universe.
After a raucous cunnilingus session, Octavia (Cyndii Johnson) high tails it to the bathroom to prepare for round two with girlfriend Ry (Alina Collins Maldonado) only to find she has what she assumes to be a cancerous mole on her clitoris. If you're shocked by the language in this review, think twice before buying a ticket. When Ry removes herself from the situation, making Octavia question their level of commitment to each other, Imani (Shannon Dorsey) runs to the pharmacy to pick up a lifetime supply of bandaids. June (Tatiana Williams) crashes through the front door and swirls around the apartment in a rage as she tells the girls that she discovered her boyfriend is cheating on her when she found a condom in a popeyes container. Imani decides day drinking is the only solution. We're off to the races.
As the action ebs and flows so too does the subject matter. One moment we're laughing along with the girls as they drunkenly careen down the street, the next we're face to face with racial bias by police officers, attempted rape, and the complexity of interracial communication. Aziza does not shy away from what it means to be Black and alive, and Garrett gives those moments just enough breathing room before inviting the comedy back in.
The ensemble could not be stronger. Alina Collins Maldonado (Ry), Cyndii Johnson (Octavia) and Tatiana Williams (June) are all an absolute joy to watch-- each playing their roles with nuance and hilarity. Shannon Dorsey and Justin Weaks give standout performances. A DC favorite, Shannon Dorsey is transfixing as Imani, an aspiring comedian with a knack for physical comedy. I previously had the great pleasure of seeing Justin Weaks performance in WORD BECOMES FLESH at the Anacostia Playhouse. His gift for the physical is once again on full display here as he lights up the room as Justin, an earnest young man trying to win June's affection. The production value itself is extraordinarily strong thanks to work by Scenic Designer Efren Delgadillo Jr, Lighting Designer Jeanette Oi-Suk Yew, Sound Designer T. Carlis Roberts, Projections Designer Rasean Davonte Johnson, Costume Designer Lex Liang, and Wig & Hair Designer Jason Hayes.
Aziza writes in the program, "I pray that after seeing this play, that the incantation written makes blk females more visible to you, more alive, more endeared to protection and adoration." I know what you're all doing this weekend. Get this molten hot ticket while you can.
Running time: 2 hours, no intermission.
BLKS runs from February 4th through March 3rd. Tickets are available on Woolly Mammoth's website.
Related Articles View More Washington, DC

Stories

Shows