BWW Review: ANASTASIA is a Sure Bet at Kennedy Center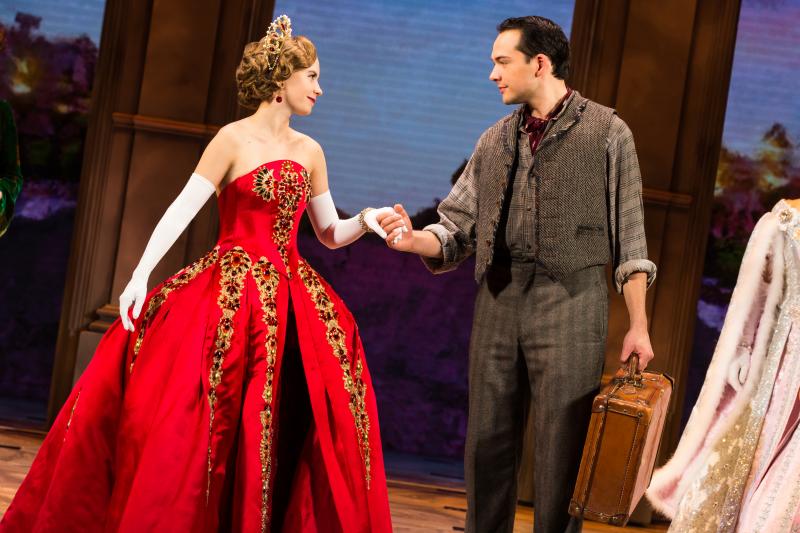 Let's be clear. I am a long-time fan of Lynn Ahrens (Lyrics) and Stephen Flaherty's (Music) contributions to musical theater. The collapse of the Romanov Dynasty also always fascinated me (let's just say I geeked out when visiting the Winter Palace, which now houses the Hermitage Museum, a few years back), and I really liked the animated film of Anastasia. I saw the pre-Broadway production of Anastasia at Hartford Stage; revisited the show when it hit Broadway; and mourned the fact that although I could see the marquee in Madrid this past summer, the show would open after I returned to the United States. Suffice it to say, I went into the Kennedy Center - where the show plays through November 25 - predisposed to wanting the national tour to succeed. Luckily, I think it mostly does.
When we first meet Anastasia as a young child (the adorable Victoria Bingham) in 1906, she still enjoys a life of privilege in St. Petersburg as the daughter of Tsar Nicholas II (Michael Mcorry Rose) and Tsarina Alexandra (Lucy Horton). She's the apple of her Nana's (the Dowager Empress, played by Joy Franz) eye. While she's sad to see her go off to Paris, she covets the music box that her Nana gives her. Flash forward to 1917. Anastasia is now a teenager (played briefly by Taylor Quick). While she and the rest of the Romanov family are enjoying the last dance of the season in the Winter Palace, changes are afoot outside of the palace. The Bolsheviks are gaining power and demanding drastic changes. The end of that night is not a happy one for the Romanov family, but Anastasia - who stays behind to retrieve her music box - escapes the horror.
Fast forward to 1927. Marxist socialism has taken hold. St. Petersburg is now Leningrad. The economic situation is less than ideal so Dmitry (Stephen Brower) and a former fake count, Vlad (Edward Staudenmayer) are intent on leaving the Motherland like many others. However, they need some help. The rumors that Anastasia has survived are swirling all over the city. Dmitry wants to capitalize on them for financial gain. The scheme begins. He purchases a music box from a man on the street (he says it's Anastasia's) and begins holding auditions for a young girl to pretend to be Anastasia. The Dowager Empress, who still resides in Paris, is offering a substantial reward if her beloved granddaughter is found. Dmitry and Gleb come upon Anya (Lila Coogan) rather unexpectedly. She comes to them seeking exit papers, but Dmitry realizes the spunky, young girl - who suffers from amnesia - might fit the bill for an 'Anastasia.' They teach her all they know about her family and set off for Paris - though not without facing a few challenges before they cross the border.
Gleb (Jason Michael Evans) - a determined young communist with family ties that make the cause personal - wants nothing more than to shut down Dmitry and Vlad's operation. His superiors demand he execute one of two mandated courses of actions. If the girl they are traveling with is an impostor, bring her back to Russia. If the girl they are traveling with is truly Anastasia, then finish her off. We travel to Paris with Anya and the two misfits. There, romantic pairings are realized and old flames are rekindled (Vlad once had an illicit relationship with Countess Lily, played by Tari Kelly, who now is the Empress' Lady in Waiting). As Anya comes to believe she is really Anastasia and Dmitry's fondness for Anya grows, the situation becomes more complicated. Dmitry must decide what he wants more - wealth or Anya. Vlad must convince Lily to let the Empress meet Anya and Anya must convinced a disillusioned Empress that she is her long-lost granddaughter. Then, of course, there is the not so minor fact that Gleb has followed the trio to Paris.
Of course, this stage musical lacks much in the way historical accuracy - particularly in terms of how book writer Terrence McNally handles the end of the Romanov family's reign. Likewise, while a young man supporting the Bolshevik regime theoretically makes a good villain, the manner in which the sociopolitical dynamics are handled would make any international relations, political science, or history nerd squirm a bit. One might also quibble that Rasputin would make a better villain than a soldier, much like in the animated film that serves as inspiration for this stage musical (it includes most of the songs from the movie). Even though I am an international relations nerd, I can toss all of that aside because, well, the story is a good one and it's told really well. The absence of Rasputin doesn't bother me either. His inclusion worked for an animated film aimed at kids, but is not a necessary ingredient to tell the (admittedly fairy tale) story of Anastasia specifically. The inclusion of Gleb makes the story less cartoonish and more about how everyday humans reconcile their past with the present. Of course, McNally and company could have chosen to make the story darker, but why mess with what's good already?
As far as the cast goes, everyone gives their all to put over the story and make the audience invested in each person's plight. There is not a weak link in the bunch.
Stephen Brower is the perfect mix of charming and conniving and his rendition of "My Petersburg" is a vocal highlight. He also has great chemistry with the amusing Edward Staudenmayer as Vlad and is a believable love interest for Lila Coogan as Anya. Speaking of Ms. Coogan, she has the requisite spunk and determination to play the heroine. She hooked me from the moment she entered the stage and I immediately recalled her excellent performance as Penny Pingleton in Syracuse Stage's production of Hairspray. While her vocals were a bit screechy at times on the night I attended, she has tremendous power and control. Her renditions of "Once Upon a December" and "Journey to the Past" - probably two of the songs you may remember best from the movie - are excellent. However, she really made me take notice with "In My Dreams," one of my two favorite songs that Ahrens and Flaherty wrote for the stage musical, because of her expert delivery of not only the notes, but also the emotional intent of the song.
Other standouts include Tari Kelly as Lily. She's a fierce triple threat with a knack for physical comedy, both of which are on full display on "Land of Yesterday." Her sexual chemistry with Edward Staudenmayer ensures "The Countess and the Common Man" is a fun highlight. Jason Michael Evans excels vocally as Gleb. His rich tone makes for a good listen on "Still". The hardworking ensemble is filled with triple threats and puts over big production numbers like "Paris Holds the Key (To Your Heart)" really well, making Peggy Hickey's choreography come alive with a lot of energy.
While I am less than a fan of the current trend of using a lot of projections to establish setting, Aaron Rhyne's work is beautiful and among the strongest I've seen. His projections integrate seamlessly with Alexander Dodge's multipurpose set.
A strong orchestra, led by Lawrence Goldberg, makes the listening experience even better. While I sometimes struggle with hearing every word of a musical in the Opera House the sound was crystal clear for this tour. At times, I felt like the mix was less than balanced on the night I attended (Lila Coogan could be heard over everyone else), but I'd rather experience crystal clear sound than the opposite.
Directed by Darko Tresnjak, Anastasia is not to be missed at Kennedy Center. A strong story with an equally strong cast to bring it to life, coupled with some great music by one of Broadway's best writing teams, makes it a sure bet.
Running Time: 2 hours and 35 minutes, including one intermission.
ANASTASIA plays at The John F. Kennedy Center for the Performing Arts in Washington, DC through November 25, 2018. For tickets, call the box office at 202-467-4600 or purchase them online.
Related Articles View More Washington, DC

Stories

Shows