Abigail Fine Named Managing Director of NextStop Theatre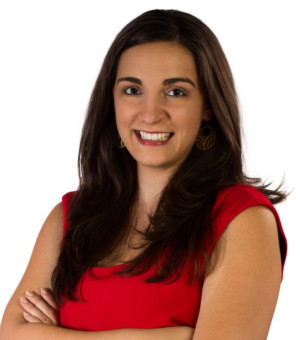 The Board of Directors of NextStop Theatre Company today announced the appointment of Abigail Fine as Managing Director. Fine will help lead the award-winning company that burst onto the professional theatre scene in 2013 and has quickly grown to be a prominent player in the Washington Area theatre community
"I am thrilled to have Abbie joining us in Herndon to help build on the remarkable groundwork that NextStop has started over the past five years," said NextStop Board President Vicki Kile. "Abbie's extensive experience working on both the artistic and administrative side of operations with numerous theatre and arts organizations around DC made all of us certain that she was the perfect person to help guide us into the next phase of our company's rapid growth."
Fine was born and raised in Fairfax County. She brings to NextStop over ten years of experience at professional arts organizations and seven years in nonprofit management. Most recently, she served as Director of Development for Fairfax Library Foundation, supporting Fairfax County Public Library. Prior to that, she served as Executive Director of Bowen McCauley Dance and worked at Woolly Mammoth Theatre Company, Arena Stage and Maryland Shakespeare Festival. Fine is also a freelance director and assistant director, with credits at numerous theatres, including NextStop Theatre, Keegan Theatre, The Shakespeare Theatre of New Jersey, Studio Theatre, Folger Theatre and Milwaukee Repertory Theater. She holds an MBA from George Mason University and bachelors degrees in theatre and economics from the University of South Carolina. In addition, Fine teaches management at George Mason and recently published her debut novel.
"Abigail Isaac Fine is an arts management rock star!" said Evan Hoffmann, NextStop's Producing Artistic Director "I have known Abbie for several years and have been honored to have her work with NextStop on several projects as a director. From the moment we began the search for a new Managing Director, Abbie was always on the top of my list of candidates, and I have every confidence that she is going to be both an amazing addition to our team and fierce champion for the future of our company."
"This is the role I've been working toward--my dream job," said Fine. "I'm thrilled to serve a theatre company that I've admired for years, and to work with Evan and the team."
Ms. Fine will begin her tenure March 1, 2018, coinciding with the departure of current Managing Director, Matthew C. Thompson. Thompson leaves NextStop to pursue opportunities in Los Angeles, having been part of the executive leadership team at NextStop since 2013 and the first paid employee of NextStop's volunteer parent company, The Elden Street Players, in 2012.
About NextStop Theatre Company:
NextStop Theatre Company is an award-winning professional black box theatre moments away from Reston Town Center, Historic Downtown Herndon, Dulles Airport, and the upcoming Herndon Silver Line Metro Station.. The company has established a strong regional reputation for producing critically acclaimed productions and educational programs, while showcasing a wide array of local talent and arts relevant to the community.
NextStop Theatre is made possible in part by generous support from The Town of Herndon, The Ruth & Hal Launders Charitable Trust, The Nelson J. & Katherine Friant Post Foundation, The Arts Council Fairfax County, The Virginia Commission for the Arts, The National Endowment for the Arts, and NextStop's loyal patron donors.