BWW Review: Less is More in Ravi Jain's SALT-WATER MOON at Mirvish
Pull everything back. Slow everything down. Suddenly you can focus with more intention. This is exactly what Ravi Jain achieves with his Factory Theatre production of David French's SALT-WATER MOON. Presented by Mirvish at its most intimate theatre, the 700-seat Panasonic, the play forgoes props, costumes and set pieces, creating something simply beautiful - a love story between two humans.
Those two humans are Mary Snow (Mayko Nguyen) and Jacob Mercer (Kawa Ada). Set in a small town on the coast of Newfoundland, Jacob returns from a reprieve in Toronto, showing up at Mary's doorstep. But time didn't stop while he was gone. Life goes on, and Mary is now engaged to Jerome, a local teacher. Jacob, naturally charming and seemingly difficult, arrives determined to fight for true love.
Narrated by the smooth-voiced Ania Soul (her voice reminded me of one of my favourite artists, Lianne La Havas), Nguyen enters before curtain to slowly light each of the candles adorning the stage. Playing a guitar, Ania Soul lulls with songs of yearning love, her voice is full of passion and pain. The effect in the theatre is extremely calming. Ravi Jain succeeds in warmly welcoming us to his universe.
Jain is such a visionary director. Without too much stage business to distract, he can focus on pulling raw emotion from his artists. In this production, Jain has created several scenes that are visually captivating. But there is one in particular that I can't get out of my head - Nguyen standing alone, hair blowing in the wind, smoke billowing behind her, her eyes fixed on the balcony.
Nguyen and Ada carry the show as the two lovers - and their chemistry is "some lovely". Do you know what else is lovely? Seeing two people of colour in these roles. Generally, the show is played pretty straight with two caucasian actors, set in the early 1900s, Newfoundland accents and all. In Jain's production, time, place and race doesn't matter as much as the connection between Mary and Jacob. That's the real story. Nguyen and Ada lose the accents, but maintain the style through their pacing of the text - lines like "some lovely" keep it all connected to Newfoundland.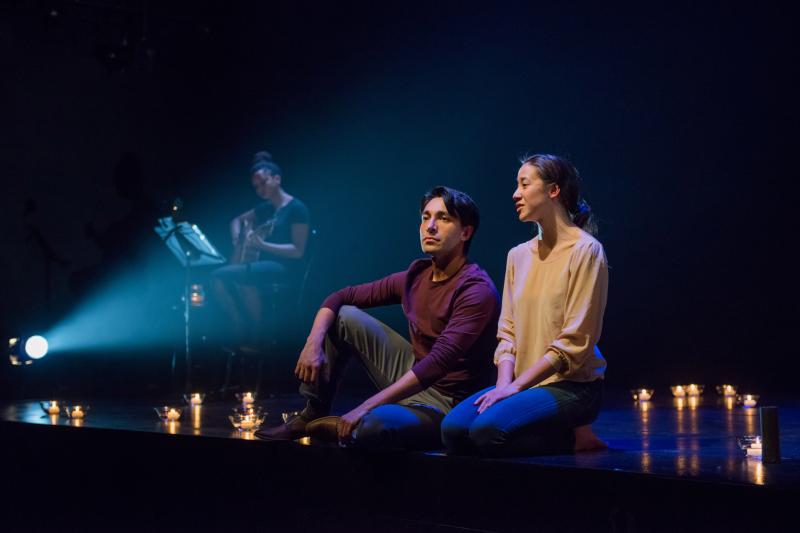 By adding Soul as the narrator, Jain not only gives life to French's gorgeous stage directions, but connects the piece to the roots of music and storytelling, which are at the heart of Newfoundland culture.
The piece hits harder in this stripped down form. Mary and Jacob become the only thing to watch. Modern dress and modern physical expressions keep us connected to the emotion at the core of the play. And two actors of colour make it fundamentally Canadian.
Minus a few minor line slip ups, Nguyen and Ada deliver two of the most emotionally committed performances that I've ever had the pleasure of watching. (This seems to be a trend with Ravi Jain directed productions.) When Jacob first gets close to Mary, the certainty in Nguyen's voice breaks, her word quiver and the natural pace of her speech becomes choppy. It is incredibly believable. Ada, who is very funny throughout, meets Nguyen emotionally in Jacob's monologue about his father's role at Beaumont-Hamel in 1916, where the Newfoundland regiment suffered catastrophic losses. His veins bulging in his neck, and eyes glistening on the brink of tears, Ada suddenly becomes charming enough to make this Newfoundland love story work.
With SALT-WATER MOON and the recent success of Come From Away, Newfoundland is having its best life in the theatre world right now. I can understand why. In this age of hyper-connectivity, we long for a simple life with less distractions. Suddenly Newfoundland appears utopic - at least in Ravi Jain's production it does. A Jain reimagining always comes off so naturally - take gender-bent, ASL integrated Prince Hamlet for example. He breaks "the rules", but ultimately leaves us wondering why we haven't been doing it this way all along.
---
Factory Theatre's SALT-WATER MOON is presented by Mirvish at the Panasonic Theatre, 651 Yonge Street, Toronto, ON.
For more information and to purchase tickets, visit https://www.mirvish.com/shows/salt-water-moon
(main photo credit: Kawa Ada and Mayko Nguyen. Photo by Joseph Michael Photography.)