BWW Review: CPPAC's Summer Theatre Camp's Bouncy Production of Disney's HIGH SCHOOL MUSICAL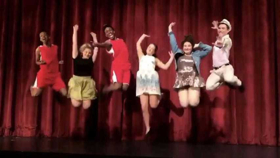 "There's not a star in heaven that we can't reach..." --from the song,"Breaking Free"
There are some shows that are guaranteed money makers. If you want boffo box office bucks, then your theatre troupe has only a handful of shows that will be 100% financial giants: Annie, The Sound of Music, Beauty and the Beast, Grease, and now that the rights have been released everywhere, Mamma Mia. High on that list must be Disney's pre-Glee, pre-Rise ode to high school musicals, creatively called...HIGH SCHOOL MUSICAL.
A whopping twelve years ago, when Peter Barsocchini's HIGH SCHOOL MUSICAL was first shown on the Disney channel, it was a sensation that changed the lives of so many kids who would otherwise have never dreamt that they would want to be a part of their own high school show. It, along with Wicked, helped usher in a new generation's love of musical theatre. The show was such a success that it became the most watched Disney show at the time, spawning two mega-hit sequels. (It has since boasted over 225 million viewers around the world.) It turned Zac Efron and Vanessa Hudgens into overnight stars, and the album even went to Number One on the pop charts.
Since then, the stage version, with the book by David Simpatico, has become a staple in middle school and high school theaters, where every girl or boy dreams of being Troy, Gabriella, Sharpay or Ryan and eventually finds themselves singing (usually quite loudly) along to "Bop To the Top" or "Breaking Free." Yes, I know, it's easy-on-the-ears HIGH SCHOOL MUSICAL, not the high-brow hoity-toity fare you would find in, say, Strindberg's To Damascus. So all of you theatre snobs can look down your noses at the entire HIGH SCHOOL MUSICAL phenomenon of the past decade and pretend you want Ghost Sonata or Iceman Cometh instead of the bouncing basketballs in "Getcha Head in the Game." Seriously, which would bring you more pleasure? And even all of you musical theatre snobs out there (you know who you are), where Next To Normal is a tad below your cup of chamomile tea and you'd like to throw salt over your left shoulder at the mere mention of Andrew Lloyd Webber's name, must bow down to the realities of HIGH SCHOOL MUSICAL. It's a positive influence that has changed many lives. Like it or not, it's here; it's full of cheer; get used to it.
Which brings me to the CPPAC's Summer Theatre Camp's bouncy and energetic production of HIGH SCHOOL MUSICAL in Largo last weekend. Playing to a packed house and featuring some of the area's finest teenage performers, this brought new respect for what many consider a mere "fluff" show. Yes, it's like a muzak version of Romeo and Juliet (without the killing), but it's themes play close to teenagers' hearts: Be yourself, don't be your clique.
The charismatic Kolby Brown leads the cast as Troy Bolton, the jock who sends shock waves throughout his school when he wants to audition for the high school show. He doesn't want to disappoint his basketball pals (a perfectly cast Shadin Haltham, enthusiastic Jonah Mastro, Jacqueline Cartwright, Madison Batchelder, Alicia Baralt and Lucia Johnson), nor does he want to go against the wishes of his father, Coach Bolton (a sturdy Irina Veltman; I just wish she had a whistle around her neck). Meanwhile, there's Abigail Willis as brainiac Gabriella Montez by Troy's side. Willis brings an Every Girl quality to the role and, along with Brown, sings quite well in their numbers "Start of Something New," "When There Was Me & You," and the anthem "Breaking Free" (where the audience clapped along).
Gabriella's science club friends (a spunky Madison Cooper, Beck Clasen, Mira Kondor, Madison May, and Caroline Simpson) want her as a sort of Nerd Leader. Will she be able to audition for the school show and still be one of the school's academic stars? Is she destined for a life of test tubes and lab coats, or will she be the next Drama Club Queen?
Speaking of drama queens, Alexandra Nicole plays a perfect rhymes-with-witchy Sharpay, the HIGH SCHOOL MUSICAL villainess who has been in seventeen school productions and feels entitled to be the lead in every show. She signs the tryout sheets with a huge John Hancock-sized "S." and Ms. Nicole owns the stage whenever she's on it. She has Attitude with a capital A; just don't get in her way.
Best of all is Dean Yurecka as Sharpay's entertainingly annoying and not-all-there brother, Ryan. Mr. Yurecka is an up-and-coming actor to be on the look out for. In ensemble numbers, as a dancer, he has that verve that automatically directs your eye to him. Wearing his hat and dressed in head to toe white, he looks like a mini Harry Connick Jr. He flirts with the audience at times and is obviously having the time of his life. He single-handedly showcases why performing is so much fun. And you haven't lived until you've seen this young thespian attempt an inch worm on the floor (I just wish he kept at it longer and didn't stop so soon; we could watch this bizarre invertabrate imitation all day long). With so much talent, the sky is certainly the limit for young Mr. Yurecka.
Playing the theatre teacher, Ms. Darbus, Piper Allen is simply terrific. She's that one theatre teacher who always finds something positive to say, even if a kid sings off-key or can't be heard at all (she'll compliment her shoes or find something positive, even when there's not much else there). But Ms. Allen is a standout.
The cheerleaders were outstanding, jumping, twirling, flipping in the air: Brenna Miller, Baye Borisoff, Calee McDonald, Devon Swartz, Abigail Coll, Grace Kmet, Lynae Miles, Ava Nightingale and Sophia Bostick (as the Wildcat mascot).
Another group, the Activists, played spiritedly by Annie Miller, Emilie Bourgeois, Marin Covington, Riley Guge, Haley Henson, Autumn McNew, Sarah Reed and Kendall Swartz, was added for this production. This proves that HIGH SCHOOL MUSICAL, although over a decade old, is still an appropriate mirror of teen life today. The students walk around with clear backpacks, showcasing the sad state of our world after the Parkland shootings. The activists flaunt not just "Save the Bees" signs but also LGBTQ placards, proving that HIGH SCHOOL MUSICAL is always topical no matter what year we happen to be in.
The rest of the cast lends fine support: Iris Serrano, Caroline Simpson. Madison May, Lucia Johnson, Mira Kondor, Dylan Payne, Timothy Reed, Aiden Belcher, Iris Serrano, Faith Angles, Kendall Williams, Taylor Preston, Calle McDonald, Payton Federico-Stopa, Gianna Dibrizzi, Emilie Bourgeois and Kendall Swartz. Some of these are newbies and some have been in numerous shows, but each one has a chance to showcase their talents onstage, which is why a summer camp like this is so important.
Most musicals are rehearsed in a two to three month time span. The kids of the CPPAC Summer Theatre Camp rehearsed HIGH SCHOOL MUSICAL for a mere three weeks...three weeks! And even if some of the moments were messy or some vocals not as strong as others, we forgive them. Each kids is up there, performing, giving their all, finding the magic of theatre--a magic that can change lives.
It's all about the kids in a show like this, but much of the accolades, the thanks, must go to co-directors Christopher Liddell and Natalie Rios. The have showcased these talented teens marvelously. Liddell's choreography is fun and filled with so much life, even if sometimes messy with dozens of bodies on the stage at the same time. And Rios, pulling double-duty as Music Director, has led a fine collection of singers.
The night before I saw HIGH SCHOOL MUSICAL, I saw another school's fun summer camp version of SHREK JR. I realized that SHREK and HIGH SCHOOL MUSICAL have much in common, especially their themes: Get outside of your comfort zone and celebrate the differences that we all proudly share. HIGH SCHOOL MUSICAL'S "Stick to the Status Quo" and Shrek's "Freak Flag" say pretty much the same thing, except one has characters like Pinocchio and a Big Bad Wolf in drag singing them. But both are about inclusion in this "big bright beautiful world." This simple but important philosophy can be found in the title of HIGH SCHOOL MUSICAL'S last song: "We're All in This Together." If only the haters of the world would listen to such a message...