BWW Previews: THE 21ST CENTURY VOICES: NEW PLAY VIRTUAL FESTIVAL SPOTLIGHTS MENTAL HEALTH at American Stage
Theatre patrons will be treated to four staged readings of new and original plays curated from over 200 submissions on American Stage's Virtual Stage.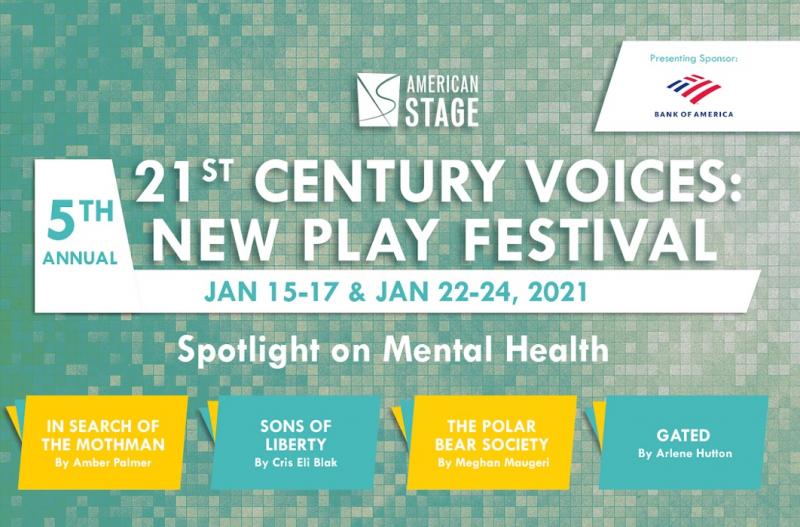 For two weekends, January 15-17 and January 22-24, theatre patrons will be treated to four staged readings of new and original plays curated from over 200 submissions on American Stage's Virtual Stage.
The 21st Century Voices: New Play Festival, now in its fifth year, features virtual live-streamed productions coupled with post-show discussions with the playwrights, and mental health clinicians, panel discussions, wellness workshops, and community conversations about mental health.
In late spring 2020, while stages across the world remained dark, Stephanie Gularte, CEO/Producing Artistic Director, tried to imagine what their fifth annual festival would look like amidst a pandemic in 2021.
"With all the different things that we were unsure of about what we could do, a staged reading festival seemed the most doable in terms of being able to execute it very well virtually. It's really about the story, the words, and the performances."
Stephanie felt strongly about changing the criteria for soliciting new plays, narrowing the submissions' scope to pertain to mental health. The theatre had to cancel their summer production of Next to Normal, which deals with a mother's bipolar disorder. They were already beginning to align with community partners about mental health for the musical, so the theme of mental health for The 21st Century Voices: New Play Festival fit perfectly with their goal of creating important community dialogue.
"We left it pretty open as to what that (the requirement) would look like, but all the plays speak to mental health through the characters and the story. We knew these conversations around mental health seemed even more important now than when we originally planned them. Let's use this, shift how we've done the festival in the past, and focus on this conversation area. We need it so much now."
Stephanie explained that the pandemic created an opportunity to talk about mental health in a much more open way.
"We can advance our understanding of how mental health is an essential component of our overall health. Through our work, we can make some contribution to destigmatizing mental health."
Features play are In Search of the Mothman by Amber Palmer Sons of Liberty by Cris Eli Blak, The Polar Bear Society by Meghan Maugeri, and Gated by Arlene Hutton. Topics featured include dementia, PTSD, trauma, depression, anxiety, and suicide.
Mental health clinicians will be joining the playwrights for a community talkback to guide discussions and start a conversation with patrons and performers. The festival will feature a Community Conversation featuring April Lott, the CEO for Directions for Living, and other mental health experts. Workshops supporting mental health and wellbeing will be featured during both weekends of the festival.
"Our first wellness workshop with Patrick A. Jackson takes exercises and techniques that we use in the theatre to build wellness, personal awareness practices, and mindfulness that help to ease anxiety and manage stress," she explained.
The second workshop features Vi Tran (Viet Gone), teaching a creative writing storytellers' workshop to "tell a story of self that leads to a sense of wellbeing."
Stephanie said, "The number one response that I hope the festival will elicit is a sense of connection to one another. I think that loneliness and isolation is a component of our mental health. We've all suffered a lot. Beyond that, we can share a vulnerability to recognize that our mental wellness is a core component of who we are, and being at peace and finding a sense of relief in having connected, recognizing the value of our mental health."
The 21st Century Voices: New Play Festival runs January 15-17 and 22-24 on American Stage's virtual stage. For more information and to buy single tickets, weekend passes, or all-access passes, visit americanstage.org/membership.
---
Schedule
Weekend One

Friday, Jan. 15
6:30 p.m. - Festival Welcome
A preview of the festival events and a discussion on the intersection between the arts and wellness with American Stage CEO/Producing Artistic Director Stephanie Gularte and Associate Artistic Director Kristin Clippard.

7:30 p.m. - Virtual Staged Reading of "In Search of The Mothman" by Amber Palmer with Post-Show Discussion
Two young sisters are trapped in a life transition after an unexpected tragedy strikes their hometown. Through humor, honesty, and boldness, they address trauma of suicide and resolve to move forward together. A play about coming together and pulling away in tragedy, the confines of community expectations, and whether we can truly know the people we love.

2 p.m. - Panel Discussion with the 21st Century Voices Playwrights
A conversation with each of the playwrights featured in the festival about their plays, about the new play development process, and about the future of writing for the stage.

Saturday, Jan. 16
4 p.m. - Wellness Workshop: Creativity Practices to Build Wellness
Artist, teacher, and spiritual practitioner Patrick A. Jackson guides this workshop that focuses on heightening personal awareness and developing specific creative tools to ease stress and anxiety and to calm the mind and body. Learn grounding techniques like meditation and circular breathing, explore activities that produce laughter, such as improv to aid in stress reduction, engage in journaling and free drawing to promote abstract thinking and improved focus.

7:30 p.m. - Reading of "Sons of Liberty'' by Cris Eli Blak with Post-Show Discussion
Two brothers, one struggling with PTSD after suffering injuries in combat. This is a story about family, manhood, and brotherhood. It's about what it means to be Black in America, what it means to be a veteran, and what it means to be a person of color struggling with addictions and mental health challenges that you can't explain.

Weekend Two

Friday, Jan. 22
7:30 p.m. - Reading of "The Polar Bear Society" by Meghan Maugeri with Post-Show Discussion
Three teens diagnosed with Bipolar disorder form an online group, "The Polar Bear Society," and connect over their diagnosis. A story told with empathy, compassion, humor, and hope.

Saturday, Jan. 23
2 p.m. - Panel Discussion: Shared Stories from Individuals Impacted by Mental Illness
Panelists share personal stories of their own struggles with mental illness or the impact of loving someone with mental illness.

4 p.m. - Wellness Workshop: Reclaiming Our Story: An Introduction to Wellness through Storytelling
Award-winning storyteller Vi Tran presents a dynamic creative writing workshop where participants will unlock the empathetic power of storytelling and learn the tools to identify and champion the heroes and heroines of their own personal stories.

7:30 p.m. - Reading of "Gated" by Arlene Hutton with Post Show Discussion
A woman who wants to protect her husband, who has dedicated his life to the service of his country and is now experiencing early-onset Parkinson's and dementia. Forced to retire, he is now dependent upon her challenging the Veterans Affairs bureaucracy for the help she needs, and he deserves. But can she trust the "facilitator" who shows up on her doorstep?

Sunday, Jan. 24
2 p.m. - Community Conversation
Featuring April Lott, CEO Directions for Living, and other mental health care professionals discussing the state of mental health in our community, including the sharing of resources and an examination of how we can work to destigmatize mental illness.

4 p.m. - Closing Remarks Live on Facebook
A Festival Review with Stephanie Gularte
Featuring Senator Daryl Rouson on How We Promote Mental Health in Our Community.