BWW REVIEW: The Sydney Symphony Orchestra's Stage Concert of FUNNY GIRL Breaks The Mold Of Traditional Musical Theatre In Many Brilliant Ways
Thursday 12th July 2018, 8pm, Concert Hall Sydney Opera House
Concert versions of musicals are not new but presenting 12 performers as the same leading lady is. Director Mitchell Butel has gathered a wonderful group of women, and one man, to deliver a captivating expression of the life of Fanny Brice in FUNNY GIRL THE MUSICAL, presented in concert with the Sydney Symphony Orchestra.
Following on from his successful direction of Sydney Symphony Orchestra's staged concert of PORGY AND BESS, Butel returns to present a wonderful interpretation of Jules Styne (Music), Bob Merrill (Lyrics) and Isobel Lennart's (Book) semi-biographical musical FUNNY GIRL. The story of the unusual Jewish singer, actress and comedienne from New York premiered on Broadway in 1964 and was adapted for screen in 1968 and is credited with being the starting point of it's stage and screen star Barbra Streisand's fame. As the work spans the breadth of Fanny's career, from gawky teen trying to get into vaudeville through to her headlining in Ziegfield Follies, finding love and having a family and all the challenges that entails, Butel has opted to present Fanny's complexity through 12 performers (Caroline O'Connor, Maggie McKenna, Casey Donovan, Michala Banas, Trevor Ashley, Zahara Newman, Queenie van de Zandt, Verity Hunt-Ballard, Megan Washington, Virginia Gay, Natalie Bassingthwaighte and Dami Im) who weave in and out of the story, utilizing each unique actors' strengths. A brilliant concept to enable a better expression of the freshness of youth and optimism and the wisdom and experience of age without either infantilizing a more mature performer or aging a younger performer, the selection also utilizes performers that, like Fanny, do not fit the traditional mold and have also had their own challenges. Understanding that Fanny's story and strength lies in who she was and what she did, Butel has opted for colourblind and genderblind casting, focusing on gathering performers that can capture her essence.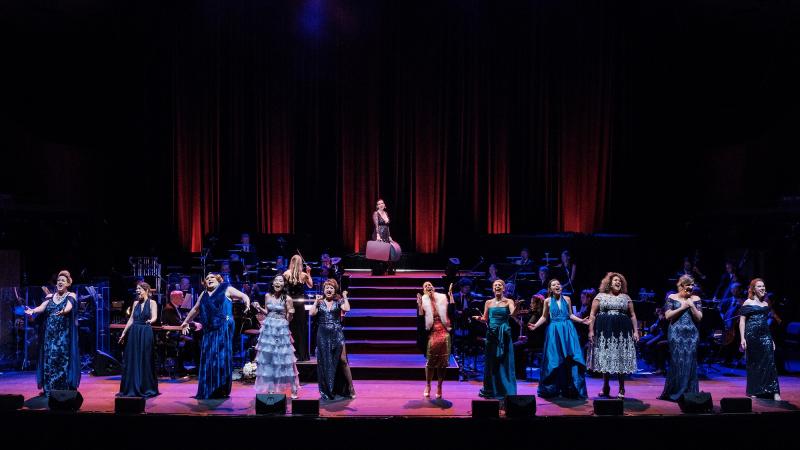 Caroline O'Connor is a perfect selection to portray the older Fanny who bookends the show as she reminices on her career. O'Connor captures the pain and perseverance that Fanny experiences realizing that her marriage is over but she won't crumble, opting to rise and continue. This maturity and wisdom of age is contrasted with the youth and vibrancy presented by Maggie McKenna who channels the younger Fanny's exuberance, innocence and confidence with a charming I'm The Greatest Star, ensuring that it's clear from the start as to Miss Brice's formidable determination. Whilst Fanny is rising from Keeney's vaudeville to Ziegfield's Follies, Michala Banas captures the comedy of the dramatic work whilst Casey Donovan and Trevor Ashley provide Fanny's performing voice with Donovan delivery a sultry jazz for Cornet Man and Ashley capturing the comedy of His Love Makes Me Beautiful and Zahara Newman presents Fanny's unspoken thoughts with an ethereal purity. Queenie van de Zandt exudes Fanny's insecurity and fear but also love when she brings Nicky Arnstein to meet her mother and the neighbourhood, presenting the vulnerability that sits beneath the bravado. Verity Hunt-Ballard has less to work with to deliver Fanny trying to be a sophisticated woman, miffed that Nicky has been away for so long but Newman finishes the scene with a bold Don't Rain On My Parade. Megan Washington's expression of the bewildered Fanny who has finally got everything she wants and more is delightfully funny in Sadie, Sadie whilst Virginia Gay delivers Rat Tat Tat Tat with a requisite balance of energy and fatigue of trying to be a supportive wife but not realizing that it is emasculating her husband. Natalie Bassingthwaighte delivers the drama for the scenes where it is clear the relationship is breaking down but whilst the other performers retain a New York Jewish accent to at least tie the representations together, Bassingthwaighte opts for a more generic American accent and a less nuanced performance, somewhat slowing the work before Dami Im delivers another of Fanny's performances with a beautiful The Music That Makes Me Dance, leading back to the 'present' Fanny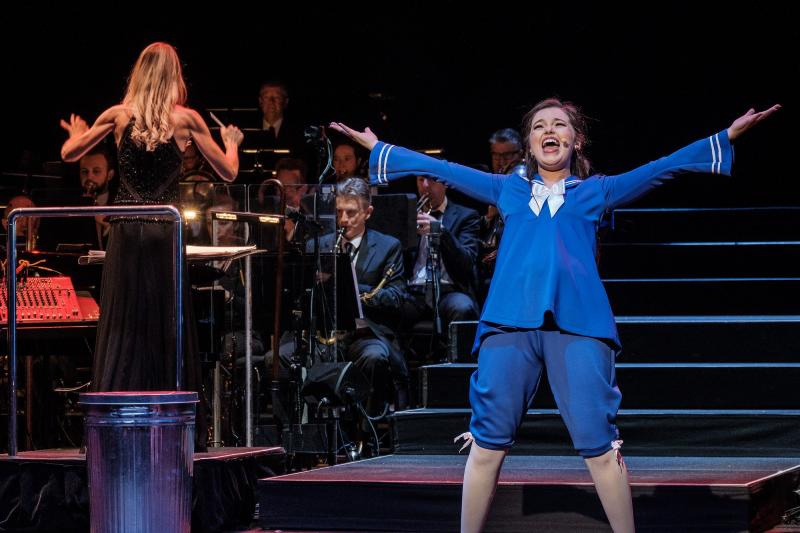 The ensemble that fill out the story are for the most part also wonderful, adding to a rich expression filled with great music, movement and a collection of fabulous gowns provided by Lucy Laurita. Ryan Gonzalez, possibly the busiest young man in musical theatre at the moment, shines as Eddie Ryan, Fanny's dancer friend who delivers fabulous vocals, outstanding dance and brilliant comic and dramatic scenes. Equally marvelous is the casting of Nancye Hayes as Fanny's mother, Rose Brice. The veteran performer still holds her own vocally and physically, reminding audiences why she is so loved with a great duet with Ryan and wonderful sparing moments with Valerie Bader as neighbor Mrs Strakosh. Hayes and Bader, along with the women of the ensemble, present the stereotypical New York Jewish mothers with a lightness and speed that ensures the scenes have a realism to them. David Whitney as Florenz Ziegfeld Jr presents the great producer with the requisite gravitas ensuring that he is seen as both imposing and supportive. The weak link in the featured peripheral characters is Don Hany's portrayal of Nicky Arnstein who is supposed to be suave and sophisticated but Hany seems out of place in a musical theatre production where the character is required to sing. Whilst for the Fanny's Butel has played to strengths, giving performers not as well know for their vocals more dramatic works and vice versa, Nicky Arnstein needs to be able to do both.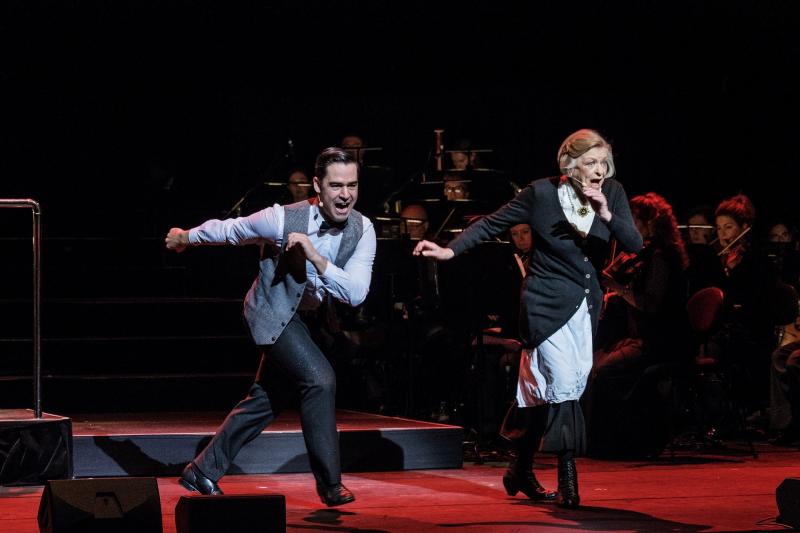 Working around the 38 piece orchestra, led by Musical Director Vanessa Scammell, who are positioned astride a central stairway, the performance has a fabulous movment and use of space with Amy Campbell's choreography that draws on the magic of vaudeville and the iconic Follies which is further recreated with Brendan de la Hay's magnificent costume designs and Lucy Laurita's collection of blue gowns. Max Wilkie's lighting helps draw focus and change the stage from a scene, either in Mrs Brice's home, backstage at the Follies or Arnstein's Long Island home, to the bright theatre stages where Fanny performs. The major downfall for opening night was the technical sound problems with poor mixes of instrumental and vocals, microphones not being turned on or off at appropriate times leading to lines vocals and spoken dialogue being unamplified, odd sounds which were possibly off stage conversations and overbearing volume distorting the singers. The performers to their credit handled these problems with professionalism, not faltering when it would be clear to them that their microphones were not turned on.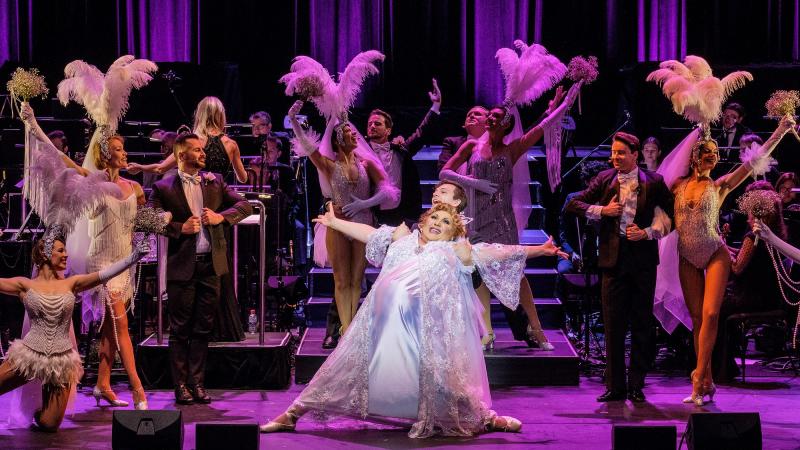 A brilliantly presented heartwarming story of a strong woman presented by a group of equally strong women (and one man), FUNNY GIRL THE MUSICAL with Sydney Symphony Orchestra was a fabulous piece of event theatre in so many ways. A strong message to women of all ages, backgrounds and talents reminding people that it isn't necessary to fit society's stereotype of beauty to become successful. It was also a beautiful expression of women supporting each other as the impression given was that each performer was at ease with sharing the spotlight, supporting the next Fanny to take over the story giving the feeling that each knew they were creating something much greater than what could be achieved alone. It would be wonderful if this work was restaged again for more people to see.
FUNNY GIRL THE MUSICAL