BWW REVIEW: The Minefield Of Modern Dating Is Exposed as Toxic Misogyny And Feisty Feminism Go Head to Head in BANGING DENMARK.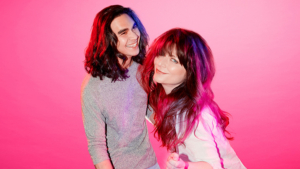 Wednesday 31st July 2019, 7:30pm, The Studio Sydney Opera House
Van Badham's new Australian play BANGING DENMARK is a fabulously funny schooling of the misogynistic men who think that having 'game' and getting girls is more important that being decent human beings. Drawing on the cyber world of self help 'gurus' and vigilante online trolls, this is a contemporary comedy presented by a fabulous cast under Jessica Arthur's direction.
Good looking Guy (pronounced with an obnoxious affectation that makes it sound more like Indian clarified butter) DeWitt (TJ Power) educates his faithful followers, a podcast audience of men that want advice on how to how to get a woman's attention, not so much for a longer term relationship but rather short term physical gain with his "Holistic Sexual Solutions Service". While he convinced his fans to purchase his merchandise and essentially worship his teachings, his misogyny has caught the eye of feminist activist academic Ishtar Madigan (Amber McMahon) and following an online war between Ishtar and Guy's followers and a defamation case she is left bankrupt and camping out in her office whilst Guy is apparently living the life of a playboy on a yacht. It isn't until Guy becomes obsessed with a woman who is unresponsive to his tactics, the severe librarian Anne Toft (Michelle Lim Davidson) that the two meet, well, Guy's true self, Management consultant Jake Newhouse, meets Ishtar.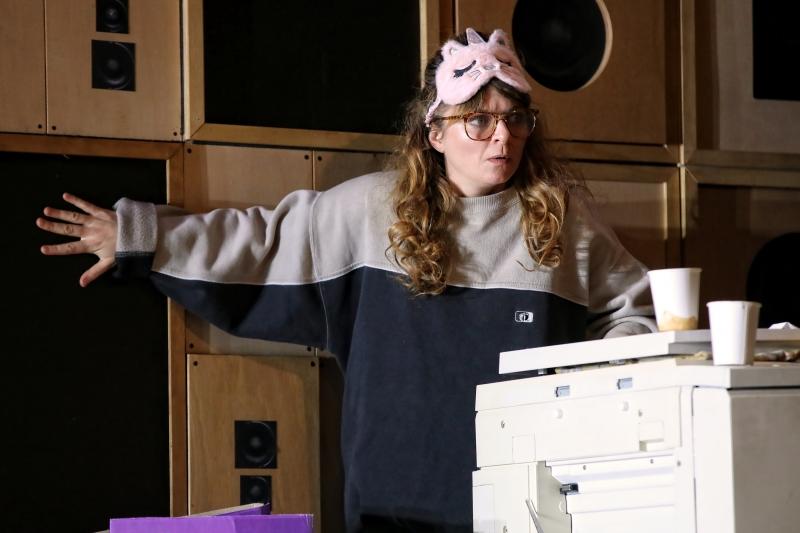 Drawing on the amplification of Guy/Jake's online broadcast show, designer Renée Mulder has created a wall of speakers built into a series of wooden of panels that spans the width of The Studio space. The expanse is broken up with three doors that help delineate the locations from Newhouse's pathetic apartment littered with old underwear and pizza boxes, the local library and photocopying room of Ishtar's university offices. Clemence Williams' sound design ensures that Guy's online advice and callers are presented with imposing force punctuated by sound effects that further highlight how obnoxious Guy and his callers are. With many of the scenes spilling into the other spaces, Veronique Benett's lighting helps anchor the work to a location such as darker dingy lighting in Jake's cluttered apartment, dreamy memory evoking lights for his recollections of his interactions with Anne and stark white institutional lighting for the university offices. There is delightful detail in the simplicity of Mulder's costuming with particularly amusing pieces being Ishtar's sleep mask and socks designed for thongs and absurd outfits implying that when she had to vacate her home she really had no idea where anything was packed.
Commencing with Guy's on air advice to his callers, there is an initial tension in the air as the audience try to figure out whether this will be an evening of male obnoxiousness but this is all a set up to show just how vile Guy/Jake's thoughts on women are. The brilliance of this work lies with Ishtar and her best friend, young Brainiac mathematician Denyse Kim (Megan Wilding). As seen in many of her other performances, McMahon has a fabulous clowning physicality and she creates a wonderfully nerdy character that is both a successful academic, feminist and computer gamer, something that inspired her choice of thesis on Feminist Views On Computer Games which she is trying to finish before she looses her office rights at the university. Similarly, Wilding is a perfect match for McMahon with her own unique style of physical comedy, particularly her facial expressions that are so delightfully judgmental.
TJ Power exudes a cocky confidence and arrogance as Guy/Jake ensuring that his 'type' is easily recognizable and whilst further reinforcing why more confident and independent women like Anne would be put off by his plays. Guy/Jake's toxic masculinity is heightened when presented alongside Patrick Jhanur's expression of Denyse' best friend Toby Bello, a shy, smart and thoughtful guy who is in love with his best friend but scared that if he tells her she won't reciprocate. As the object of Jake's affection, Michelle Lim Davidson creates Anne as a severe 'ice queen' impervious to Jake's idiotic chat up lines. She contrasts this reaction with her realization that she has met her idol and girl crush Ishtar in an amusing display of comic repetition of ideas. There is a delightful naturalness about the work, even with its absurd storylines, with each performer expressing recognizable and realistic expressions with the exception of Lim Davidson's expressions of the Jake's memory/dream impressions of Anne which are a more extreme view of the librarian's responses.
BANGING DENMARK is a fabulous new Australian play that will have anyone who has dealt with misogynistic toxic men roaring with laughter at the recognition and delight that Jake is cut down to size. For those that relate more to Guy/Jake, this may be a little uncomfortable which is why this work is so important in highlighting that Guy/Jake's behavior and mentality is no longer acceptable in modern society. BANGING DENMARK is definitely worth catching.
https://www.sydneytheatre.com.au/whats-on/productions/2019/banging-denmark
Related Articles View More Australia - Sydney

Stories

Shows
I am an International Flight Attendant with a love of Cabaret, Musical Theatre, and Live Performing Arts in general. I try to see as many (read more...)