BWW REVIEW: Misfit Music Nerds And Misguided Understanding Of Love And Life Come Together In HIGH FIDELITY.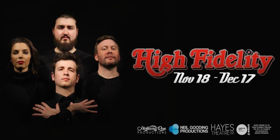 Wednesday 22nd November 2017, 7:30pm Hayes Theatre
David Lindsay-Abaire (Book), Amanda Green (lyrics) and Tom Kitt's(Music) rock musical HIGH FIDELITY based on Nick Hornby's novel and the movie of the same name takes the audience on a thirtysomething's journey of self discovery as he finally understands that relationships take commitment, loyalty and being completely present in the partnership. Neil Gooding (director) has gathered a brilliant cast to create recognisable characters that you will definitely relate to knowing even if they aren't always the most likable people
The compact space of Hayes Theatre is a perfect fit for thirtysomething Rob's (Toby Francis) eclectic record store Championship Vinyl. Lauren Peters, who is very familiar with the space having designed a number of productions at Hayes, transports the audience to peer in to the basement shop. Black and white linoleum floors, brick walls adorned with murals of musicians and portable boxes of records ensure that the passion but also the economy of the story is clear. A futon sofa sits in front of the store's cash register allowing the space to double as Rob and Laura (Teagan Wouters) apartment but unfortunately the lack of height and positioning downstage means that when seated on the futon, characters are difficult to see from certain parts of the theatre. Alex Berlage has illuminated the space with strip lighting boardering the recesses in the brick walls along with a bank of coloured spots affixed to the rear wall to give more drama to the rock numbers. When protagonist Rob breaks the fourth wall, Berlage has the stage darken, leaving Rob in a sometimes slow to respond spotlight whilst talking to the audience.
Peter's costume design captures the characters wonderfully. Rob and his two shop assistants, Barry (Joe Kosky) and Dick (Dash Kruck) wear band shirts paired with items that express their varied personalities. Rob is the man child in jeans and trainers whilst Barry likes to think that he is death metal rock and roll with black clothing and chains whilst Dick is awkward and shy in pork pie hat and braces holding up the tartan trousers. Their clientele is equally odd in their individuality from mowhawked punk (Alex Jones) to TMPMITW (The Most Pathetic Man In The World) with his generic sweater and cotton hat. The women in Rob's life, past and present are in turn given an individuality when they serve part of Rob's story but when they form the voices in his head, Peters has them in a common colour palette whilst still retaining their own style.
Whilst the story is somewhat flimsy and predictable as the music obsessed man-child Rob examines his love life after Laura leaves him after yet another fight, the music is punchy with great lyrics that are for the most part clear, once the technical issues with sound balances were refined. Supported by Andrew Worboys' 6 piece band tucked away at the rear of the stage, for the most part visible beyond the store's rollerdoor, the entire cast deliver strong vocals that capture the emotion and passion of the work. Wouters has a beautiful purity and it is wonderful to hear her with a bolder expression in Number 5 With A Bullet. Erin Clare A. Singer Marie DeSalle who captures Rob's eye despite his protestations that he is pining for Laura, has a lovely sultry sound as she presents Ready To Settle as a distant duet with Wouters and Terrible Things which expresses Rob's feelings that he can't voice. Francis expresses the contemporary rock ensuring that the earnestness and arrogance of a guy that doesn't believe that he is at fault is clear which at first presents as a sympathetic story but once truths are revealed it is harder to create a likable character. Also of note is Dash Kruck's thoroughly endearing portrayal of the socially inept, shy Dick. Whilst the other missfits all have a degree of self-confidence, regardless of how misguided, Dick is appears to completely lack any ego or confidence which Kruck presents with a delightful awkwardness which still conveys that he is a caring friend that thinks about others over his own feelings, a contrast to Rob's self-absorbed narcissistic nature.
Cameron Mitchell delivers another production of wonderful choreography where he utilises the small cast and intimate space to maximum advantage. The dream sequences with Rob's ex girlfriends have fabulous energy and he ensures that each woman's character is expressed even subtly in the ensemble work. Conflict Resolution allows Mitchell to showcase a variety of styles and express his inventiveness in the comic 'groundhog day' song.
A fine production with great cast and creatives doing the best they can with the material at hand, HIGH FIDELITY is an enjoyable night of entertainment for fans of retro music, those that finally want to see a guy be accountable for his actions and audiences that appreciate an original rock musical with purpose written content, not simply a jukebox musical.
18 November - 17 December 2017
Hayes Theatre
Related Articles View More Australia - Sydney

Stories

Shows
I am an International Flight Attendant with a love of Cabaret, Musical Theatre, and Live Performing Arts in general. I try to see as many (read more...)