BWW REVIEW: Incredibly Personal and Powerful, BROWN SKIN GIRL Is A Celebration Of Women Of Color As They Strive To Break Down Barriers And Increase Visibility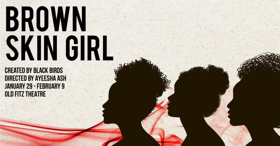 Tuesday 29th January 2019, 7:30pm, Old Fitz Theatre
BROWN SKIN GIRL kicks off Old Fitz Theatre's 2019's season with Black Birds Creative Arts Co's wonderful brand of entertaining, enlightening and empowering theatre. Giving voice to a minority not often seen on Sydney stages, three women of color use comedy, storytelling, poetry, music and movement to unite those seen as 'other' in a white centric society.
Presented by Black Birds Creative Arts Co, BROWN SKIN GIRL brings together three women of diverse backgrounds with a common trait of melanin rich skin to share their stories of the challenges of growing up as young Australian women of mixed race. Ayeesha Ash (Director/Performer/Writer), Emily Havea (Performer/Writer) and Angela Sullen (Performer/Writer) return to collaborate with Sela Vai (choreographer) and Amber Silk (Lighting design/stage manager). The trio of incredibly talented performers share personal stories of living in a world where they are considered "other" by predominantly white Australian communities that not only have problems accepting these women of varying heritage but more generally people that don't look Caucasian and the people of color that were here long before European invasion.
The trio use a blend of poetry, music, personal account and dance to convey the challenges they have faced, and still face, in destroying the stereotypes of people of brown and black skin. They talk about feeling that they had to deny their heritage because small minded people couldn't grasp that a white mother could have child with dark skin and curly hair or that the granddaughter of an Italian Nonna could have curves and plump lips. Whilst their stories draw on personal experiences which are often unique to their heritage as daughters of Grenadian, Tongan and African American Cherokee fathers, they are relatable for anyone that doesn't fit the stereotypical cis white Australian image who has tried to 'hide' or diminish their 'otherness', from hair management to emotion expressions, in order to not stand out. The way they call out the racism in society, from school teachers that singled them out for not having smooth ponytails like the other little girls to the persistent questions of "where are you from" despite the fact they have Australian accents and prejudiced treatment based on awful racist stereotypes draws recognition from members of their melanin enriched community and empathy from members of other minorities that have experienced similar treatment. They expose the flaws in commerce and culture that fails to accommodate anyone with a skin tone other than pale pinkish with an amusingly executed 'game show' whilst taking a more direct route when reminding the audience that it is rare to see women of their appearance on mainstream theatre stages unless they are perpetuating a stereotype along with a comment on the equal absence of diversity in the audiences of those same shows.
BROWN SKIN GIRL is a fabulous show that puts a different part of our society, which considers itself as multicultural, in the spotlight. It reminds us that our theatre, media and society should be better recognizing and giving space to more than just the Caucasian community. It challenges those with white privilege to realize what that actually means and the power they have to change the views of the wider community. It draws attention to the danger of casual racism and the need for everyone to be more conscious in removing it, from the questions we ask people, to the words we use and the assumptions we make. A brilliant piece of theatre that seeks to break down barriers, share knowledge and experience, unite communities and start the conversation on inclusiveness, support and removal of racism in all its forms. This important piece of theatre is a must see for all audiences regardless of skin color.
BROWN SKIN GIRL
https://www.redlineproductions.com.au/brown-skin-girl/
Related Articles View More Australia - Sydney

Stories

Shows