BWW REVIEW: BOYS OF SONDHEIM Shifts The Famous Songs To Tell A New Story With Heart and Humor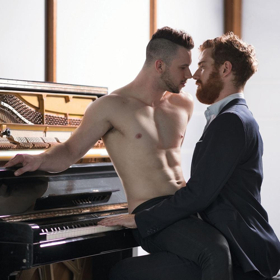 Friday 22nd February 2019, 8 pm City Recital Hall
Director and creator Kris Stewart takes the famous songs from the godfather of musical theatre, Stephen Sondheim, and presents a delightful new story in the staged concert of BOYS OF SONDHEIM. Bringing together five men of Australian musical theatre, City Recital Hall's presentation for the 2019 Mardi Gras Festival is an entertaining cabaret length performance that speaks to everyone, not just the LGBTIQ community.
Supported by Lance Horne on piano, Josh Ahearn on bass and Paul Cutlan on woodwind, Stewart presents a loose storyline of 5 friends presented by Tyran Parke, Kurt Phelan, Blake Erickson, James Lee, and Hayden Rodgers. When we meet the men, who haven't been given any character names, two are in a relationship and the remaining three are still single. Their backgrounds are established as the suited men mingle and share around a vintage style bar, providing a very suave aesthetic. Two fall in love, two fall out of love and one remains hampered by the dating technology that features heavily in many single lives.
Whilst Sondheim is one of the most prominent gay artists of the modern era, he wrote most of his men as straight, so Stewart's new storyline sees the songs given new interpretations as songs originally written for men and women are incorporated into the evening. For some, the new context presents a different viewpoint that audiences may not have considered before. For other pieces, the placement proves that the sentiments have a universality and remind us that regardless of the type of love, straight or gay, that love is love.
Stand out performances come from Tyran Parke's textured and precise (Not) Getting Married Today and Could I Leave You where he ensures that Sondheim's fabulous lyrics are clear whilst delivering an expressive character performance. His vocals are, as always, wonderful, and he interprets the music with understanding whilst his physicality is brilliantly comical in these two dark manic numbers. Kurt Phelan adds beautiful choreography to the evening with a delightful solo during James Lee's Sooner Or Later and Phelan's handling of Jenny's Operatic Aria in (Not) Getting Married Today is mind-blowingly brilliant. Blake Erickson is known for his comic ability, recently seen in Hayes Theatre's CRY BABY, and his rendition of Buddy's Blues and Being Alive are wonderful in there recontextualizing the works around a perpetually single Grindr addict. Hayden Rodgers adds a delightful impression of naiveite for his amusing adaptation of I Know things Now and sensitive expression of Nothings Gonna Harm You. James Lee adds a more mature voice to the quintet with a hopeful rendition of Anyone Can Whistle and expressing the universal broken response to a separation in Send In the Clowns.
Whilst BOYS OF SONDHEIM was a one night only engagement in Sydney, hopefully it will be reprised at a later date so more audiences can enjoy this evening of easy entertainment as it is a delightful treat for Sondheim and musical theatre fans.
BOYS OF SONDHEIM
Related Articles View More Australia - Sydney

Stories

Shows