BWW REVIEW: A High Energy Spectacle of Light And Sound, DRUMMER QUEEN Seeks To Shift Perceptions About Women In Percussion.
DRUMMER QUEENS

Wednesday 10th February 2021, 7:30pm, Lyric Theatre Sydney
Joe Accaria's (Creator, Composer & Musical Supervisor) DRUMMER QUEENS sets female drummers in the spotlight with a fusion of music and movement. The new full scale concert spectacular that will undertake a limited tour is the culmination of an idea first formed in 2013.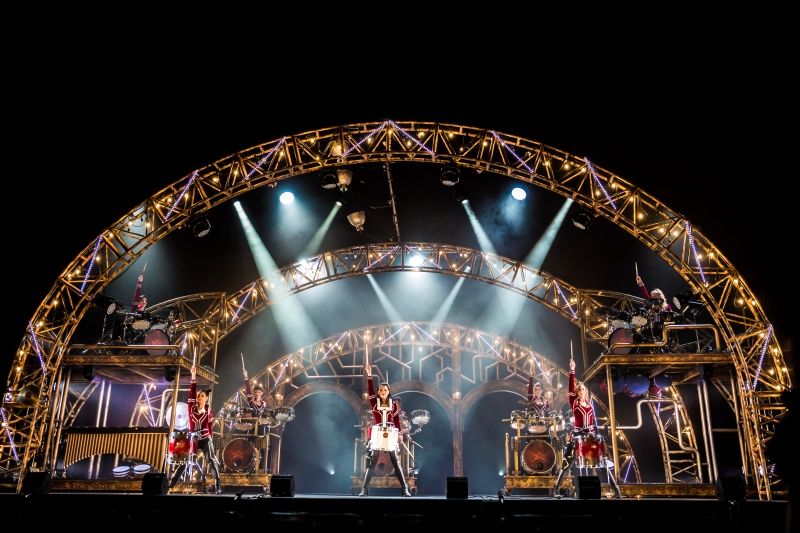 Historically the study and performance of percussion has been a male dominated field, particularly in the western world. Through DRUMMER QUEENS' combination of dance, light and movement, paired with a range of drumming styles the troupe of 8 performers seeks to change perceptions of the artform when it is presented by women. The work also has the possibility to raise the underlying question of whether a feminine approach to the instruments and artform delivers a different expression of the music when compared with what would be expected of a masculine performer.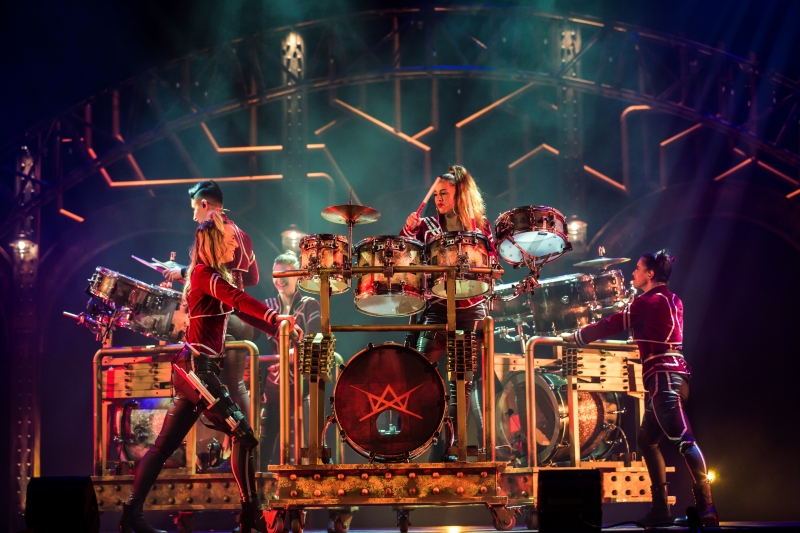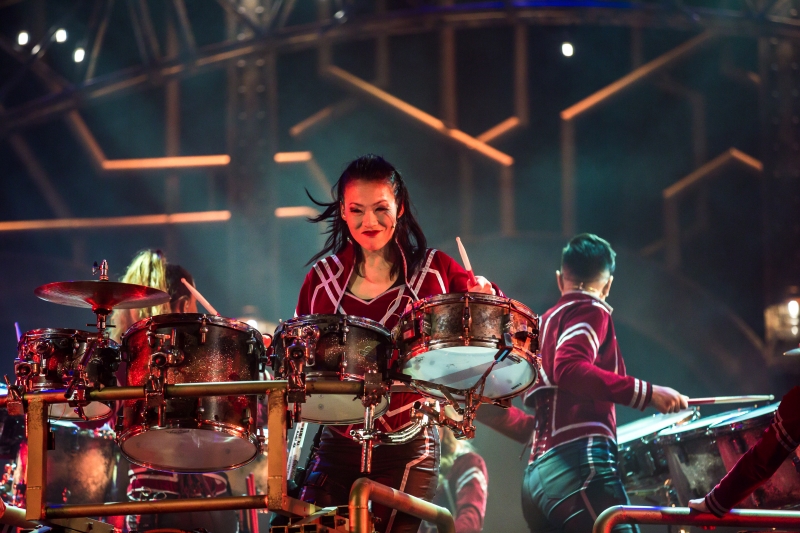 Accaria, along with Creative director Nigel Turner-Carroll and Choreographer and performer Peta Anderson present a performance that allows the 8 women to express their own individuality while coming together as a supportive troupe that celebrate each other's talents. Adrienne Lord and Richard Neville's production design is dominated by a series of concentric industrial lighting rig arcs accented by metal archways and array of retro futuristic steampunk metal pipes. The movement of the work is aided by the inclusion of various mobile elements from single drums on wheels to a trio of podiums that house sets of drums on manually operated scissor lifts allowing flexibility of performance styles, and two larger multi-level platforms housing full drum kits and additional large instruments. Adrienn Lord's costume design continues the theme of an industrial world with the octet wearing yellow overalls, styled to suit the individual and adorned with an array of harnesses, buckled corsetry, and even a leather fringed belt. When paired with the drum stick holsters, the aesthetic presents as a rogue militia which later comes together with more unity in the second part of the show's red uniforms. Richard Neville's lighting design elevates the energy of the work with stadium concert style effects that create captivating silhouettes while at times proving a little to blinding for a number of the audience when held at one level for too long. The rear projection onto a large bass drum creates a shadow puppet effect with the hands caressing the drum's skin. An LED lightshow featuring the arcs provides an interlude that leads into a more futuristic electronic drum element and the more united 'army'.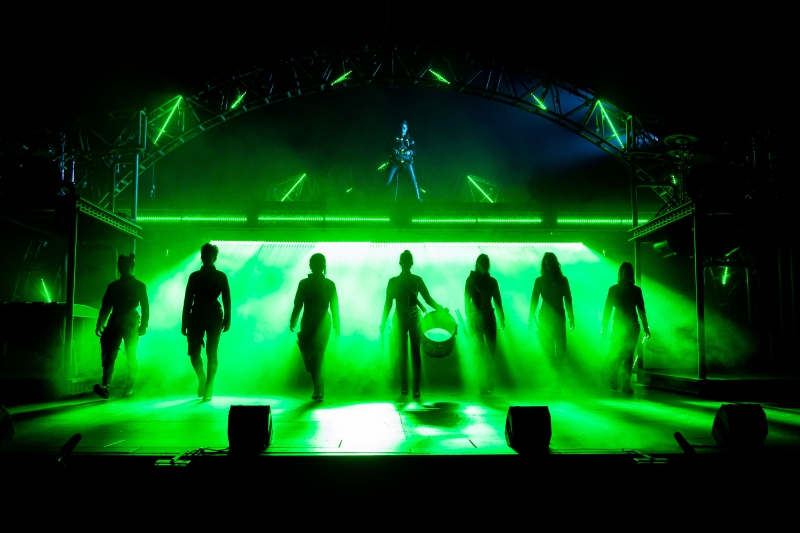 While there seems to be little to no through story embedded in the work there is a celebration of each performer's talents. Of the troupe of 8, 6 have professional percussion backgrounds while two bring the dance element to the work with dance, particularly tap dancing experience. These two have been trained to complement the more seasoned drummers with simpler elements and also assisting with the movement of the podiums. The program lists each performer as having a character though this is not really reflected in the performance beyond an essence of who the person is. Professional drummers are Stef Furnari (Rebel), Niki Johnson (Switch), Salina Myat (Zen), Lisa Purmodh (Sass), Claudia Wherry (Luna) and Ned Wu (Cap) with Astrid Holz as a swing. Choreographer Peta Anderson (Freedom) and Georgia Anderson (Bey-B) provide more of the dance and physical movement with Sasha Lian Diniz as the dance focused swing.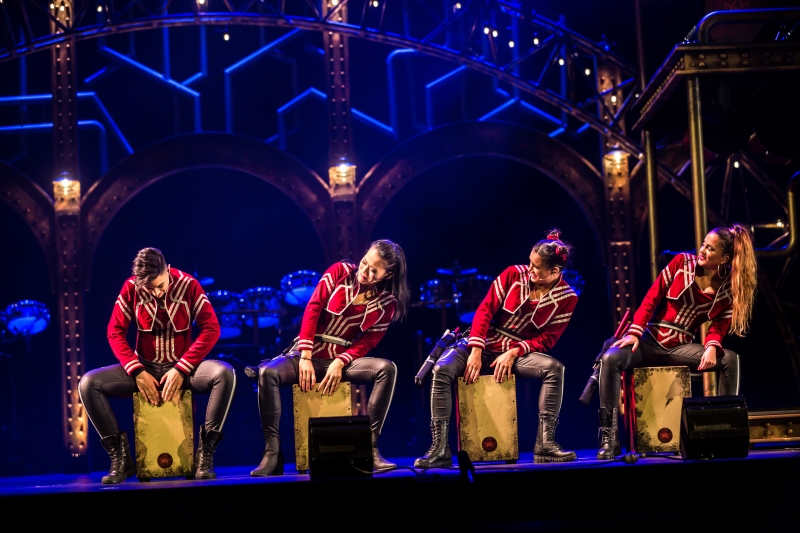 The percussion utilized is predominantly more contemporary western drums with heavy focus on drum kits with the addition of some different orchestral percussion elements like the large xylophone housed in one of the large structures and the triangle and double bell affixed to the side of the outer arc. More unusual instruments include the Peruvian Cajon box popular with flamenco styles of music, a version of a Djembe west African drum and a toothbrush while body percussion and tap dance are also utilized to demonstrate the range of ways a beat can be created.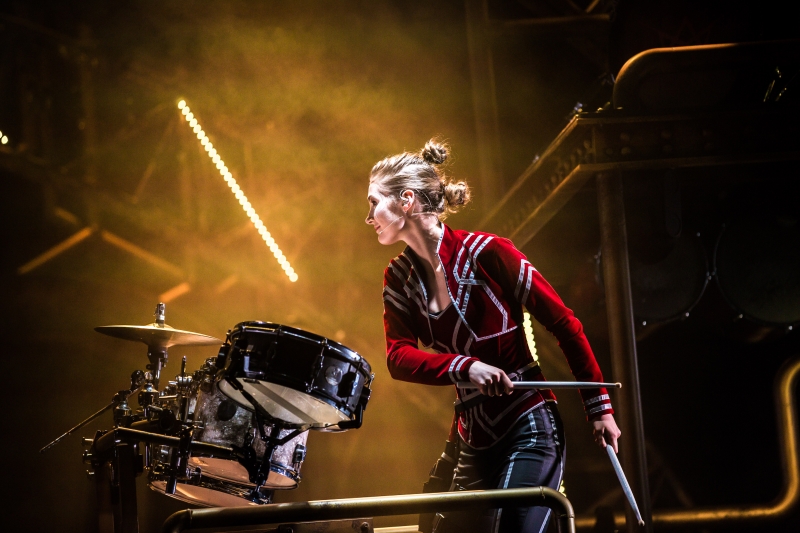 While it would have been interesting to explore more types of percussion instruments from around the world to create a bit more variety in the 80-minute run time, DRUMMER QUEENS achieves its core aim of putting female drummers in the spotlight. A big budget spectacle that would particularly appeal to anyone interested in music, dance and high energy experiences while also being an empowering message to women interested in engaging in areas that have traditionally been seen as male spaces.
https://www.drummerqueens.com/all-events/