Review: A Shout-Out to Those Who Dream, B CLASS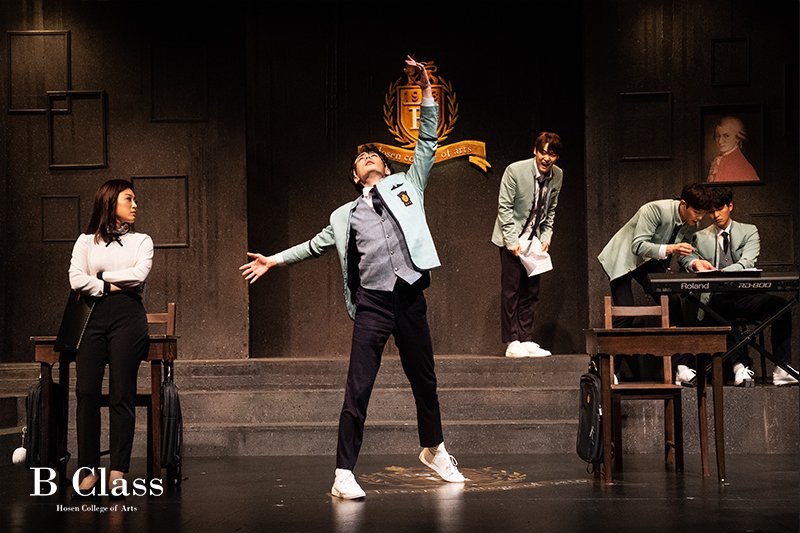 Four students, four talents. The revival of the play B CLASS touched the heart of the audience by showing four students with different talents fighting their way through the hardest, but also the most memorable moment of their lives. The show beautifully depicts four students in their teens with different talents trying to overcome their hardships and get together as a team to perform their graduation show and the accreditation for graduation.
B CLASS shows students in the 'B Class' of Hosen College of Arts. Students in Hosen College of Arts are graded into two classes - the A Class or the B Class - and each month they take a test that sorts them into one of these classes. Taek-Sang, Chiaki, Soo-Hyun, and Hwan are in the B Class, and they suddenly have their homeroom teacher, Jung-In announce that they are to prepare for their graduation show together. Taek-Sang, whose major is composing, is expected to write the song for their graduation performance, and Chiaki, who majors in dancing will have to dance in the performance. Soo-Hyun, the vocalist, should sing, and Hwan, majoring in piano performance will contribute by playing the piano in the performance. The four boys do not get along at first, but they learn to get along with each other and perform their graduation show.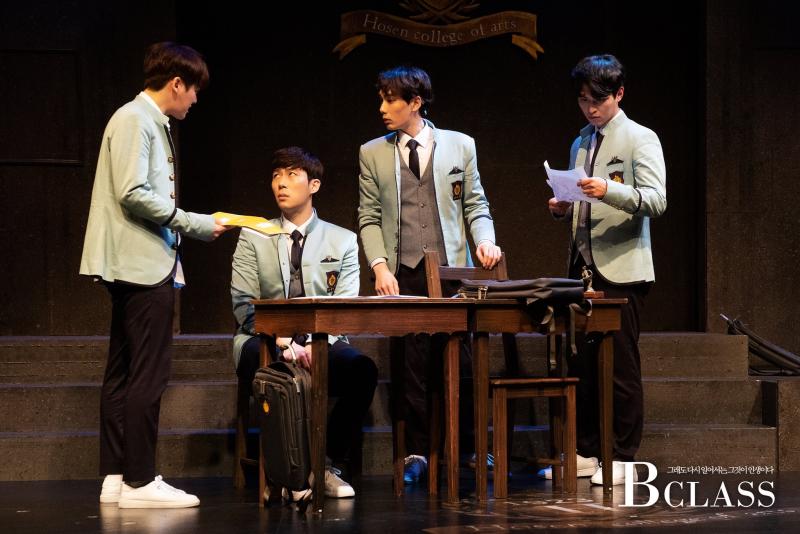 Each character has a throbbing past that is revealed throughout the show. Taek-Sang lives with the guilt that he is not living up to his parents' expectations because he is constantly in the B Class. He wishes to go up to the A Class and will do anything if he could go to the A Class. This leads Taek-Sang to go for a decision that he ends up regretting, which leads him to become a playwright in the future and the narrator of B CLASS.
Chiaki, as the audience could see by his name, is half Korean and half Japanese. Because of the history of these two countries, Chiaki says that he was not welcomed by his classmates in both countries. He understands Taek-Sang's choice and tells him that he will be his friend no matter what decision he makes in his life. Chiaki also says one of the most memorable lines in the show - that no matter what comes in your life, you will get back on track again.
Soo-Hyun is a character who first looks like a troublemaker. He is not at all enthusiastic about his new teammates, and he shows rebellious attitude toward the school. But we learn that Soo-Hyun's parents passed away from a car accident, and his sister, who is also a friend of Jung-In, is in a vegetative state. He feels sorry for himself and believes that he is a victim of the school's policies which emphasizes the personal background of students and not their real abilities and talents.
Hwan is a newcomer to the class. He is the son of a famous professor who taught many distinguished pianists, including Jung-In and Soo-Hyun's sister. He used to be in the A Class but came to the B Class because he did not take the monthly test. He also cannot stop trembling his hand because of an incident that happened when he was young.
B CLASS shows these four students, all with heartbreaking backgrounds becoming one as a team and knowing more about each other to understand and become a better version of themselves. People could relate to at least one of the characters and understand why they had to act in the way they do in the show. The show emphasizes on teens getting hurt by the endless competition that goes on in their lives and shows how they get over these troubles by friendship. It is not unusual to see people burst into tears because of the moving performance and the lyrics that they hear in the scene of the graduation show, or because they can see themselves in one of the characters at one point of the play.
Although the show itself is very emotional, there are some parts that make the audience burst into laughter. Taek-Sang, who is a brilliant composer, turns out to be a terrible singer. Chiaki misunderstanding Korean in some scenes makes the characters lower their guards while explaining the parts Chiaki could not understand again.
'It's okay. It's okay as it is'.
Just like a part of the lyrics from the graduation show, B CLASS shouts out to everyone who dreams and reaches for the stars, reminding them that it is okay not to be okay sometimes and that you will be able to get back up again.
The story of these four students trying their best to achieve their dreams will be on stage until July 15th. For more information and to buy tickets (50,000 KRW) visit ticket.interpark.com/Global/. Make sure to check the casting schedule prior to buying tickets.
B CLASS at Soohyunjae Theater
Photo Credit: Stand By Company