BWW Review: DISASTER! at Elkhart Civic Theatre
Take an earthquake, tidal waves, piranhas, sharks, explosions, and disco music, place them all on a floating casino that may, or may not be, up to code, and you have a recipe for Disaster. This campy send up of 1970's disaster movies is riddled with a cast of characters ranging form the scientist trying to warn everyone of the disasters about to come, a guy sneaking on the ship just to get laid, a couple celebrating a business deal, and a reporter who is trying to get the big story on this floating disaster waiting to happen.
Disaster! is your typical jukebox musical with 1970's classics like "A Fifth of Beethoven", "Knock Three Times", "I Will Survive", and "All Right Now". Unfortunately it also means some tedious writing to get us into those songs such as "Mom, how do you spell Saturday Night?". For the most part, the cast does a fine job not making it too telegraphed, and the writing does try to get away from such obvious intros as the show goes on.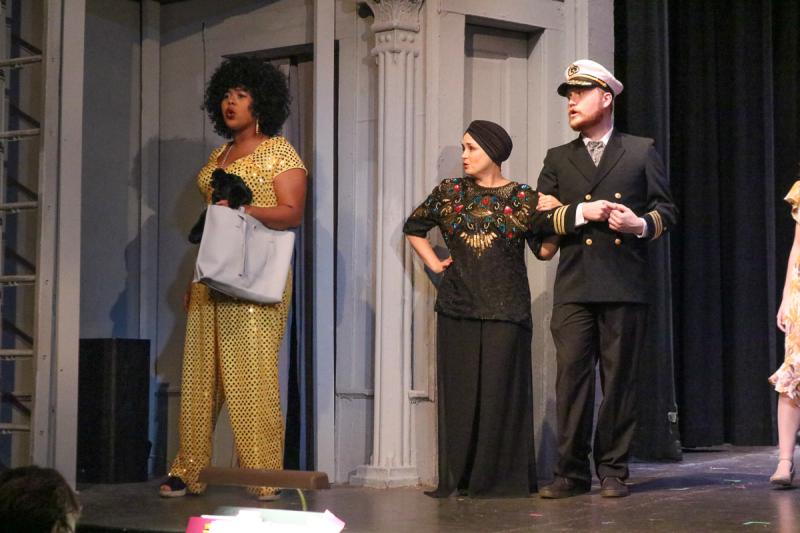 The band, lead by Liesl Bell, does a great job of recreating the classics heard through the show, including one of my favorites, the "Hawaii 5-0 Theme" that brings us into Act 2. While the band was able to hit the iconic sounds of the songs being used, it was unfortunate that a handful of the actors had troubles recreating their sounds for some numbers.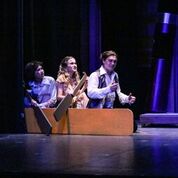 A stand out performance was given by Susan South, playing Sister Mary Downy, as she sang the Lord's Prayer and then tries to save the souls of the godless heathens
gambling on the boat of sin. Her characterization and vocals were enough to bring the room to tears with laughter. Another stand out performance came from Bianca Orue, who plays a woman blinded during the disaster and put me in mind of characters played by Aidy Bryant of SNL fame. John Shoup, playing the owner of the floating casino, Tony, and her have a great set of interactions, or non interactions, that are hilarious, and while she gets to do the funny moments of looking the wrong way in a few scenes, unfortunately some of them are lost because she is put in the back of a group to deliver a joke that should be seen.
The biggest issue this musical suffered from, however, was the pacing of Act 1. The songs come so fast and furious that one hopes that the jokes and scenes would also match that tempo. However, between actors unable to contain their joy at telling a joke and jokes just being hurt by timing, much of the act one humour is lost in translation. Act 2, on the other hand is fully worth the price of admission! Filled with death, destruction, and dummies that sometimes upstaged their actor counterparts, it is scene after scene of clever actor work.
Even if you are not a fan of Jukebox Musicals, this toe tapping show will have you Hooked on a Feeling by the end of the show, and that feeling will be joy!
"Disaster!" continues its run at the Elkhart Civic Theatre November 9th - 11th and then on the 16th & 17th. Purchase tickets by going to elkhartcivictheatre.org or by telephone at (574) 848-4116.
photo credit: Dave Dufour
Related Articles View More South Bend

Stories

Shows
Dave Kempher has been an active part of the Michiana Theatre Community since 2001. He's worked with theaters in Goshen, Elkhart, Bristol, South Bend, and (read more...)