Interview: Daniel Geddes Chats about Bringing CRUISE to the Homecoming Theatre
This Olivier Award-nominated play makes its Cape Town debut in April 2023.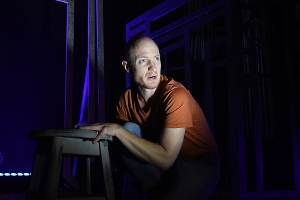 CRUISE, written and originally performed by Jack Holden, is a one-one play that tells the story of Michael Spencer, a young, gay man who is diagnosed with HIV in the 1980s and whose time left to live is limited. The action of the play centres around what is meant to be Michael's last night on Earth and is sometimes hilarious, sometimes tragic and always uplifting.
The production was one of the first plays to open after the COVID-19 lockdown in London and it later moved to the West End, garnering an Olivier Award nomination for Best New Play. After wowing audiences in Johannesburg during its December run in 2022, CRUISE, makes its Cape Town debut in April 2023. Daniel Geddes, the talented star of CRUISE's South African run, chatted with Broadway World about the play.
BWW: Let's start off with - How did you first hear about CRUISE and the South African run and what made you want to audition?
Daniel: Cruise was first brought to my attention by the Producer, Colin Law, who sent me the script and a link to the London production and asked if I would possibly be interested. I remember reading the play first as I wanted to experience it in my own way and create my own impression before seeing how it was originally done. I thought it was a remarkable piece but I wasn't entirely sure I could do it justice. Fortunately, Colin knew otherwise and offered me the part when I expressed my interest. I'm especially grateful that my director, Josh Lindberg, was equally willing to go on this adventure with someone who was to him unknown. The show was also being made possible through funds from the NAC, DSAC, and PESP (for which I'm grateful).
BWW: Do you feel that you bring something different to the show as a South African?
Daniel: I think what brings the most significant difference to the show is my own personal journey and experience - perhaps more than my 'South African-ness'. As a South African, however, we do come with a strong tradition of physical theatre and strong storytelling, which inform a stripped down, actor-focused performance that relies significantly less on large spectacle than a lot of overseas productions do.
BWW: What has been the most difficult aspect of this production for you?
Daniel: I think two-fold - it has been learning the mammoth text, with all its beautiful, heightened language and poetry, with all its eclectic characters, and then trying to maintain that for the full 90 minutes, with a strong, energetic score that doesn't let you miss a beat. The piece is almost musical in its lyricism and pace, and maintaining that energy and clarity is the real challenge of the play.
BWW: What do you hope that audience members take away from this show in Cape Town?
Daniel: That every individual has a story. That we all carry our own hurts, joys, pain, suffering, experience, accomplishments around with us, and we encounter people every day who silently carry these with them. If nothing else, I'd want them to come away with empathy. Empathy for the experiences of other people, even when we don't understand, or know, or always agree with them. I'd want them to look at people differently, as Jack does at the end of the play when he realises the depth of the experiences that the people around him carry.
BWW: Do you identify with any of the characters in this show (as you play multiple roles in this one-person show)?
Daniel: I identify the most with Jack, who is the lens through which we enter and exit the story. He represents the listener, the witness, if you will. His character is the same age as me in the same time as me. He, like me, is taken on a journey to a time and place I have little reference for, and is moved and changed in hearing the story.
BWW: Do you have a pre-show ritual?
Daniel: I've got an eclectic '80s playlist that I do my physical warm-up to, headphones on just to pull myself towards myself a bit more. I like to then run the list of names that comes out later in the show, almost as a homage to those individuals, but also a way into the voice of Michael. The last little thing I do, which has sort of become my own small ritual as an actor, is place my hand on the ground just before clearance. It's sort of a metaphor for getting myself grounded, but also reminding me of the stage floor, and what a privilege it is to step onto it. It also just calms my nerves a bit, reminds me that the world is so much bigger than this moment right now, that the stakes aren't as high and overwhelming as they may feel.
BWW: Despite being set in the '80s, what relevance do you think this show has to our current social climate?
Daniel: It speaks directly to our recent experience of a pandemic, with all the misinformation, fear, loss, uncertainty, and stigma that came along with it. The parallels with that and the HIV/Aids pandemic are uncanny - not just in our experience of an unknown virus changing the fabric of our society, but the kind of cruelty and unkindness that arrives around it as fear and misconception dominate the psyche.
There are remarkably strong parallels between South Africa and the UK in the gay culture of the '80s, where rich SA club owners went off to the UK to copy the clubs. It also remains relevant in its focus on story-telling. The idea that every individual has a story is so important. The show may be set in the '80s against the backdrop of the AIDS pandemic, but it could hardly be reduced to that. At its core it is a love story, a coming-of-age, a celebration of life, and an ode to the people who lost their lives in that time. That kind of story will always be relevant.
BWW: How closely did you draw on the original London performance to influence your own characterisation? Or did you want to deviate completely?
Daniel: We reimagined the play for the South African performances. I don't think it would be fair to say that I wanted to 'deviate' from the original completely, but I certainly wanted to do my own characterisations. I watched the original production once and that was it. It was important to me to give an authentic life and voice to the beautifully written script by Jack. There is so much in it to draw from and find and learn, that to mimic or copy what he had originally done would almost be a disservice to the richness of his text. I think one of the great things about theatre is each director and actor's own interpretation of the same text. For it to be an authentic performance, I needed to find my own way of telling the story.
BWW: Who should see this show?
Daniel: Anyone who has lived and loved should see this show. It may have special appeal to people who perhaps lived through the '80s, particularly in Soho, London, and have a reference for the vibrant, energetic gay culture of the time.
There are so many references to real people, places, and idiosyncrasies that will evoke a nostalgia and reminiscence, but that's not essential to your enjoyment of the show. No matter where you come from, it will move you, energise you, sadden you, uplift you. It is such a human story, told with a celebratory lightness and joy that steers clear of it being a lament of a time gone by or a cautionary tale about the dangers of a sexually liberated lifestyle.
Photo credit: Odette Putzier
CRUISE runs at the Homecoming Theatre from 12 to 30 April 2023. Tickets are R195 and are available via Quicket.
BWW: Provide three words to describe the show.
Daniel: Relentless, moving, free.