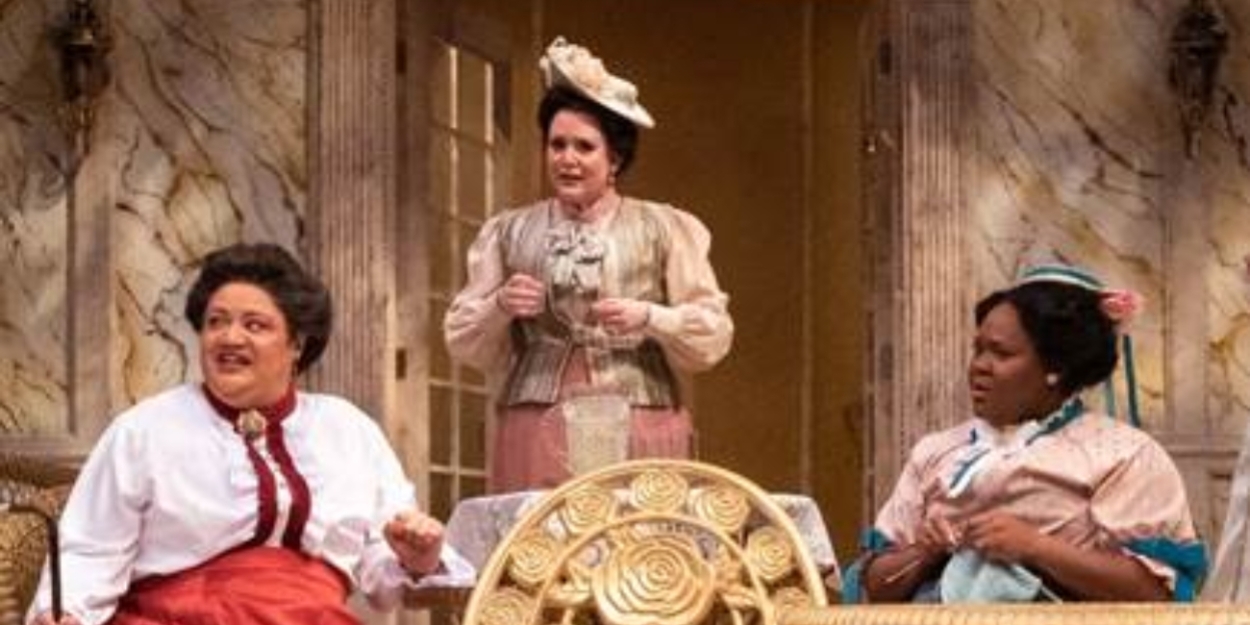 Review: A WOMAN OF NO IMPORTANCE at Taproot Theatre
The production runs now through February 25th
A WOMAN OF NO IMPORTANCE is ironically an important work by none other than the esteemed Oscar Wilde. A thinking man's comedy, Wilde imbues this work with witty banter while challenging society's norms. The show clips along with a steady stream of laughs punctuated by occasions of loud guffaws and eye-popping truths. You will be charmed. You will be delighted. You will be entertained.
The story of A WOMAN OF NO IMPORTANCE revolves around a gathering at a country home where Lady Hunstanton unknowingly reunites two people who shared a scandalous past. The story hinges on how differently the lives of men and women are affected by a scandal. Some take the moral high ground insisting that all should be punished and cast out of society. While others are happy enough to dismiss the past because someone is "such good company." The theory of these beliefs is put to the test when faced with how they would treat people they know if involved in such a scandal. The ultimate dilemma of morals is whether it is better to condemn or forgive.
The cast of A WOMAN OF NO IMPORTANCE is brimming with talent, and they all delivered beautiful dialects with clear diction. Rebecca M. Davis as Lady Hunstanton set the standard early for a night of laughs. She elevated a simple character with funny lines into a central figure that steered the conversations into deeper waters. Aaron Lamb as Lord Illingworth embodied the aristocracy with every gesture and glib remark. You felt his love of power in his manipulations despite his repeated stated disdain for his position. Bretteney Beverly and Tyler Campbell as Lady Caroline and Sir John Pontefract respectively played off each other splendidly providing a steady stream of amusement with every lifted brow and sigh. Juliette Jones plays the bright-eyed, naive Hester Worsley. She spouts her firm views in passionate declarations. Then Jones brings a genuineness to the part, especially when confronted with real world situations that are more gray than black and white. Candace Vance as Mrs. Rachel Arbuthnot is the lynchpin of the show. Her fortitude is what not only allows but compels others to change. Vance draws you into her plight without playing the victim. She shares her story without asking others to fix it, and ultimately champions her own cause.
The other star of the show is Jocelyn Fowler, the costume designer whose work conjured the Victorian era with every ruffle and feather. Each ensemble was full of detail and fit each actor impeccably. Scenic designer Mark Lund produced a set that was full and versatile. The low-tech transition from one house to another was perhaps one of my favorite parts of the whole show. In an age where projections seem to have taken over, this hands-on, old school approach was a delightful surprise that actually received applause from the audience. Alyssa Keene as dialect coach gets a tip of the cap as the speech of the entire cast was believable, discernable, and effortless. Karen Lund's direction results in a show that has a brisk pace that never drags or labors. Although occasionally the show falls victim to the perils of a thrust stage with characters moving in patterns that seem a bit too busy and unnecessary in order to allow all parts of the audience to view the action. Nonetheless, the overall effect is still one that holds you in rapt attention throughout.
A WOMAN OF NO IMPORTANCE is an old story that still holds truths for us today. Double standards still exist. Moral high ground is challenged when faced with real world situations, and forgiveness is always a greater good than condemnation. Wilde's genius delivers again and again as we recognize tropes and stereotypes yet see them emerge as full people capable of change. The witty banter and verbal sparring land some serious punches that give a depth to the show beyond the lighthearted laughs. The result is a night of tasty entertainment that leaves you something to chew on.
Photo Credit: Robert Wade