New Valentines Event STORIES OF LOVE to Debut This Weekend at Mirror Stage
Stories of Love will be held at Nalanda West in Seattle's Wallingford neighborhood on Saturday, February 11.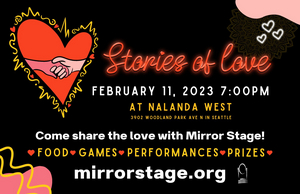 This Saturday, Mirror Stage is introducing a new signature event, Stories of Love. Eat, drink, play games, and enjoy stories of love performed by Ms. Kitschy Kupid, Mz. Floes, Angie Bolton, and Celeste Mari Williams. Stories of Love will be held at Nalanda West in Seattle's Wallingford neighborhood on Saturday, February 11. Doors open at 6:30pm. Food and beverages are included.
Advanced tickets are $45 and are available at MirrorStage.org.
Performance Details:
Tickets will be $55 at the door.
All Stories of Love proceeds directly support Mirror Stage's multidisciplinary arts programming.
Event: Stories of Love 2023
Location: Nalanda West at 3920 Woodland Park Avenue North in Seattle
When: Saturday, February 11 from 6:30pm to 9:00pm
Tickets: Available at MirrorStage.org
Advanced tickets: $45
Tickets at the door: $55
Tables of six: $175
About Ms. Kitschy Kupid:
This charming matchmaker who continually seduces everyone she's trying to match (oops), has decided to bring her merriment to the stage. With her whimsical style, her need for attention, and lots and lots of love, this babe with classy vibes and tacky taste will keep you guessing until the very end.
About Mz. Floes: Miz Floes is a vocalist and spoken word artist living in Seattle. She grew up in inner-city Chicago surrounded by violence and poverty, and credits the literary arts for saving her. As a woman, mother, grandmother, and member of the BIPOC community, Floes seeks to transform pain into art and productively release it back into the community.
About Angie Bolton: Actress and spoken word artist Angie Bolton digs into her own family's newly revealed stories to find inspiration for her art. Bolton is known for her role as a singer, dancer, and percussionist in the award-winning music group Tickle Tune Typhoon. She can next be seen on stage in Mirror Stage's US premiere of The Squirrel Plays: Infestation, Compensation, Eradication this spring.
About Celeste Mari Williams: Celeste Mari Williams is a storyteller and biologist who interweaves creative storytelling, science, and topical social issues to create engaging entertainment. She fosters trust, empathy, and emotional connection with human and wildlife communities. She is also a Fox Television animation professional.
About Mirror Stage: Originally founded in 1991, Mirror Stage is a nonprofit multidisciplinary arts company that believes the power of storytelling holds the key to bringing people together in imagining and embodying a better future. We challenge assumptions, bias and prejudice, increasing equity and inclusion while encouraging more thoughtful reflection on today's issues. Mirror Stage nurtures unique artistic voices, centering those who have been most marginalized by society's inequitable systems and structures. Mirror Stage gets people talking, as well as thinking. More at https://cloud.broadwayworld.com/rec/ticketclick.cfm?fromlink=2224318®id=17&articlelink=https%3A%2F%2FMirrorStage.org?utm_source=BWW2022&utm_medium=referral&utm_campaign=article&utm_content=bottombuybutton1.