BWW Review: Shakespeare in ASL with Sound Theatre Company's Delightful A MIDSUMMER NIGHT'S DREAM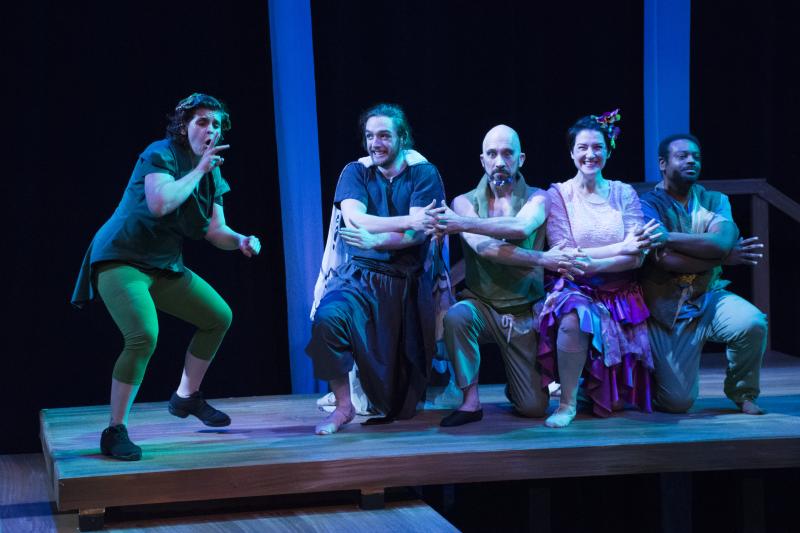 In collaboration with Deaf Spotlight Presents, Sound Theatre Company has produced a bilingual "A Midsummer Night's Dream" with English and American Sign Language. This performance, now at 12th Avenue Arts, may have a streamlined aesthetic, but the incorporation of ASL makes the original Shakespearean spoken language even more poetic.
Shakespeare's comedy "A Midsummer Night's Dream" focuses on several interconnecting plotlines involving and adjacent to the wedding of the Duke Theseus of Athens (Michael Schweiger) and the Amazon queen, Hippolyta (Carolyn Monroe). Meanwhile, Hermia (Elizabeth Ayers Gibson) is suited to wed Demetrius (Kyle Seago) but she loves Lysander (Kai Winchester). Helena (Brittany Rupik), Hermia's best friend, pines after Demetrius, but he finds her detestable. Also, a group of well-intentioned common people work to put on a play at Theseus and Hippolyta's wedding. This group of players--Nick Bottom (Ryan Schlecht), Francis Flute (Nick Rempel), Robin Starveling (Thawin Choulaphn), Tom Snout (Catherine Kettrick), and Snug (Reggie Scott)--comically fumble and bicker despite their collective best attempts to stay focused and put on a good show. Lastly, Oberon (Michael D. Blum) and Tatania (Kathy Hsieh), king and queen of the fairies, have come to the forest outside of Athens to stay before Theseus and Hippolyta's wedding. Titania disobeys Oberon, and he seeks to punish her with the help of his shrewd buddy Puck (Michelle Schaefer). Puck will prank Tatania (and eventually a bunch of other people) by using a magical flower as a potion to trick folks into falling in love with each other. At some point, Nick Bottom turns into a donkey and Tatania falls in love with him.
It's a bit of a convoluted plotline, so if one is not familiar with the plot ahead of time, it can be hard to follow. Typically, even if audience goers are familiar with the storyline in a Shakespearean production, one has to adjust to the language. Not so with this performance co-directed by Teresa Thurman and Howie Seago: the ASL makes following the action even easier. From the perspective of a non-ASL-fluent audience member, signing Shakespearean language makes it easier to understand than just hearing it spoken aloud in English. And the beauty of the language is far from lost; in fact, it's elevated by an ASL translation. Never once do you miss a subtle sexual innuendo when someone signing does the dialogue.
Occasionally characters will speak English while Catherine Kettrick signs, but the bulk of the language is ASL. All of the central characters sign throughout the production. The fairies (Guthrie Nutter, Jason Trevino, Jessica Kiely-Danneker, Corey Spruill, and Carolyn Monroe) hover in costume in nearby to interpret the ASL into English. This approach to having an on-stage interpreter is smart and seamless.
This concept of an entirely ASL "A Midsummer Night's Dream" is so good, and so different, and so necessary! The performances by the ensemble are delightful to watch, and the choice to perform "A Midsummer NIght's Dream", of all shows, in ASL was smart. It's poetic, playful, and crowd-pleasing. Plainly, this show can appeal to the masses, and will make audiences, no matter the familiarity with ASL, want to see more productions in ASL.
There is one caveat: there did seem to be so much focus on getting the ASL/English performances right that perhaps set design was put on the back burner. There was clearly a lot of attention given to the very whimsical costumes, but the set design was simple comparatively, and quite surprising for Sound Theatre Company. Typically, the productions have hyper-realistic, elaborate sets, but this performance has an elevated platform, some white cloth beams strung from the ceiling, and playful lighting. There was one piece of furniture: Titania's bed, which, because folks were jumping on it, was revealed to be made of wood. The fairies would tie the cloth beams in knots, or draw them to the side to suggest setting change, but how the cloth beams were manipulated did not give any actual visual cues to where the characters were supposed to be. This austere set design was ironically more distracting than an elaborate set might have been.
Sure, the set design was a bit too minimal for such a whimsical production (and such whimsical costumes), but it allowed for the great performances to shine. Though the ensemble collectively did a great job, one performer shined brightest: as Bottom the Weaver, Ryan Schlecht's Nick Bottom was grand and hilarious. This is an enthusiastic comedian to look out for in future performances.
Why aren't there more ASL plays? There need to be! This production, at its simplest, is an inclusive bilingual show. Beyond that, it's jaunty, approachable, and a real knee-slapper. This production of "A Midsummer Night's Dream" sets a grand standard for what I hope will become a new (and clearly overdue) trend in theater. Weighing everything with the so-so set design, I give Sound Theatre Company's "A Midsummer Night's Dream" an excited A-. I hope many others look to this performance as the new standard.
"A Midsummer Night's Dream" performs at 12th Avenue Arts through May 11, 2018. For tickets and information, visit them online at www.soundtheatrecompany.org.