EDINBURGH 2019: BWW Review: CHARACTER BUILDING EXPERIENCE, Laughing Horse @ Cabaret Voltaire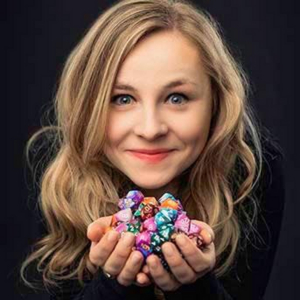 Tabletop role-playing game Dungeons and Dragons has been enjoying a massive resurgence in recent years. Its sudden surge in success has often been put down to featuring in Stranger Things, the popularity of online shows such as Critical Role, or even simply wider acceptance of nerd culture.
Several Fringe shows this year have aimed to capture this growing niche audience by translating the game format into a live show. A tiny room downstairs in Cabaret Voltaire, with chairs squashed between a Space Invaders arcade machine and a video game mural, seems the ideal spot to draw in a crowd who enjoy bards and battleaxes.
In Character Building Experience, Sasha Ellen serves as game master, compering the show with a light touch and leading a trio of players and an audience through a flexible fantasy story. Each player has a character to guide through obstacles in their path, with the success of their strategies decided by dice rolls.
The show manages the impressive challenge of boiling down the mammoth and often complex rules of Dungeons and Dragons into something easily and quickly accessible for those with no experience of the format - high dice rolls good, low dice rolls bad.
In a nice touch that keeps the audience engaged, players each have a couple of tokens they can use to appeal to the audience to overturn bad rolls by voting with coloured sticks - aptly described by one player as a very visual form of heckling.
Players with experience of the game format - at this performance, Vicky Hawley, Bennet Kavanagh and Jon Gracey - are able to riff on the fantasy storyline in an unselfish fashion. They stick faithfully to their simple, exaggerated characters, letting laughs happen naturally, and showing good instincts in keeping the narrative moving to ensure a wrapped-up story arc within the hour running time.
Adding a little festival razzamatazz, resident bard Kavanagh's improvised musical numbers quickly had the audience grooving along with everything from quick-change montages to attempts to persuade shape-shifting nuns through the medium of heavy metal.
The venue only has room for about 20 audience members, but this gives the inclusive impression of playing along with witty friends thanks to the warm atmosphere (literally as well as figuratively - the provided fans are a necessary and appreciated touch!).
Fun for those new to the idea of tabletop role-playing as well as those who can tell a gnome from a gnoll, Character Building Experience offers a different show each day with plenty of laughs and nerd camaraderie.
Character Building Experience is at Laughing Horse @ Cabaret Voltaire until 25 August (not 14).
Related Articles
Amy Hanson is an Edinburgh-based director and drama teacher. Her theatrical interests range from anything that shouts about politics to the cheesiest of musical theatre. (read more about this author...)