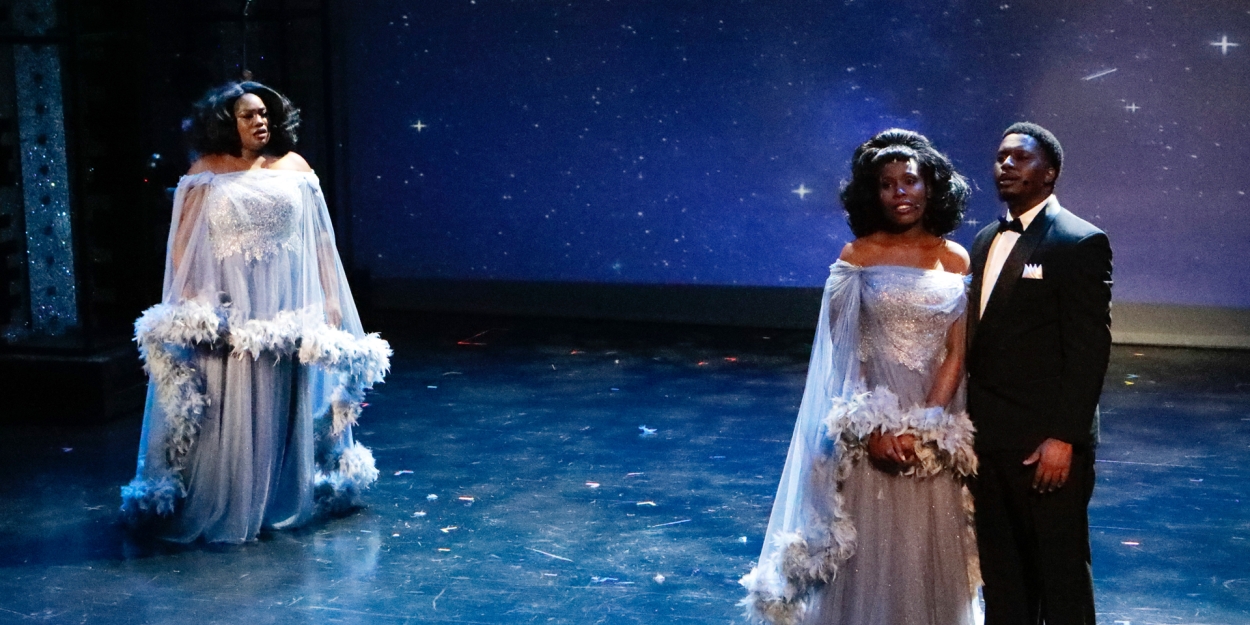 Review: DREAMGIRLS at Westcoast Black Theatre Troupe
Dreamgirls runs through April 9, 2023.
Dreamgirls is billed as an inspirational journey through American pop music. The show chronicles a fictitious Motown group that rises from obscurity to superstardom. Showcasing the genres of Gospel, R&B, smooth pop, disco, and more, Dreamgirls explores themes of ambition, hope, and betrayal, all set in the glamorous and competitive world inside the music industry.
We all remember the 2006 release of the film of the same name starring Beyoncé, Jennifer Hudson, and Anika Noni Rose. We follow the lives of three female singers who form a trio and take the name Dreamettes. Jamie Foxx played their ambitious talent manager who placed them to fill a backup gig to big star Eddie Murphy's character. Then the drama begins. Reality hits. Love. Hate. Betrayal, (all the "benefits" the music industry can deliver to unwittingly wide-eyed newcomers come to life.) Eventually only one of the ladies rises to superstardom leaving the others behind. Ah, the high, sad price they pay for fame and fortune. Trust me - I worked in the music industry for years. But it does make for an interesting story.
Returning to the WBBT stage for its third staging, Dreamgirls does not disappoint. With songs by Henry Krieger and lyrics/book written by Tom Eyen, which crosses over so many genres of music that can resonate with anyone, you just can't go wrong. Well, you could actually. You need to have a very strong cast with proficient pipes to pull off this kind of production. And in true WBBT fashion, this rendering is a Broadway spectacular. From spirited dance choreography by Donald Frison to progressive wardrobe displays by Darci Collins, this show is a feast for the eyes and ears. I particularly enjoyed the syncopated maneuvers that pay careful homage to days gone by when we were mesmerized by the smooth moves of so many Motown performers.
In this production, we are treated to the very talented cast of, Effie (Shena Renee), Deena, (Caila Carter), and Lorrell (Maya Cuevas) who are enamored by Jimmy "Thunder" Early (Raleigh Mosely II), who is already a big name. Effie's brother C.C. (Nate Summers) is the girl's proficient songwriter whose songs are highlighted throughout their career.
Seeing an opportunistic moment for himself, entertainment fast-talker Curtis (Brian L. Boyd) ropes in The Ingenues and uses their talent and inexperience to line his pockets while leading them from competing in talent shows and backup work for Jimmy to becoming a headlining act. All of this is done under the watchful and suspicious eye of Effie. Although they soon become a love interest and Effie falls hard, Curtis loses interest in Effie and becomes fixated on Deena and wants to make her a solo star.
The music of this show takes you on a rolling coaster ride of powerhouse moments in Effie's Act I closer, (And I'm Telling You), I'm Not Going, nailed by Shena Renee, to lively fun with Raleigh Mosely II singing Walkin' Down the Strip, and heart-tugging from Brian L. Boyd's delivery of You Are My Dream. Shena Renee as Effie is just as dynamic to watch as she is to hear. That voice! And her facial expressions, particularly at the beginning of the production, are priceless. Brian L. Boyd as Curtis was the character you loved to hate and played his part to the hilt, making you like him because it was obvious he was enjoying the role. Raleigh Mosely II gave it his all as Jimmy, channeling the boldness of James Brown in song and dance.
Kudos to Musical Director Steven Zumbrun and the live band, Resident Choreographer Donald Frison, and Wardrobe Manager Adrienne Pitts who added the perfect undertones and overtones as needed for a show of this caliber.
Director Nate Jacobs gives his fine cast the room to spread their wings and boldly embody their characters. This is one swift production where timing is everything and the director must keep the pace moving, even in the gentler moments. Jacobs was up to the task and drew the best out of his performers while keeping his eye on the direction the production was headed.
Dreamgirls runs through April 9, 2023. For more information visit westcoastblacktheatre.org.
Photo Credit: Sorcha Augustine