THE $18-BILLION PRIZE, a New Play Based On Shocking True Story, Comes to San Francisco's Phoenix Theatre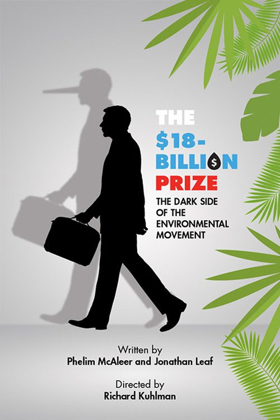 A shocking and at times farcical tale of how an environmental lawsuit turned into the world's biggest fraud is revealed in a new play. The world premiere of The $18-Billion Prize, based on the true story of rainforest natives and their New York lawyer "fighting for justice" against one of the world's biggest oil companies, opens May 19 at The Phoenix Theatre, where performances continue through June 3.
A "verbatim theater production" written by Phelim McAleer and Jonathan Leaf, The $18-Billion Prize is based on a true story and the trial and deposition transcripts from the court case "Donziger v.Chevron Corp." The claim: the Amazonian rain forest has been polluted by evil oil giant Chevron. But all is not what it seems. What if in this David and Goliath battle... David is the villain? Stories of sex-obsessed Hollywood celebrities let loose in the jungle and the private diaries of the lead attorney submitted into evidence are just some of the plot twists in this wild and crazy tale. "I'm always drawn to stories that the establishment and mainstream media would rather ignore," says McAleer, a New York Times best-selling author and journalist who is best known for the book and movie Gosnell and the stage play Ferguson. "This new play exposes how environmentalists carried out the world's biggest fraud, how the media helped promote that fraud - and how they almost got away with it. Members of the 'Hollywood Elite' - Sting,
Angelina Jolie
,
Brad Pitt
and
Mia Farrow
- all supported this bogus lawsuit before it was exposed. One of the takeaways is the seamy side of celebrity endorsement of charitable causes." In 1993, Steven Donziger, a Harvard-educated American lawyer, represented indigenous groups from Ecuador's rainforest in a class action suit against Chevron. The case received an enormous amount of media attention, including major coverage by Vanity Fair, Rolling Stone and 60 Minutes to name a few, and it drew the support of international celebrities. In 2011, after an eight-year trial, an Ecuadorian court ordered Chevron to pay $18.1 billion. The verdict is believed to be the largest civil court judgment ever. But the story doesn't end there. Chevron fought back. An American court found evidence of fraud and ordered Donziger to hand over his files and diaries, which exposed a massive bribery and corruption scheme. Donziger was found to have bribed judges and ghostwritten the judgment. The diaries also revealed the extent to which these celebrities misbehaved while thousands of miles from Hollywood - along with the hundreds-of-thousands of dollars they received for their "charitable" work. Overnight the Chevron case went from environmentalists' biggest victory to the world's biggest fraud. "The true story is a mixture of Apocalypse Now meets Austin Powers: The Spy who Shagged Me," Mcaleer says. "It's a farce hidden in an $18-billion drama." According to McAleer, once it became clear that Donziger had won the case through bribery, fraud and other corrupt practices, the mainstream media no longer wanted to tell the true story. "This play is also about the failure of journalism. The Chevron case was one of the first examples of 'fake news.' I think audience members will be very surprised, even shocked, when they hear the clear and unaltered truth about the events that took place." McAleer said that because the play tells the truth about the dark side of the environmental movement it would never be funded by the theatrical establishment. "That's why I'm crowdfunding it. I think the public will recognize the truth when they see it." To see the crowdfunding site go to
http://www.ChevronPlay.com
. "Verbatim" or "truth" theater, modeled on
Tricycle Theatre
's wildly popular Tribunal Plays series that has been a staple in London for over two decades, is defined as "a play constructed from the precise words spoken by people interviewed about a particular event or topic." In this case, the audience will hear unaltered witness testimony, exactly as the federal appeals court heard it. Director Richard Kuhlman finds the story to be a highly significant example of how money corrupts. But he also thinks that because the verbatim testimony takes on these farcical elements, the staging of the transcripts is also theatrically vibrant. "It's actually absurd that the case got as far as it did," he says. "It reminds me of Dr. Strangelove." Phelim McAleer is a veteran investigative journalist, a New York Times best selling author, filmmaker and playwright. He also is one of the world's most successful crowdfunders. His most recent movie, Gosnell, is the story of Pennsylvania abortion doctor Kermit Gosnell, whom ABC News described as "America's biggest serial killer." McAleer caused a storm when his play Ferguson, about the police shooting of
Michael Brown
, was staged in Los Angeles. Although the play was based entirely on verbatim transcripts of eyewitness testimony to the Grand Jury, actors objected to the script and nine of the 13 cast members walked out before opening night. They were upset that the eyewitness testimony did not match their idea of how the shooting actually happened. Alternative newspaper LA Weekly called Ferguson "divisive, but riveting" and "an incendiary night of theater." He has produced documentaries for the BBC, CBC (Canada) and RTE (Ireland), as well as two independent feature length documentaries. Before becoming a filmmaker, Phelim was a foreign correspondent for the Financial Times in Eastern Europe, and he covered Romania and Bulgaria for The Economist. Before that, he covered Ireland for the UK Sunday Times. McAleer began his career in journalism covering the Northern Ireland troubles first as a reporter in Crossmaglen (known as Bandit Country) and then for The Irish News in Belfast. McAleer has appeared on or is a regular contributor to an array of international media organizations including Fox News, CNN and the BBC. He has been interviewed on over 100 US and international radio. The acting ensemble features David Boyll,
Steve Budd
, Patrick Edwards, Derek Fischer,
Joe Higgins
, Emily M. Keyishian,
Joe Liss
,
Ilo Orleans
and Joe Walters. The $18-Billion Prize runs May 19 through June 3 at
The
Phoenix Theatre
in San Francisco. There will be one preview performance on Friday, May 18 at 8 p.m. All tickets are $30, except the preview performance on May 18 which is $15.
The
Phoenix Theatre
is located at
414 Mason Street
,
San Francisco
,
CA
94102
. For reservations and information call 800-838-3006 or go to
18billion.brownpapertickets.com
.