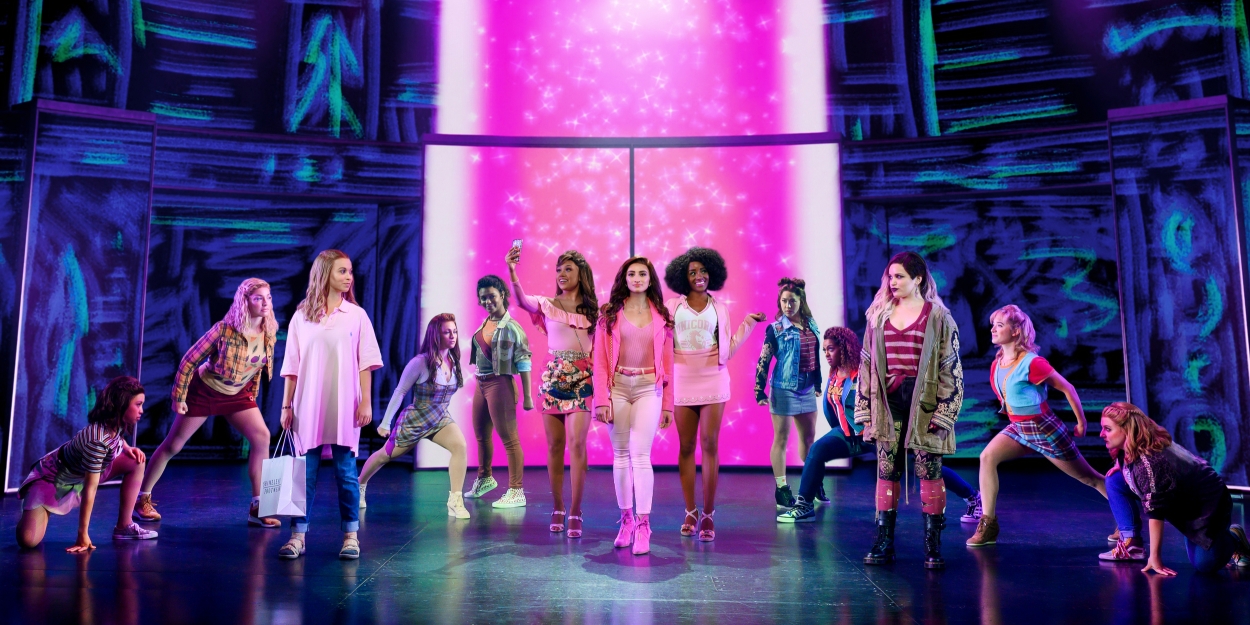 Review: MEAN GIRLS at Golden Gate Theatre
This dazzling show is all about popular - now thru Feb. 26.
As a self-proclaimed theatre nerd and one of the smart kids (who was also short of stature/wide of girth), high school was actually heaven for me. Somehow my fellow musical theatre misfits and I slipped under the radar of the popular kids as we blissfully fantasized about un-gettable buff boys while memorizing lines and painting sets.
But in the musical version of MEAN GIRLS, playing now through February 26 at San Francisco's Golden Gate Theatre, no one escapes the wrath of the Plastics, a group of girls so popular and wealthy (though that's never mentioned) that they see all other teens as nothing but prey to be chewed up and tossed aside. Ah, the teenage food chain. North Shore High School, located, one assumes, in a ritzy school district, is a mosh pit of social climbing and clamoring where, just as in the film version, the reigning queen bee is Regina George (brilliantly played by Nadina Hassan).
Enter the latest inferior, a home-schooled transfer student from Kenya named Cady Heron, played by the perfectly awkward and then appallingly perfect English Bernhardt. She's claimed first by the artsy outsider Janis Sarkisian (Lindsay Heather Pearce's grunge Goth girl with a grudge is spot on) and her gay, born-to-be-in-a-musical friend Damian Hubbard (Eric Huffman is absolutely fab in this role!).
At their urging Cady approaches the cool kids table and is miraculously taken on as something of a project by Regina George and her cling-ons, Gretchen Wieners (Mary Beth Donahoe shines) and Karen Smith (Megan Grosso is wonderful). Of course, Cady falls in love with Regina's ex, Aaron Samuels (the talented Adante Carter) which infuriates Regina but you'll have to go see the show to see what happens next. A few words about the ensemble. A lot of them are making their national tour debut (including Nadina Hassan) and they are stellar. Loved the huddle that they did at the end of the show after the cast received a standing ovation!
Tina Fey's 2004 cult teen classic film of the same name gets a social media update along with the required show tunes (music by Fey's hubby Jeff Richmond, with lyrics by Nell Benjamin).
Director and Choreographer Casey Nicholaw, who, together with Set Designer Scott Pask, envisioned a state-of-the-art digital surround and enlisted Finn Ross and Adam Young's video LED genius for the many and varied locations (from Kenya to classrooms and from school halls to the shopping mall and various home spaces) which made this former set painting theater nerd's heart beat with amazement. No set-painting needed!
MEAN GIRLS is a not-to-be-missed San Francisco exclusive. Take your teens and their friends and listen to them talk as you drive them all home. And if you don't have teens, go anyway and bask in gratitude that you survived and weren't eaten alive by your own mean girls/boys!
MEAN GIRLS
Now through February 26
BroadwaySF.com
San Francisco Golden Gate Theatre
Book by the incomparable Tina Fey
Music by Jeff Richmond
Lyrics by Nell Benjamin
Photo Credit: Jenny Anderson