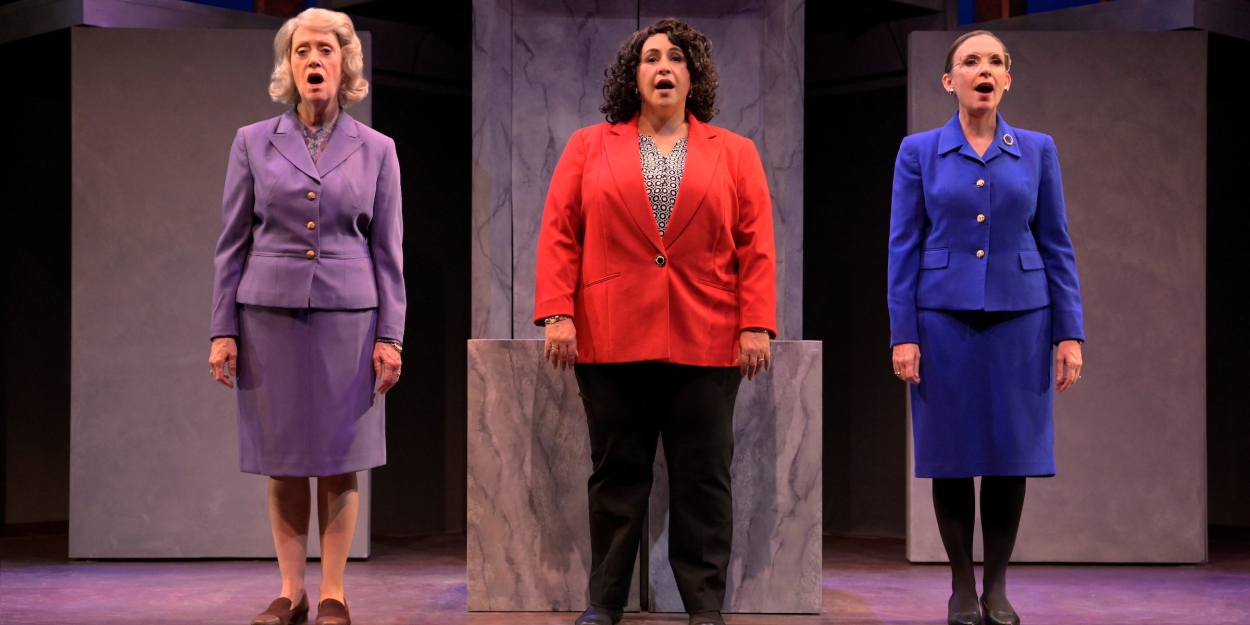 Review: JUSTICE: A NEW MUSICAL at Marin Theatre Company
A "herstory" with heart, playing now through March 12, 2023
There is something absolutely magical about getting to witness the maiden voyage of a shiny new show while it's cast and crew are still finding their stage legs. JUSTICE: a New Musical, playing now through Mach 12 at Marin Theatre Company, is undergoing just such a process.
For the actors it means constant script changes - sometimes whole pages get scrapped - requiring them to hastily learn new lines on the fly, not to mention new blocking to memorize, only to have changes made to the changes! But as hard as it is on the actors and crew, it must be harder on the playwright and music and lyrics creatives. It's not for nothing that writer and Nobel prize laureate William Falkner coined the advice "in writing you must be willing to kill your darlings." Ruthlessly deleting your darlings is a daunting process to be sure.
Luckily, in "JUSTICE," seasoned playwright Lauren M. Gunderson has shown time and again that she's not afraid of embarking on creative "killing sprees," all in the name of perfecting and telling the perfect tale! Award-winning composer/lyricist duo Bree Lowdermilk and Kait Kerrigan aren't far behind. This intrepid trio has taken on the daunting task of bringing U.S. Supreme Court justices Sandra Day O'Connor (Karen Murphy), Ruth Bader Ginsberg (Lynda Divito) and Sonia Sotomayor (Stephanie Prentice) to life in word and song. If it sounds like dry subject matter, it is not. (To wit, Tony winner Rupert Holmes' new one woman show, "All Things Equal - The Life and Trials of Ruth Bader Ginsburg" is getting rave reviews.) Let me just say here that "JUSTICE" is fantastic, and one can safely assume that it will only get better as it evolves.
All three of the above-named actresses bring the legendary women to life with passion and pluck. Yet there are also moments of deeply personal pain, love, loss and humor as the story continues. Gunderson, working in flashbacks, sets up Democrat Ruth Bader Ginsberg's Brooklyn, New York, feminist sensibilities as a foil to Reagan conservative Sandra Day O'Connor's, Arizona ranch, just get it done attitude and it works beautifully. The two women clash over their views about setting precedent, with RBG feeling she isn't so much setting precedent as demanding the law catch up with itself. For her part, O'Connor sings that she "knew a lot of powerful women but not a lot of women with power" and it is over women's right that the two women bond as sisters in law. Soon there will be three.
After President Barack Obama nominates her in 2009, Sonia Sotomayor triumphs through a brutal Senate confirmation hearing to become the third woman and first Latina to be elevated to the Supreme Court. In a touching moment, Stephanie Prentiss's Sotomayor tells us that after her confirmation, her mother tells her, "Mija (daughter), you just changed the world." Prentiss's voice soars in a song about blazing new trails and "the red and blue of me and you." Kait Kerrigan's lyrics are strong and profound, intimately capturing the essence of each woman's struggles and triumphs, then nimbly zooming out to speak to the nation about the future of the court. Bree Lowdermilk's music soars and there's even a fun number starring the "Notorious RBG."
The musical picks up speed at the end as it moves us into the present time. Even though she's not noted by name, there's a quick nod to Amy Coney Barrett (but surprisingly, Elena Kagan doesn't receive a mention). When it's announced that Ketanji Brown Jackson has been confirmed as the first black woman to the Supreme Court, the audience goes wild with applause. But the success is short lived. Jackson's elevation represents only one, brief shining moment of progressive advancement in a sudden torrent of conservative and backward decisions by the court. Ginsberg's song "Dissent" provides a glimmer of hope that one day her cogent and persuasive dissenting opinions will provide fuel and sustenance to future majorities. Clearly this audience was sustained by that fervent hope.
JUSTICE: A New Musical is "herstory" with heart. Go see it so you can say that you were there from the beginning to witness musical herstory in the making.
JUSTICE: A New Musical
Now through March 12, 2023
marintheatre.org
Book by Lauren Gunderson
Music by Bree Lowdermilk
Lyrics by Kait Kerrigan
Photo credit: Kevin Berne