Review: IN EVERY GENERATION at TheatreWorks Silicon Valley
In Every Generation continues through February 12, 2023.
The traditions of the Passover seder are the jumping off point for the West Coast premiere of Ali Viterbi's thoughtful time-hopping reflection on the Jewish experience. Examining what is passed down from generation to generation, it's much more than the elements of the seder dinner - the bitter herbs, the unleavened bread and the ten plagues telling the story of the exodus from Egypt. There's the dark, ever present paranoia of persecution lingering throughout this piece making it a cautionary tale for not only Jews, but any minority facing oppression.
Act one is set in 2019 at what will evolve into an awkward celebration. Mother Valeria (Cindy Goldfield) is an emotional wreck, her rabbi husband having run off. Yael (Olivia Nicole Hoffman), her daughter is a Yale pre-med student dating a goy (Jewish slang for a gentile) interested in studying the passing down of traits through genes. The other daughter Dev (Sara Lo), is Chinese, wanting to follow her adopted father's profession and longing to find her own lineage. Nonna Paola (Luisa Sermol), is a cantankerous ex-Slav who married her now ailing Italian husband Davide (Michael Champlin) post WWII.
Over an abundance of food, the tensions increase as revelations are exposed. What does it mean to be a modern Jew in the face of increasing antisemitic attacks? Should the young bear the brunt of the memories of the horrors of the holocaust?
The ensemble acting is solid throughout with Nina Ball's scenic design adding subtitles historical background and some language translations. Both Champlin and Goldfield are afflicted with ALS during the course of the story, evidence of genetic predisposition to parallel the passing down of memories and thought patterns.
Act II switches back in time to 1954 where Paola and Davide have relocated to LA post war to start a new life. He can't speak of the atrocities he faced so traumatized is he with survivors guilt. Paola is terrified of knocks on the door and ready to start their new life in freedom. Luisa Sermol gives a standout performance as the matriarch attempting to navigate life as Jew is an often inhospitable reality.
We time shift to 2050 where we're told antisemitism has escalated. Yael abandons her faith to protect her children while Dev is now a Chinese, lesbian rabbi dedicated to continuing the faith. Their dichotomy is an important issue in Judaism and other religions fearful of losing the faithful. The two sisters make a tentative peace which seemed to complete the play, however there's a second finale occurring at an early seder at the time of the Exodus. It seems an unnecessary add on I assume to take the story full circle.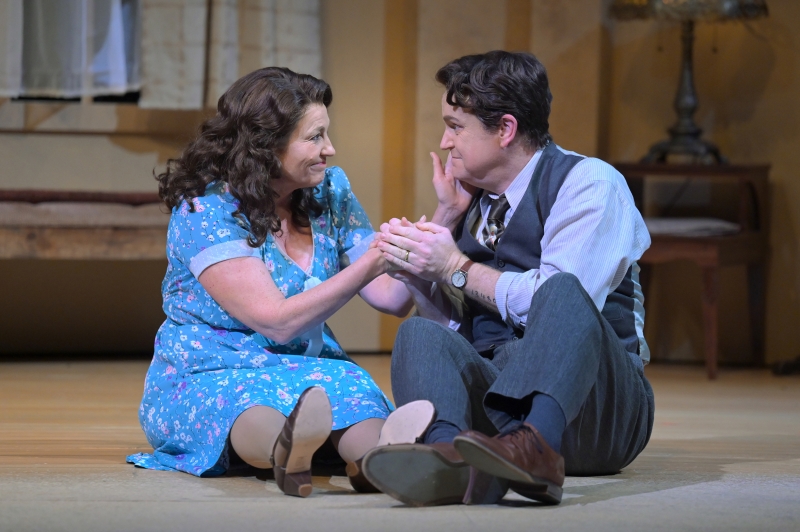 In Every Generation tackles some serious religious issues seen through an intimate family's journey. Epic is scope and encompassing much more than religion, Virtabi has poked the bear of antisemitism and its ramifications.
In Every Generation continues through February 12, 2023. Tickets available at 877-662-8978 or TheatreWorks.org
Photo credit: Kevin Berne