Digital Artist Hope Hutman Joins Remote Theater To Develop A New Mixed Reality Theater Project
Hope's latest work to stream online Friday at Gray Area Arts in San Francisco.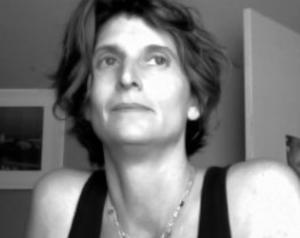 Remote Theater, an award-winning online theater company born of the pandemic, has recruited Hope Hutman as a resident artist. Hope, a pioneer in digital storytelling, will lead the development of an innovative mixed reality theater project for Remote.
On Friday this week, Hope will share her latest work, Real Fab, at the Open Metaverse Intensive Artist Showcase 2023 at the Gray Area Foundation for the Arts in SF. To attend the virtual showcase, you can register here.
Using everyday technology, live stream video, performance and installation, Hope's interdisciplinary practice explores what happens to human autonomy when reality is constructed by brands and government agencies who can predict our choices. Their work assumes that culture creates meaning and that what we make, see, like, and engage with shapes what we believe in and the way we understand the world.
"Hope has a sensibility and range of experiences as both a person and an artist that will increasingly become important to Remote," said Remote co-founder and artistic director Giovanni Rodriguez. "Her upcoming presentation at Gray Area is a nice preview of her interests. She asks, does the metaverse expand or limit reality? What happens when we no longer need our bodies to be 'in the world'? How do we make sense of the world, when our senses are no longer essential to our daily life in this future/present reality?"
"Remote Theater is challenging traditional assumptions about theater, cinema, storytelling and audience access," said Hope. "I'm excited to have the support of Giovanni and Remote to explore new kinds of performance experiences."
Hope's many projects include Eastside Prison, A VR experience and companion piece to the stage play Eastside Story, a musical adaptation of Shakespeare's Romeo and Juliet set in East Los Angeles written by Stephen Richter. In development for AmericaShakes, for Summer 2023, She is also the creator of the popular Twitch Odyssey, an adaptation of The Odyssey that invites the audience to submit clips of content to the live stream, in real time.The production ran on Twitch TV. In her upcoming project for Remote, she will adapt a work penned in another medium and reimagine it with mixed-reality.
To learn more about Hope, go to: https://www.hopehutman.com/.
Born during the pandemic, with an eye trained on the future, Remote Theater is a collective of artists exploring the boundaries of live online performance, what we call "live cinema." We're committed to developing and reimagining great dramatic works and finding global audiences for them. Artists we have worked with include Obie-award winning playwright Naomi Wallace, writer/librettist/TV producer Billy Aronson (the originator of the concept for RENT), and playwrights Eugenie Chan, Anthony Clarvoe, Anita Gonzalez, Lynne Kaufman, Ellen McLaughlin, Tanya Shaffer, Herbert Siguenza, Michael Gene Sullivan, and Caridad Svich. In 2021, Remote was honored by the Bay Area Theatre Critics Circle (BATCC) for "its distinguished work online while live theater was closed during the pandemic."
Remote is the beneficiary of a Facebook Small Business Grant. Past and current partners include Cal Shakes, Magic Theater, The Marsh, Actors Reading Collective (ARC), and Playwrights Foundation (for their support of our premiere reading of Tanya Shaffer's Manatee on Mars). We're a fiscally sponsored organization; all donations are tax-deductible. To learn more, please go to www.remote.theater.