BWW Review: Overtime Theater's LIKE STARS, MOONIE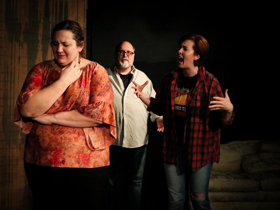 LIKE STARS, MOONIE is a two act play written and directed by thespian Morgan Clyde. Although comfortable onstage and starring in such local shows as SHREK - THE MUSICAL as Princess Fiona and others, Clyde seems well adept at creating and directing this original work. LIKE STARS, MOONIE follows a seemingly normal, average all American family. Upon further viewing, we soon discover that things aren't as we would think.
As the play opens up, you are struck with the simplistic yet perfectly executed scenery. It draws you into the show and immediately makes you feel like you are part of this family. You want to like this all American family and everything they stand for. Maggie is the teenaged daughter and is played by Allie Smith. Smith plays the character very strongly and stands out as an actress who is very comfortable on the stage. Smith helps you to feel what Maggie feels and understand what Maggie is going through.
Maggie's mother, Lori (played by Sarah Goodwin), seems to be a lonely soul in search of something more for her life. She struggles to make it day-by-day and wants to be a good mother to Maggie. Lori shares frustrations, loneliness and isolation as she comes to grips with what her life has become and what she wants it to be, we soon learn that there is much more about this family then meets the eye. Goodwin does a great job portraying each of these emotions and struggles and makes the audience feel sorry and sad for her situation.
Also a part of this show is Michael (played by Robert Moritz), the father to Maggie and husband to Lori. Michael is onstage far more than the other characters and he seems just as comfortable onstage as off. Moritz plays his character well and his strong love and devotion to his family quickly becomes apparent.
LIKE STARS, MOONIE is worth it to go see before it's too late. There are three shows left so don't miss your chance. December 8 & 9. Tickets can be purchased in advance by going to the Overtime Theater website.
Related Articles View More San Antonio

Stories

Shows
Kathy Strain grew up outside of Philadelphia and enjoyed listening to many genres of music including Broadway musicals. She also enjoys attending Broadway shows wherever (read more...)