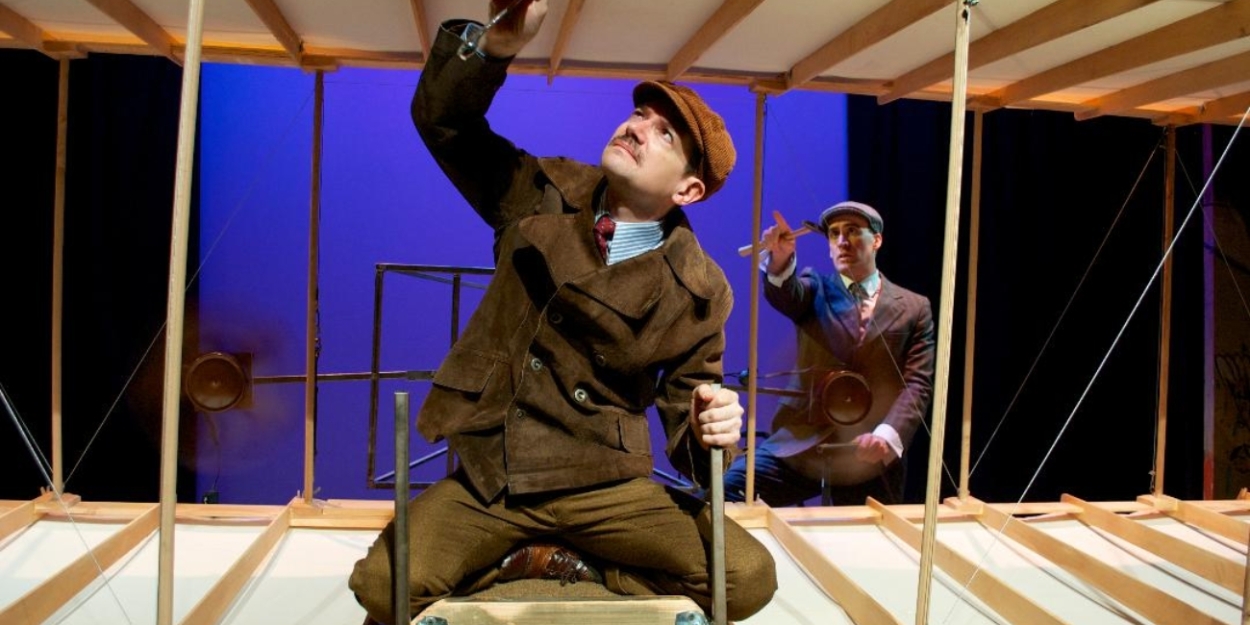 Review: THE FLYING MACHINE: THE STORY OF THE WRIGHT BROTHERS Soars at B Street Theatre
This Production Flies Away on March 5
We've all heard of the Wright Brothers. Orville and Wilbur are introduced to us in elementary school as the first to invent the motor-operated airplane; however, there is so much more that we don't know about these two fascinating individuals who forever changed the way that we travel. Jerry Montoya gives us a history lesson disguised in a delightfully entertaining package with his newest play, The Flying Machine: The Story of the Wright Brothers.
The Flying Machine follows Orville and Wilbur Wright over the course of seven years as they begin with the seed of a dream to take to the air and engage in a battle with the United States government to see who will win the race to achieve flight. Despite a lack of formal education, how these brothers won that race becomes apparent as we see them tackle different obstacles through sheer chutzpah and curiosity. From starting their own newspaper to manufacturing their own bicycles, the Wrights succeed through trial and error and the power of their tenacity. Wilbur, who is played by the charismatic Jason Kuykendall, is the dreamer and likens himself to Icarus, who was also lured to the sky. The more pragmatic Orville, depicted by B Street favorite John Lamb, insists that man is not meant to fly and, if he tries, will fail as Icarus did. True to the play's signature themes of dreaming and perseverance, Wilbur replies, "Before he drowned, he touched the sky." Wilbur did just that in 1903 for 12 seconds and gave us all the chance to do the same.
Montoya has a tough act to follow with the successful run of his popular play Love and Baseball, yet he's penned another solid hit that has something for everyone. Young aviators will love the giant prop plane that takes the brothers on their flight, while the older crowd will enjoy the history and humor that Montoya has expertly woven throughout the show. You'll leave in awe of the great minds that defied the odds to put humans in the sky and maybe even feel inspired to revisit your own dreams.
The Flying Machine: The Story of the Wright Brothers plays at the B Street Theatre through March 5. Tickets may be found online at BStreetTheatre.org, by calling (916) 443-5300, or by visiting the Box Office at 2700 Capitol Avenue in Sacramento.
Photo credit: Rudy Meyers