Lincoln Theater and Festival Napa Valley ANDRE - THE VOICE OF WINE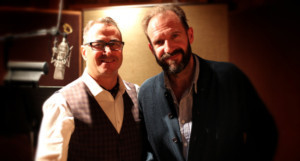 Lincoln Theater and Festival Napa Valley will co-present the Napa Valley gala premiere screening of André - The Voice of Wine on Saturday, April 7, at 3pm at Lincoln Theater in Yountville. With its recent world premiere at the Berlin International Film Festival, this feature-length documentary tells the story of André Tchelistcheff, the legendary winemaker known as the "Dean of American Winemakers." The film screening will include a panel moderated by director Mark Tchelistcheff. A VIP wine tasting reception will follow featuring wineries influenced by the late Tchelistcheff, including Grgich Hills Estate, Rodney Strong Vineyards, Jordan Winery, Alquimista Cellars, Staglin Family Vineyard and Beaulieu Vineyard.
André - The Voice of Wine takes the audience on a cinematic journey through Russia, Europe and the Napa Valley as it explores the story of one of the most remarkable men of the twentieth century. An artist and scientist whose heart and soul were devoted to wine, André's influence and contributions almost singlehandedly reshaped the California wine industry after the repeal of Prohibition. The groundbreaking winemaker had a pivotal impact on the wines that won the 'Judgment of Paris' - the 1976 Paris blind tasting that turned the world of wine upside down. His philosophy about life and his love for wine continues to influence generations of wine makers throughout the world.
Directed by his grandnephew Mark Tchelistcheff and narrated by the award winning actor Ralph Fiennes, the film features interviews with vintners and winemakers André mentored including Mike Grgich, Christian Mouiex, Francis Ford Coppola, Warren Winiarski, Lodovico Antinori, Jim Barrett, Rick Sayre, Rob Davis, Michael Silacci, Greg La Follette, Alison Green-Doran, Patrick Leon, Marco Cappelli and the first woman winemaker in America to graduate in enology at U.C. Davis, MaryAnn Graf.
Special guests at the gala premiere screening include the director who will moderate a panel of winemakers and industry luminaries. There will also be a curated wine tasting reception featuring winemakers with whom Tchelistcheff worked during his fifty-year career.
Tickets are $20 in advance and $25 at the door. General admission includes a complimentary taste of wine from Beaulieu Vineyard. The $95 VIP ticket includes access to a meet-and-greet with the film's director and the wine reception following the screening and panel discussion. Please visit LincolnTheater.org or call the box office at 707-944-9900 for more information and to purchase tickets.
More Hot Stories For You