BWW Review: Sacramento Had it Coming! THE MUSICAL OF MUSICALS-THE MUSICAL Returns to Sacramento Theatre Company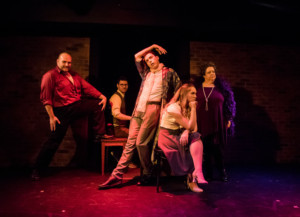 Musical theatre lovers, rejoice! The Musical of Musicals-the Musical! has returned to Sacramento and promises an evening of melodrama, satire, and comedy. Composed by the co-creator of last season's The Donner Party, Eric Rockwell, with lyrics by Joanne Bogart, the show parodies some of Broadway's greatest composers while paying homage to their brilliance.
The Musical is split into five vignettes, each a separate melodrama involving the same plot line. The same cast of characters is depicted, who are staples of the genre: the villain, ingénue, hero, and matron, who are all led by the host/pianist. The mini-musicals are being presented to the landlord of a theatre company that is about to be evicted for not paying their rent. If they can produce a big hit, then they will be able to stay.
The show opens with our hero, Big Willy (Brad Bong), singing "Oh, What a Beautiful Corn," in a nod to Oklahoma! The ingénue, June (Kelly Ann Dunn), cannot pay her rent to Jitter (Michael RJ Campbell), who threatens to marry her if she doesn't come up with the money. Mother Abby (Martha Omiyo Kight), channeling the Mother Abbess from The Sound of Music, dispenses useless advice, to which June responds, "Thank you, Abby, that was so helpful." Big Willy finally offers to pay the rent, despite his questionable ability to do so. The Rodgers and Hammerstein scene cleverly slips in references to The King and I, The Sound of Music, Oklahoma!, Carousel, and more.
Next is Aspects of Junita, which parodies the works of Andrew Lloyd Webber. Along the same line as Corn, Phantom Jitter tells Junita that she can get out of paying the rent if she sings for him. Abigail Von Schtarr, aka faded star Norma Desmond, again doles out encouragement to the naive young starlet. Encompassing works such as Joseph and the Technicolor Dreamcoat, The Phantom of the Opera, Evita, Jesus Christ Superstar, Starlight Express, Sunset Boulevard and Cats, this section carefully flays the commercial success of Lloyd Webber.
Surely Jerry Herman wouldn't be spared, so Dear Abby pinpoints such classics as Mame, Le Cage aux Folles, and Hello, Dolly! Aunt Abby is a socialite who has taught her nephew, William, how to perfectly prepare her a martini (sound familiar?). Her friend, Junie Faye, cannot pay her rent and is hounded by the landlord, Mr. Jitters. Abby successfully plays matchmaker to William and Junie Faye and voila! Rent troubles are solved.
Rockwell had an enormous undertaking with the next section, A Little Complex. His composing chops shine in his homage to the musical master, Stephen Sondheim. Based on an apartment complex called, simply, The Woods, this scene deals with the murderous landlord, Jitter, who fancies himself an artist . His bird-loving tenant, June, surprisingly cannot pay her rent. Jitter tries to force her to pose for him as payment. Abby gives advice ("Thank you, Abby, that was so helpful!") and Billy attempts to come to the rescue.
Finally, the cast tackles Kander and Ebb in Speakeasy, with references to Cabaret and Chicago. Juny is the performer who cannot pay her rent. Her boyfriend, Billy, who is in jail, decides that he is gay. Fraulein Abby encourages Juny to pay her rent by selling her body. The entire vignette is presided over by the eerily familiar Emcee/landlord, Jutter.
The whole show is punctuated by scenes of the Host (David Taylor-Gomes) speaking to a disembodied landlord and trying to convince him to let the troupe stay.
Luckily, for those patrons who are perhaps not well-versed in musical theatre, the incredibly talented cast puts on an entertaining show. If you do not have a wide knowledge of musicals, you will not get every reference. Kelly Ann Dunn is a lovely, hilarious, irresponsible, simple-minded ingenue. Martha Omiyo Kight always impresses with her long, rich notes and starry confidence. Michael RJ Campbell stunned me as the Emcee and brought me kicking and screaming back to Nazi Germany and the Kit Kat Klub. Brad Bong was a fresh and welcome face to me-his singing and dancing were such a pleasure to witness that I hope to see him return to STC soon. Finally, the Host/Music Director/Pianist, David Taylor-Gomes, dazzled everyone with his multifaceted talent. I had been told that he resembled a young Jack Lemmon, so I had to verify. Sure enough, he possesses the same stage presence as well as the ability to carry a show AND play a complex score.
Was this cast able to save the theatre company? You have plenty of chances to find out, as The Musical of Musicals plays at Sacramento Theatre Company from January 3-February 11, 2018.
Tickets are available at the STC Box Office at 1419 H St., Sacramento, by calling (916) 443-6722, or by visiting SACTHEATRE.ORG.
Photo Credit: Charr Crail Photography