BWW Review: ANASTASIA Holds the Key to our Hearts at Broadway Sacramento
The Production Runs Through February 6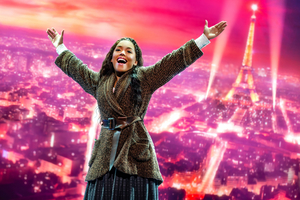 Broadway Sacramento has hit it out of the park again with Anastasia-The New Broadway Musical. The 2022 Broadway on Tour season opened on Tuesday, satiating those who were eager for more after December's hit run of Charlie and the Chocolate Factory.
Anastasia-The New Broadway Musical is based on the films, including the popular 1997 animated version. Part princess love story and part history lesson, it opens with the exiled royal Romanov family of Russia, who were all murdered by revolutionaries...or were they? There is a rumor that the youngest daughter of Tsar Nicholas II, Anastasia, somehow escaped the massacre, and her grandmother (the Dowager Empress) is offering a reward for information leading to Anastasia's return. A young Russian girl with amnesia, Anya, who only knows that she needs to get to Paris, runs into two con men who want to take advantage of her similarities to the Grand Duchess and fool the Dowager Empress into accepting Anya as the missing Anastasia. Can they pull off the heist of a lifetime and leave behind their impoverished homeland forever?
With award-winning projection design by Aaron Rhyne and scenic design by Alexander Dodge (both of A Gentleman's Guide to Love and Murder), Anastasia transports you to a magical place where spectral ancestors dance in old ballrooms, cross-country train rides through orchards leave you dizzy, and freedom looks like cherry blossoms and an exhilarating ride to the top of the Eiffel Tower. The stage of the SAFE Credit Union Performing Arts Center is gorgeously transformed into a virtual city of love this winter, so who needs Paris in springtime?
To add to that, the cast makes the show's 2 hour and 30 minute run time seem like just minutes. Lovable ruffian Dmitry (Sam McLellan) steals the hearts of the audience and Anya in their duet, "In a Crowd of Thousands." Con man #2, Vlad (Bryan Seastrom), and his long-lost love, Countess Lily (Madeline Raube) are fan favorites with the hilariously hormonally fraught "The Countess and the Common Man." Befittingly, though, the titular star, Anya (Kyla Stone), has everything that one would expect from a princess. A beautiful exterior coupled with a kind and honest character, showcased by a voice that is in turns haunting ("In My Dreams", "Once Upon a December") and powerful ("Journey to the Past").
We all need more hope and wonder and hours of unparalleled magic. I urge you to see it for yourself-I'm already anticipating my next visit!
Anastasia plays at the SAFE Credit Union Performing Arts Center through February 6. Tickets and more information can be found by calling (916) 557-1999 or visiting BroadwaySacramento.com.
Photo credit: Jeremy Daniel