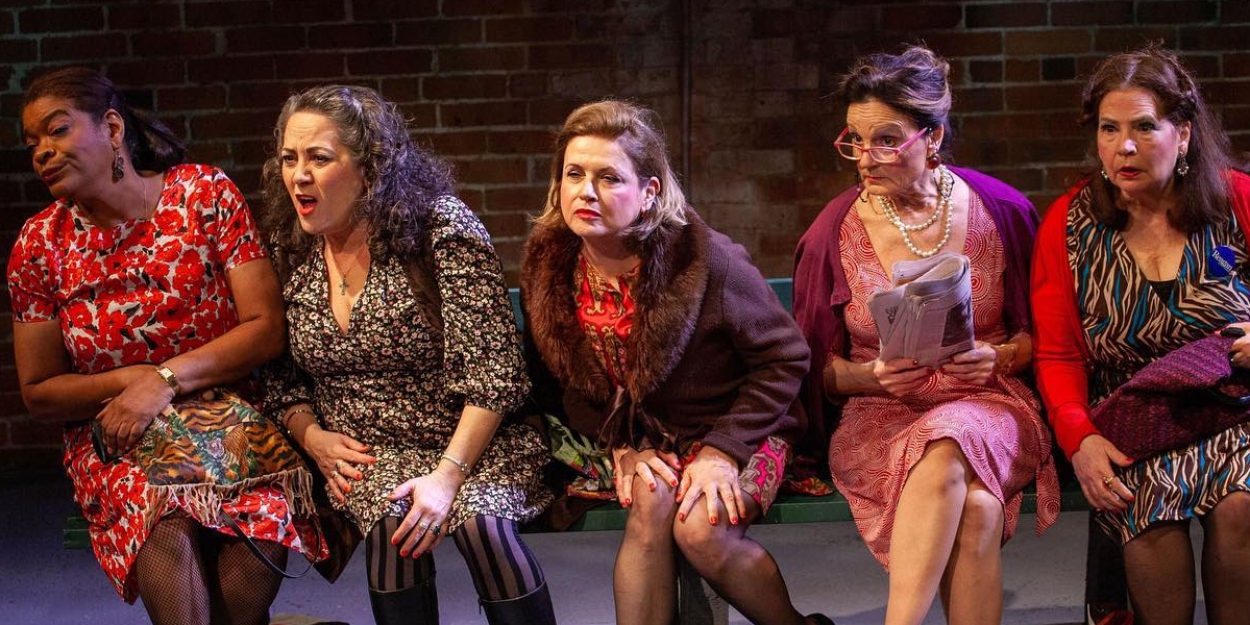 Review: THE OLDEST PROFESSION at Burbage Theatre Company
Burbage offers compelling production of this early work by Paula Vogel.
Listening to five aging prostitutes sit on a park bench and talk for ninety minutes may not sound like a great idea for a play. But with a script by the brilliant playwright Paula Vogel, direction by Rhode Island theater legend Anne Scurria, and five outstanding performances, "The Oldest Profession" delivers a powerful, touching, and ultimately uplifting theatrical experience.
Burbage Theatre company partnered with the WomensWork Theatre Collaborative to mount this production of Vogel's 1981 darkly comic work. Anne Scurria, who was a resident actor at Trinity Rep for more than 40 years, makes her directorial debut--and a delightful debut it is, full of inventive turns and finely-coached performances.
Set on a New York City vest-pocket park on 72nd Street and Broadway "shortly after the election of Ronald Reagan," we find five women in their 70s who have moved north after careers in a brothel in New Orleans. They recall with fondness their days serving the troops during WWII. Now, they meet the needs of aging Upper West Side residents in the days before Viagra.
When Vogel wrote the script--in 1981--the notion of sex work as work was still very much a fringe idea, but she has never shied away from tough material. A Pulitzer-prize and Lortel winner, Vogel founded the playwriting program at Brown and helped launch the Trinity/Brown MFA. While in Rhode Island, she also started a theater workshop for women inmates at the ACI in Cranston, before moving on to be playwright in residence at Yale Rep and Yale's O'Neil Chair of Drama.
Vogel has made substantial revisions to the play between its original publication and the 2004 Off-Broadway run; at its heart, it has always been about the lives--and work--of women in America.
Mae (Paula Faber) is the group's leader, doling out assignments and collecting the day's take. Faber's performance is heartfelt and multifaceted, and we believe that she can go after younger competition offstage with a gravity knife, urge the others to look for new customers at "the grief counseling group at Ethical Culture," and still, in a private moment, confide that her memory is beginning to fail. Faber's empathy for the character makes her totally believable.
The long-suffering second in command, Ursula, is played with brusque relish by Margaret Melozzi. She doesn't need the Reagan button on her lapel to tell us which side she's on. When she's not spouting simplistic aphorisms, or talking about deregulation, she's chiding the other women for being soft. "We're not Meals on Wheels," she snarks. We know her type, and Melozzi nails it.
Rae Mancini plays Lillian, who loves theater and still lives on "Vieux Carre" time. Mancini's Lillian is utterly charming and vulnerable (maybe with just a hint of Blanche Dubois) as she complains that with her arthritis, she "can't just jump into bed and jump out anymore."
Edna (Jeannie Carson) deals with indigestion and a growing awareness of inequality; later in the show, she has a trenchant monologue about how many hands it takes to produce one Upper West Side BLT. Carson is utterly believable, and, without giving anything away, has an absolute star turn of a musical number.
The final member of the crew, Vera, is played with adorable geniality by Juli Parker. She is confidante to Mae, friend and supporter to Edna, and shows a spark of class consciousness when she suddenly blurts out at one point, "We're labor!" Watch for her expression of utter delight on the bench in the last sequence; it's an absolutely stellar acting moment.
Anne Scurria has done a terrific job in her directing debut. The staging is three-quarter round, with action that moves right out into the first row of seats, foreclosing any chance the audience has of distancing themselves. The pacing is crisp, the performances honest and close to the bone, and the moments of--without spoiling the play's surprises--alterneity are stunning. Scurria clearly comprehends Vogel's intent and method, and delivers the Brechtian interludes with precision, humor, and grace. It's a remarkably assured vision from a first-time director.
And she is supported by an excellent technical crew: Trevor Elliot's production design, Andrew Iacovelli's tech direction, and Brittany Costello's props combine to create a simple--but spot on--slice of Manhattan, including accurate video projections of New York in the 80s. Julian Trilling deserves mention for the highly effective choreography. You'll know it when you see it.
This is a deceptively simple show that will leave you asking questions. Why did Vogel choose to set the play at just this specific moment in American history? Why do we find the juxtaposition of age and sex work (the "oldest" profession, get it?) jarring? And what are we to make of the comradeship and shifting alliances of this group? What does it all mean?
Vogel, following Artaud and Brecht, says on her web site, "Only by overwhelming the senses can a play expose us to our subconscious animal impulses." This production ably rises to that challenge. Audiences will be surprised, delighted, and, yes, shocked. This is an evening of sublime theater. Highly recommended.
The Oldest Profession, directed by Anne Scurria. Burbage Theatre Co., Jan 26-Feb 19, tickets $30/$15 Student (free rush tix for high school students), available through the box office, 59 Blackstone Ave, Pawtucket RI 02860 | (401) 484-0355 and online at https://www.burbagetheatre.org/theoldestprofession. Covid protocol: Mask wearing required when not eating or drinking. Content advisory: adult themes.
Photo credit: Sean Michael studio