Oregon Shakespeare Festival Wraps 2017 Season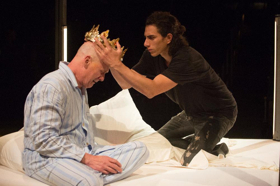 The Oregon Shakespeare Festival wrapped up its 2017 season on October 28 with the final performances of Shakespeare in Love, Henry IV, Part Two, and Julius Caesar.
Preparations for the 2018 season and this month's 2018 Member Presale are already underway. The 2018 opening weekend is February 23-25; preview performances begin February 16.
The season closed with attendance of 381,378-82% of capacity. Ticket revenue was $21.9 million. The season included 11 productions, with a total of 795 performances. Student attendance was close to 55,000 and about 21,000 tickets were processed for educational events, generating approximately $432,000 in revenue. In total, contributed income was up 14% in 2017.
"This dedicated, talented OSF company consistently rose to the occasion this season with passion and grace, as they always do," OSF Artistic Director Bill Rauch said. "It is a joyful, humbling, invigorating challenge to produce almost 800 performances of 11 plays in three theatres each season, and our smart, savvy audiences always inspire us to do our best work."
Rauch continued, "It's impossible to name a favorite highlight of the season, but I must mention the thrilling success of our first play by a Native writer, Randy Reinholz's Off the Rails, and our audience development efforts in partnership with the Native community. I look forward to continuing that journey with the world premiere of Native writer Mary Kathryn Nagle's Manahatta next season."
Smoke from Southern Oregon wildfires played a role during the Festival's summer season, as it did in the summers of 2013-15. A total of nine performances were canceled in the Allen Elizabethan Theatre, resulting in approximately $300,000 in ticket refunds and an estimated loss of over $100,000 in slower walk-up sales during the affected weeks.
2017 Season Sponsor U.S. Bank's Gloria Schell, region president of U.S. Bank for Southern Oregon and Northern California, said, "We recognize the importance of supporting the arts-and live theatre in particular. We are proud to support the Oregon Shakespeare Festival and honored to play a part in OSF's quest to inspire, educate and connect communities through the arts. Congratulations on a season of incredible performances."
The 2017 playbill included Julius Caesar, Shakespeare in Love, Mojada: A Medea in Los Angeles, UniSon, Off the Rails, Henry IV, Parts One and Two; Hannah and the Dread Gazebo, The Merry Wives of Windsor, The Odyssey and Disney's Beauty and the Beast.
The 2017 season was dedicated to beloved longtime acting company member Judith-Marie Bergan, who passed away in August 2016.
In June, the Festival celebrated the completion of Phase Two of the multi-year "Access for All" campaign designed to make the OSF campus more accessible and welcoming, particularly for patrons and company members with mobility issues. OSF's main brick courtyard and Green Show performance area were renovated for greater accessibility, safety and audience comfort, and on June 15 OSF welcomed the community for live entertainment and a dedication ceremony. Off-season construction for Phase Three of the campus renovations has begun in the Angus Bowmer Theatre, with the addition of seven wheelchair and companion seats scheduled to debut during mid-February previews. The "Access for All" campaign is made possible by the generous support of principal donors Joel Axelrod and Dr. Judy Yin Shih and many other generous donors.
OSF's American Revolutions: the United States History Cycle play commissioning program scored an impressive series of successes in 2017. Lynn Nottage's Sweat and Paula Vogel's Indecent both played on Broadway, with Tony Awards going to Rebecca Taichman for her direction of Indecent and frequent OSF guest artist Christopher Akerlind for his lighting design. Sweat and Indecent were the only works by living female playwrights on Broadway this season, and marked the Broadway debuts for both Nottage and Vogel. In September, playwright Lisa Loomer was honored with the PEN Center USA Literary Award for Drama for her play Roe, which debuted at OSF in 2016 and went on to successful runs in Washington D.C. and Berkeley, CA. The final five plays in the American Revolutions commissioning cycle will be announced in 2018.
In April, OSF hosted its fourth biennial Latinx Play Project (LxPP) which featured readings of Mother Road by Octavio Solis and The Refugee Hotel by Carmen Aguirre, as well as panel discussions, a variety show and other events. The mission of the Latinx Play Project (LxPP), supported in part by Latino Producer Action Network (LPAN) founder Sandra Quintana, is to develop and present new plays and provide a forum for artists, producers and audiences to discuss and advance Latinx theatre at OSF and nationwide.
In September, Play on! 36 playwrights translate Shakespeare hosted its second annual convening in Ashland. Playwrights and dramaturgs spent a three-day weekend discussing and analyzing the writing process, as well as sharing portions of their work. Of the 39 commissions that were announced in fall 2015, 15 have been completed and 19 are in first draft. Four Play on! commissions have already been produced (Timon of Athens and The Tempest at Alabama Shakespeare Festival; Pericles at Orlando Shakespeare Festival; The Two Noble Kinsmen at University of Utah), with Troilus and Cressida to be produced by the Prague Shakespeare Company next April.
The 2018 season will open on Friday night, February 23, with Shakespeare's Othello in the Angus Bowmer Theatre, directed by Bill Rauch. The conclusion to Shakespeare's Henriad quartet, Henry V-directed by Rosa Joshi-will open in the Thomas Theatre on Saturday afternoon, February 24. Joining the rep that evening is Kate Hamill's adaptation of Jane Austen's Sense and Sensibility in the Bowmer Theatre, directed by Hana Sharif. Opening Sunday afternoon, February 25, in the Bowmer Theatre is Destiny of Desire by Karen Zacarías, directed by José Luis Valenzuela.
On April 1, the world premiere of Mary Kathryn Nagle's Manahatta comes to the Thomas Theatre under the direction of Laurie Woolery, and April 22 will see the opening of Bill Rauch's production of Rodgers and Hammerstein's Oklahoma! in the Bowmer Theatre, featuring same-sex couples in leading roles in a delightful celebration of love in its many forms.
The outdoor Allen Elizabethan Theatre opens the weekend of June 15-17 with Shakespeare's Romeo and Juliet (directed by Dámaso Rodríguez), Lauren Gunderson's The Book of Will (directed by Christopher Liam Moore) and Shakespeare's Love's Labor's Lost (directed by Amanda Dehnert).
Opening Saturday, July 14 in the Thomas Theatre is the American Revolutions-commissioned world premiere of Idris Goodwin's The Way the Mountain Moved (directed by May Adrales), and the final show to join the 2018 rep is the U.S. premiere of Frances Ya-Chu Cowhig's Snow in Midsummer (directed by Justin Audibert) opening August 5 in the Bowmer Theatre.
Previews begin on February 16, and the season runs through October 28.
2018 Presale for membership begins November 8, and general ticket sales for the 2018 season start December 12. For information call (800) 219-8161 or visit www.osfashland.org.
The 2018 season is sponsored by U.S. Bank.
Founded by Angus Bowmer in 1935, the Oregon Shakespeare Festival (OSF) has grown from a three-day festival of two plays to a nationally renowned theatre arts organization that presents an eight-month season of up to 11 plays that include works by Shakespeare as well as a mix of classics, musicals, and world-premiere plays and musicals. OSF's play commissioning programs, which include American Revolutions: the United States History Cycle, have generated works that have been produced on Broadway, throughout the American regional theatre, and in high schools and community theatres across the country. The Festival draws attendance of more than 400,000 to approximately 800 performances every year and employs approximately 575 theatre professionals.
OSF invites and welcomes everyone, and believes the inclusion of diverse people, ideas, cultures and traditions enriches both our insights into the work we present on stage and our relationships with each other. OSF is committed to equity and diversity in all areas of our work and in our audiences.
OSF's mission statement: "Inspired by Shakespeare's work and the cultural richness of the United States, we reveal our collective humanity through illuminating interpretations of new and classic plays, deepened by the kaleidoscope of rotating repertory.
Pictured: Daniel José Molina (right), who portrayed Prince Hal to Jeffrey King's Henry IV this season, returns as the title role in 2018's Henry V. Photo from Henry IV, Part Two (2017) by Jenny Graham, Oregon Shakespeare Festival.