OSF Commission ROE Wins PEN Literary Award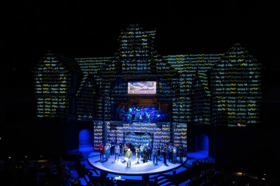 Roe, a riveting drama by Lisa Loomer about central figures in the American abortion rights debate that debuted at OSF in April 2016, is the winner of The PEN Center USA 2017 Literary Award for Drama.
The story of Roe unfolds through the experiences of Norma McCorvey, the original Jane Roe, and Sarah Weddington, the lawyer who successfully argued Roe v. Wade before the Supreme Court in 1972 at the age of 27. While initially allies, the two women grew apart ideologically as time passed, with McCorvey eventually disavowing any support of the abortion rights movement.
Roe was commissioned by OSF's American Revolutions: the United States History Cycle program, which is commissioning and developing 37 new plays sprung from moments of change in American history. The OSF production of Roe went on to play at Arena Stage in Washington, DC and Berkeley Repertory Theatre in Berkeley, CA.
OSF artistic director Bill Rauch directed the world premiere of Roe. "Like so many of its fellow American Revolutions plays, Roe electrified and moved audiences in Ashland and across the country," said Rauch. "We are so proud of Lisa receiving this prestigious honor for her groundbreaking new play that speaks to audience members on all sides of such a polarizing issue."
Alison Carey, Director of American Revolutions, adds, "History is made by the choices people make, and the intended and unintended consequences of those choices. What Lisa illuminates so beautifully in this play is that the people are just as compelling, deep and surprising as the historical changes their choices bring about."
"The PEN award is especially meaningful, because they have a history of supporting writers speaking truth to power, particularly in repressive regimes," says playwright Loomer. "I'm also looking forward to meeting Margaret Atwood and Cecile Richards at this year's ceremony - women I so admire!"
The next American Revolutions commission to be produced at OSF will be the 2018 world premiere of Idris Goodwin's The Way the Mountain Moved. In the haunting and haunted wilderness setting of the play, African-American Mormons, Department of War surveyors, pioneer women and a Mexican-American war veteran lose their way and find each other in the starkly beautiful, pre-railroad American West. They are unknowingly watched by Native Americans who argue whether to befriend, fight, or flee the newcomers. In a nation still taking shape, built mostly of dreams and ideas and on stolen land, which version of America will prevail?
American Revolutions commissioned artists to date are: the 1491s (Dallas Goldtooth, Sterlin Harjo, Migizi Pensoneau, Ryan Red Corn and Bobby Wilson), Tanya Barfield, Bill Cain, Culture Clash (Richard Montoya, Ric Salinas and Herbert Siguenza), Kristoffer Diaz, Michael Friedman, Frank Galati, Idris Goodwin, Kirsten Greenidge, Quiara Alegría Hudes, David Henry Hwang, Aditi Kapil, Stephen Karam, Basil Kreimendahl, Lisa Kron, Young Jean Lee, Lisa Loomer, Mona Mansour, Dominique Morisseau, collaborators Jonathan Moscone and Tony Taccone, Carlos Murillo, Lynn Nottage, Susan Nussbaum, Dan O'Brien, Robert O'Hara, Jiehae Park, Robert Schenkkan, collaborators Rebecca Taichman and Paula Vogel, Naomi Wallace, UNIVERSES (includes core performers Steven Sapp, Mildred Ruiz, William Ruiz), Rhiana Yazzie and Karen Zacarías. American Revolutions partner theaters include Arena Stage, CenterStage, Company One, Steppenwolf Theatre Company, Berkeley Repertory Theatre, Penumbra Theatre Company, The Public Theatre, Seattle Repertory Theatre, the Playwrights Center, New Native Theater and Actors Theatre of Louisville. Friedman's commission is shared by American Revolutions and the Edgerton Fund for New Musicals.
The Andrew W. Mellon Foundation and The Harold and Mimi Steinberg Charitable Trust are supporting American Revolutions commissions and development at the Oregon Shakespeare Festival this season.
American Revolutions premieres include: American Night: The Ballad of Juan José by Richard Montoya and Culture Clash (2010 at OSF); Ghost Light by Tony Taccone, conceived and developed with Jonathan Moscone (2011 at OSF, co-produced with Berkeley Repertory Theatre); The March by Frank Galati, adapted from E.L. Doctorow's novel (2011 at Steppenwolf Theatre Company); Party People by UNIVERSES (Steven Sapp, Mildred Ruiz-Sapp, and William Ruiz a.k.a. Ninja) (2012 at OSF); All the Way by Robert Schenkkan (2012 at OSF); The Liquid Plain by Naomi Wallace (2013 at OSF); Robert Schenkkan's The Great Society, the sequel to All The Way (2014 at OSF, commissioned by and co-produced with Seattle Repertory Theatre); Sweat by Lynn Nottage (2015 at OSF); Indecent by Paula Vogel (2015 at Yale Repertory Theatre and La Jolla Playhouse; 2016 at Vineyard Theatre); Roe by Lisa Loomer (2016 at OSF, co-produced with Arena Stage and Berkeley Repertory Theatre) and The Way the Mountain Moved by Idris Goodwin (2018 at OSF).
Founded by Angus Bowmer in 1935, the Oregon Shakespeare Festival (OSF) has grown from a three-day festival of two plays to a nationally renowned theatre arts organization that presents an eight-month season of up to 11 plays that include works by Shakespeare as well as a mix of classics, musicals, and world-premiere plays and musicals. OSF's play commissioning programs, which include American Revolutions: the United States History Cycle, have generated works that have been produced on Broadway, throughout the American regional theatre, and in high schools and community theatres across the country. The Festival draws attendance of more than 400,000 to approximately 800 performances every year and employs approximately 575 theatre professionals.
OSF invites and welcomes everyone, and believes the inclusion of diverse people, ideas, cultures and traditions enriches both our insights into the work we present on stage and our relationships with each other. OSF is committed to equity and diversity in all areas of our work and in our audiences.
OSF's mission statement: "Inspired by Shakespeare's work and the cultural richness of the United States, we reveal our collective humanity through illuminating interpretations of new and classic plays, deepened by the kaleidoscope of rotating repertory.
Pictured: The Daedalus Project Variety Show, held in the outdoor Allen Elizabethan Theatre, is one of the main events of the annual Daedalus Project. Photo by Jenny Graham.
Related Articles View More Portland

Stories

Shows
More Hot Stories For You